Erin Baker's Double Chocolate Chunk Granola
This post may contain affiliate links (disclosure).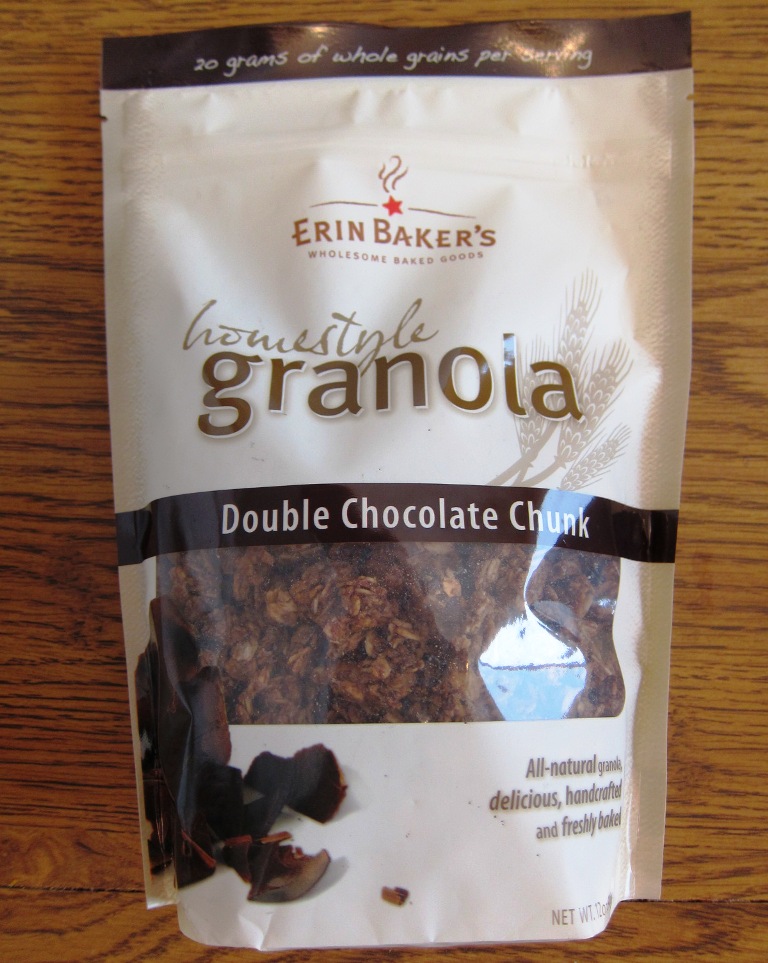 There are many kinds of granola that have chocolate in them, but Erin Baker's Double Chocolate Chunk Granola has the most chocolate chunks out of any granola that I've tried. Erin Baker surely doesn't skimp on chocolate!
I love this granola – it tastes like dessert! You can taste the chocolate in each and every bite! And you'd think that with all that chocolate this granola would have too many calories, but surprisingly it's not the case. Calorie-wise it has about as much calories and fat as most other granolas.
Here are the nutrition facts for Erin Baker's Homestyle Double Chocolate Chunk Granola – serving size 1/2 cup, 240 calories, 10 g fat, 2 g saturated fat, zero trans fat, zero cholesterol, 30 mg sodium, 34 g total carbohydrate, 5 g fiber, 11 g sugar, 5 g protein, 2% calcium, 10o% iron.
Note that the serving size for Erin Baker's granola is twice as much as the typical granola serving size – 1/2 cup vs the usual 1/4 cup. Do you know anyone who eats just a quarter cup of granola for breakfast? Most granolas have this tiny serving size so it seems like they have fewer calories and grams of fat per serving when you glance at their nutrional label. Kudos to Erin Baker for having a reasonable serving size on her granola – and it still only has 240 calories despite having those delicious chocolate chunks!
Here are the ingredients in Erin Baker's Double Chocolate Chunk Granola – whole grain oats, honey, canola oil, chocolate chunks, oat bran, molasses, ground flax seed, cocoa, vanilla extract, sea salt. Delicious granola with healthy ingredients – yum!
Here's the closeup picture of Erin Baker's Double Chocolate Chunk Granola – look at all this chocolate!
Where do you buy Erin Baker's Granola? Unfortunately I haven't seen it in too many stores. I bought mine in Chicago area Jewel Osco supermarket, and I've also heard it's available in Target. Erin Baker's Granola is also sold online. Hopefully they'll carry it in more stores soon, as it really is a great tasting granola!
Save this for later on your social media:
Get Melanie's FREE Recipes In Your Inbox!
https://www.melaniecooks.com/wp-content/uploads/2014/02/erin_bakers_granola.jpg
963
768
Melanie Mendelson
https://www.melaniecooks.com/wp-content/uploads/2015/11/logo-new2.png
Melanie Mendelson
2014-02-20 10:01:41
2014-02-20 10:01:41
Erin Baker's Double Chocolate Chunk Granola