Dark Chocolate Almond Granola By Cascadian Farm
This post may contain affiliate links (disclosure).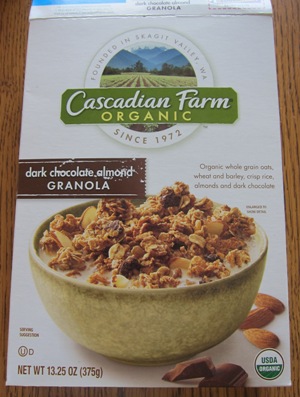 Cascadian Farm makes a very healthy and tasty organic granola called "Dark Chocolate Almond Granola". When I saw the name of this granola, I immediately wanted to buy it :) Who can resist dark chocolate and almond granola? A cereal with dark chocolate sounds like a great way to start the day!
On the front of the Cascadian Farm organic granola package, this granola ingredients are described as follows: organic whole grain oats, wheat and barley, crisp rice, almonds and dark chocolate. When I saw that it has chocolate, my first thought was that this granola probably has too many calories. When I checked the back of the box, I was pleasantly surprised that this chocolate almond granola only has 210 calories per serving!
A serving of Cascadian Farm organic dark chocolate almond granola is a 3/4 cup, which is a great serving size for granola. Here's the nutritional information for 1 serving of this granola: 210 calories, 4.5 grams of fat, 1 gram of saturated fat, zero cholesterol, 150 mg sodium, 160 mg of potassium, 39 grams of total carbohydrates, 4 grams of fiber, 14 grams of sugar, 5 grams of protein. This granola is low in calories and for a cereal it is a good source of protein and fiber!
The chocolate almond granola is very tasty, and below is the closeup picture of this granola without the milk. See those chocolate chunks and almond silvers – yum!
And here's the picture of Cascadian Farm Organic Dark Chocolate Almond Granola after the milk has been added:
If you like this granola, also check out healthy Cinnamon Raisin Granola – it is also made by Cascadian Farm and is very yummy!
Save this for later on your social media:
Get Melanie's FREE Recipes In Your Inbox!
https://www.melaniecooks.com/wp-content/uploads/2012/10/chocolate-almond-granola.jpg
397
300
Melanie Mendelson
https://www.melaniecooks.com/wp-content/uploads/2015/11/logo-new2.png
Melanie Mendelson
2012-10-08 19:42:56
2012-10-08 19:42:56
Dark Chocolate Almond Granola By Cascadian Farm