In the meat department of Whole Foods, I saw several different kinds of stuffed chicken breasts for sale.  There was a chicken breast stuffed with broccoli and cheddar, chicken breast stuffed with spinach and feta cheese, and another one stuffed with goat cheese and red pepper.  These stuffed chicken breasts looked like a great dinner option!
Stuffing the chicken breast seems like a tedious task, and here everything is already done for me – the chicken breast is stuffed with a tasty stuffing and wrapped with a twine that holds it together.  All I have to do is put the stuffed chicken in the oven and then take it out when it's done!
I've never cooked stuffed chicken breast before, so I asked the person behind the Whole Foods counter for the cooking instructions for that stuffed chicken breast.  She said to bake it uncovered at 350F for 1 hour, or until the internal temperature of the stuffed chicken breast is 165F.  I bought the chicken breast stuffed with spinach, feta and pine nuts.  I made it that same day for dinner, and it was really yummy!
I cooked the Whole Foods stuffed chicken breast exactly like the sales person said.  I first preheated the oven to 350F.  I lined the baking sheet with parchment paper so the chicken doesn't stick, then put the stuffed chicken breast on it.  Do not remove the twine that ties together the stuffed chicken breast, otherwise the stuffing will fall out.  You need to bake the stuffed chicken breast with the twine, and only remove the twine after the chicken finished cooking.  Put the stuff chicken in the oven and bake.  If you have a meat thermometer, stick it into the middle of the stuffed chicken breast and cook until the thermometer registers 165F (mine did after 45 minutes).  If you don't have a meat thermometer, just bake it for 1 hour to be safe.
Take the stuffed chicken breast out of the oven and let rest for 5 minutes.  Cut the twine with scissors and remove all pieces of the twine.  Slice the stuffed chicken breast and serve.  This stuffed chicken breast tasted great hot out of the oven, sliced in thick slices for dinner.  Or you can also serve it cold the next day, just slice it thinly and it will make a yummy sandwich.  Stuffed chicken breast can also be reheated the next day.
Overall, I was very happy with the stuffed chicken breast from Whole Foods.  It's a great convenience dinner option, and I will surely be buying it again.
Here's the picture of the whole cooked stuffed chicken breast, still with the twine: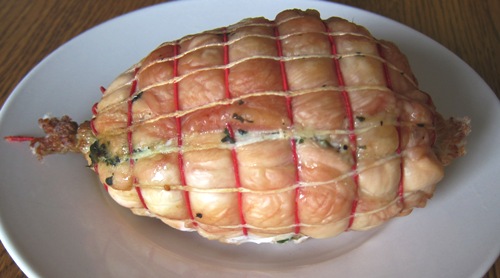 And here's this stuffed chicken breast (with spinach, feta cheese and pine nuts) sliced and served with corn on the cob: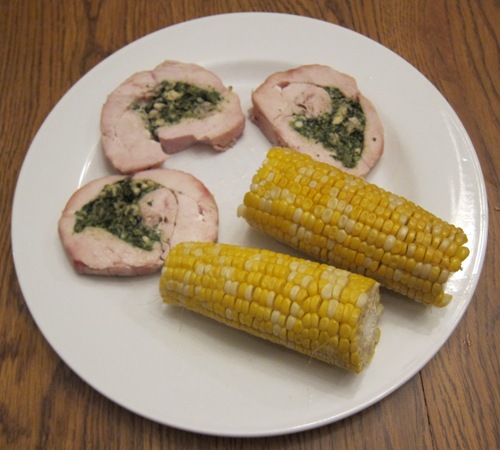 Want this juicy corn?  I make it in a microwave!  Check out my recipe for microwave corn on the cob.
http://www.melaniecooks.com/wp-content/uploads/2012/10/stuffed-chicken-breast2.jpg
437
500
Melanie Mendelson
http://www.melaniecooks.com/wp-content/uploads/2015/11/logo-new2.png
Melanie Mendelson
2012-10-27 16:14:05
2012-10-27 16:15:17
Stuffed Chicken Breast From Whole Foods