Trader Joe's Packaged Cooked Oven Roasted Turkey Breast
This post may contain affiliate links (disclosure).
Trader Joe's sells this perfect convenience dinner – fully cooked oven roasted turkey breast. I love this turkey! All you need to do is heat it and slice it, and it looks and tastes like a homemade turkey dinner!
Trader Joe's oven roasted turkey breast is vacuum sealed in plastic. Here's what it looks like when you open the box:
Here are the cooking instructions for the microwave: "Place the unopened pouch onto a microwave safe dish and pierce 6 holes on the top. Place in a microwave and heat on High for 10 minutes. Allow the pouch to rest in the unopened microwave for 3 minutes. Remove from microwave, cut open a small corner and drain the juices into a bowl or measuring cup and set aside. Place breast onto a carving board and slice. Use the reserved natural juices to make gravy or spoon directly over the turkey slices. Serve warm or use leftovers to make sandwiches."
As an alternative to microwaving, you can also bake this turkey breast in the oven. Preheat the oven to 350F, take the turkey out of the plastic package, put the turkey with its juices in a baking dish and bake for 35 minutes.
I used the microwave to heat the Trader Joe's turkey and it came out perfect. It was moist and delicious – great texture and great taste! I sliced it and served with cranberry sauce – yum!
Here's the picture of the cooked and sliced Trader Joe's turkey:
And here's the picture of the whole dinner – Trader Joe's turkey slices, cranberry sauce, green beans and white rice.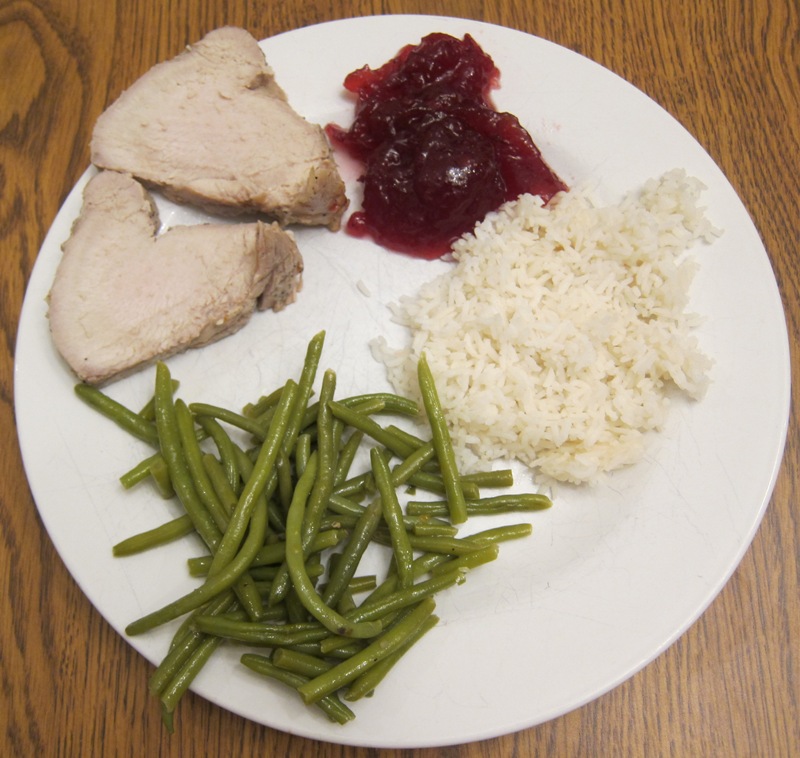 This turkey dinner was super easy to make as I used the microwave to cook the green beans and cooked rice in a rice cooker!
Save this for later on your social media:
Get Melanie's FREE Recipes In Your Inbox!
https://www.melaniecooks.com/wp-content/uploads/2014/01/trader_joes_turkey_breast_cooked_sliced.jpg
574
800
Melanie Mendelson
https://www.melaniecooks.com/wp-content/uploads/2015/11/logo-new2.png
Melanie Mendelson
2014-03-09 07:27:28
2014-03-09 08:51:25
Trader Joe's Packaged Cooked Oven Roasted Turkey Breast