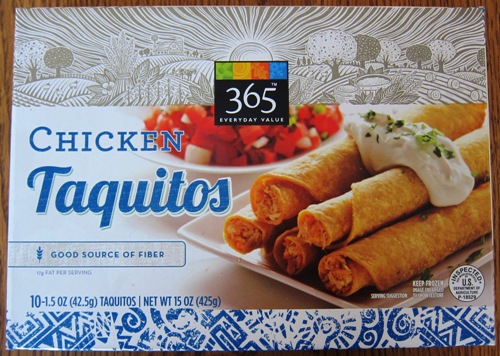 Whole Foods sells these really tasty and convenient frozen chicken taquitos, made by its 365 Everyday Value brand.  These taquitos taste really good and made a great party appetizer!  These Whole Foods chicken taquitos cost $3.99 per box of 10 frozen taquitos – and this price is actually pretty cheap, especially considering that it's the Whole Foods 🙂
Here's the description from the box of Whole Foods frozen chicken taquitos: "Our Chicken Taquitos are just the thing when you have a handering for delicious, homemade-tasting taquitos, but don't have the time to prepare them from scratch.  Handmade using fresh, yellow corn tortillas, our taquitos are filled with savory, seasoned chicken and then deep fried to crisp perfection so you only need to heat, serve and enjoy!"
You can cook those frozen chicken taquitos in the microwave or oven.  Here are the microwave cooking times for the chicken taquitos: 3 taquitos – 2 minutes, 6 taquitos – 4 minutes, 10 taquitos – 6 minutes.  When microwaving these Whole Foods chicken taquitos, just put them on the microwave-safe plate and spread them out so they not touching.
To cook the chicken taquitos in the oven, put the taquitos on the baking sheet and bake in preheated oven at 350F for 17 minutes.  When the taquitos are cooked in the oven, they are crispier than the microwaved ones.
Here's the nutritional information for the Whole Foods 365 brand chicken taquitos: serving size 3 taquitos, 330 calories, 17 grams of fat, 3 grams of saturated fat, zero trans fat, 30 mg cholesterol, 250 mg sodium, 30 g total carbohydrate, 4 grams of fiber, 15 grams of protein, 6% calcium and 6% iron.  The chicken taquitos ingredients are corn tortilla, cooked chicken, water, starch and oil.
Here's the picture of the resealable bag that's inside the package of this frozen chicken taquitos: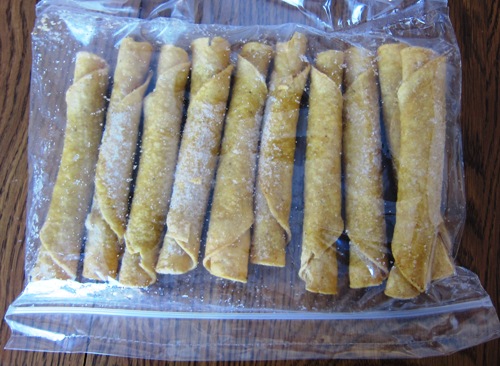 And here are the cooked (microwaved) chicken taquitos on the plate: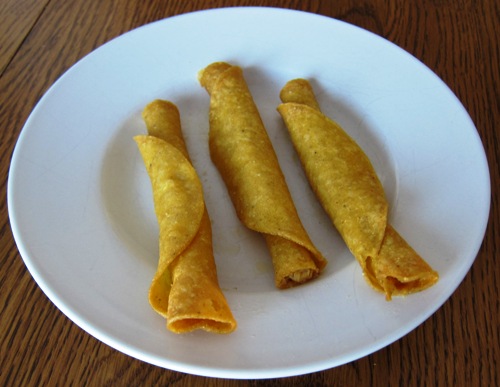 These taquitos go really well with the Whole Foods Meditteranean crunch salad and Whole Foods mango salsa recipe!
http://www.melaniecooks.com/wp-content/uploads/2013/05/chicken-taquitos.jpg
356
500
Melanie Mendelson
http://www.melaniecooks.com/wp-content/uploads/2015/11/logo-new2.png
Melanie Mendelson
2013-05-09 07:32:43
2013-05-09 07:33:46
Chicken Taquitos From Whole Foods