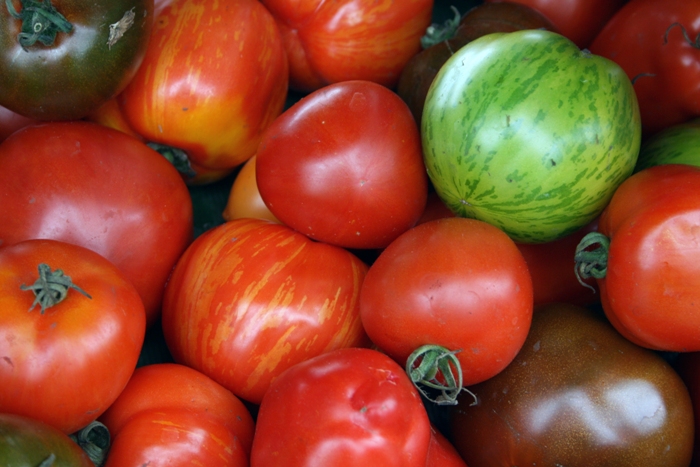 If you have a garden full of juicy red tomatoes, you may be wondering how on Earth you're ever going to use that many before they go bad. Of course you can toss them in with a salad or use them as an ingredient in your meals, but you'll likely still have an abundance of them left over. There are a lot of ways to use up tomatoes from your garden that you may not have thought about, and 6 of those ways are listed below.
Make Salsa
This is not only an excellent way to use up your tomatoes, but you can also use up some of the other vegetables from your garden at the same time. There are a variety of great homemade salsa recipes available, so go find one that sounds tasty and get to making!
Make Tomato Sauce
There's nothing that tastes better than homemade spaghetti sauce. You can make up a couple big batches of spaghetti sauce and other types of tomato sauces and freeze them to use at a later time.
Share Them
If you're feeling generous and don't want to see all those tomatoes go to waste, share some with your friends, family, and neighbors.
Can Them
You can slice or dice the tomatoes however you want and can them so they last a long time and can be used throughout the winter.
Stuff Them
People don't often think of stuffing tomatoes because usually we use tomatoes to stuff other foods, but stuffed tomatoes make great meals or appetizers and there are a variety of recipes to choose from for this.
Fry Them
So you may not want to fry up the juicy red tomatoes, but you can take the unripe green tomatoes and fry those up for a delicious treat. Fried green tomatoes are a popular southern dish that non-southerners have also grown to love.
My favorite way of using up excess tomatoes is making the tomato sauce out of them and freezing it.  Use this delicious homemade tomato sauce recipe to use up all your tomatoes, then freeze it in ziploc bags and enjoy this homemade tomato sauce with your pasta year round!
http://www.melaniecooks.com/wp-content/uploads/2014/07/tomatoes_garden.jpg
467
700
Melanie Mendelson
http://www.melaniecooks.com/wp-content/uploads/2015/11/logo-new2.png
Melanie Mendelson
2013-07-09 07:21:41
2015-10-07 14:04:42
Best Ways To Use Up Tomatoes From Your Garden