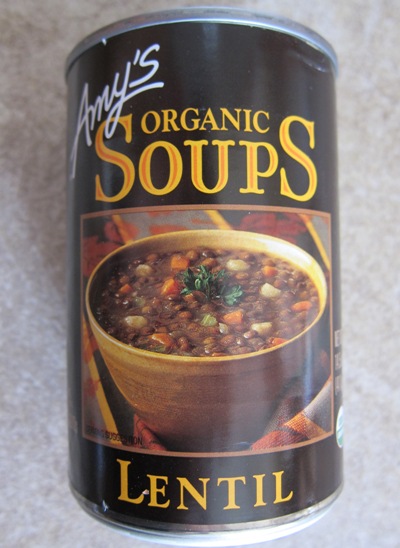 Amy's Organic Lentil Soup is a very tasty canned soup.  It is so hard to find a convenience food that's just as tasty and satisfying as homemade, but Amy's soup fits this criteria!  The lentil soup is super yummy and tastes perfectly homemade!  If someone told me a year ago that I'll like canned soup, I wouldn't believe them 🙂  Well, I changed my mind about canned soup after I discovered Amy's Soup at Costco.  Because Amy's Organic Soup uses quality organic ingredients and doesn't have any chemicals or preservatives, it tastes like a freshly made soup!
This Amy's Organic Lentil Soup is very hearty.  It's not like a little appetizer soup – it's a true main dish!  Lentils are full of protein, so this Amy's Lentil Soup is extremely satisfying – it's a perfect vegetarian main dish.  In fact, it is vegan – there are no animal products in this soup.
Here's the description from the package for Amy's Organic Lentil Soup: "Amy, who is a picky eater, loves this nourishing Lentil Soup made from your mom's favorite recipe.  It is high in fiber, a good source of protein and has a rich, satisfying flavor.  Your entire family will love it".
Here are the ingredients of Amy's Lentil Soup: filtered water, organic lentils, organic celery, organic carrots, organic onions, organic potatoes, organic extra virgin olive oil, sea salt, spices.  It's so nice to see an ingredient list like that – everything organic and no artificial flavors, chemicals or preservatives!
Here's the nutritional information for Amy's Lentil Soup – serving size 1 cup (one can has two servings), 180 calories, 5 g fat, 1 g saturated fat, zero trans fat, zero cholesterol, 590 mg sodium, 25 g total carbohydrate, 6 grams of fiber, 3 g sugar, 8 g protein, 30% vitamin A, 10% vitamin C, 2% calcium, iron 15%.
Amy's Lentil Soup is a great thing to have in your pantry so you can make yourself an instant lunch!  To prepare Amy's Lentil Soup, just pour in a bowl and microwave until hot.  You will get a bowl of yummy fresh piping hot lentil soup in less than a minute!  This lentil soup is so tasty and filling!
Here's the picture of Amy's Organic Lentil Soup in a bowl: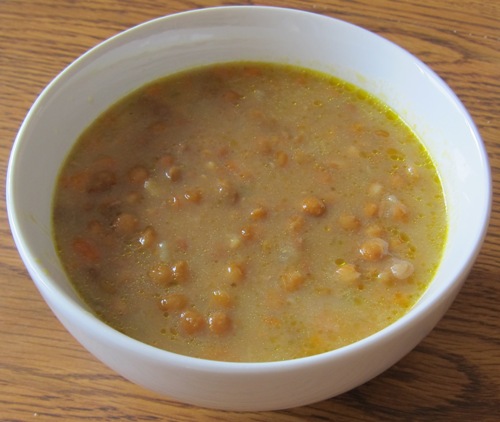 For another super yummy Amy's Organic Soup, check out Amy's Minestrone.
http://www.melaniecooks.com/wp-content/uploads/2013/04/amys-lentil-soup-organic-can.jpg
548
400
Melanie Mendelson
http://www.melaniecooks.com/wp-content/uploads/2015/11/logo-new2.png
Melanie Mendelson
2013-04-25 11:29:50
2013-04-25 11:29:50
Amy's Organic Lentil Soup