Trader Joe's Organic Cranberry Green Tea
This post may contain affiliate links (disclosure).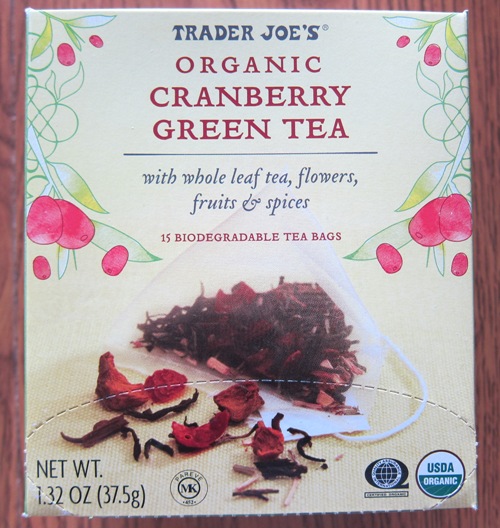 Trader Joe's sells this wonderful green tea called Trader Joe's Organic Cranberry Green Tea with whole leaf tea, flowers, fruits and spices. This green tea is really full of flavor!
Even though it's a green tea, it makes a red-colored tea once it's brewed. The red color is from the hibiscus – this tea has pronounced hibiscus flavor with sour notes and great aroma! There are cranberries on the ingredient list of that tea, but I think it's hibiscus that gives this Trader Joe's tea its cranberry-like taste.
If you sweeten this tea, it will taste sweet and sour. I like unsweetened tea, and I really enjoy savoring a unique flavor of this Cranberry Green Tea!
Here are the ingredients of the Trader Joe's Organic Cranberry Green Tea: whole leaf green tea, hibiscus flowers, cardamom seed, lemongrass, cinnamon bark, apple pieces, star anise, rosehips, clove, cranberries, natural flavors. All the ingredients are 100% organic.
This Trader Joe's tea is packaged in special biodegradable tea bags that don't look like your ordinary teabag. They are made with a thin delicate material, that, according to the package, allows the water to circulate freely through the leaves for the best tea flavor. Here's the picture of the teabag of Trader Joe's Organic Cranberry Green Tea:
And here's a brewed cup of this tasty tea. The cup is red, that's why you can't really see the tea color that well here against that cup color, but the tea color is cranberry red.
Enjoy this yummy and healthy Trader Joe's Organic Cranberry Green Tea that's full of antioxidants! For another great green tea, also check out Tazo Om organic green tea, and if you are a fan of sweet and sour notes in your tea, try the tea recipe with lemon and honey.
Save this for later on your social media:
Get Melanie's FREE Recipes In Your Inbox!
https://www.melaniecooks.com/wp-content/uploads/2013/07/trader-joes-cranberry-green-tea.jpg
528
500
Melanie Mendelson
https://www.melaniecooks.com/wp-content/uploads/2015/11/logo-new2.png
Melanie Mendelson
2013-08-03 07:29:34
2013-07-30 12:09:41
Trader Joe's Organic Cranberry Green Tea