How To Use A Tea Infuser Spoon To Brew Loose-Leaf Tea
This post may contain affiliate links (disclosure).

I love tea! In the morning, I drink either hot coffee or hot tea, depending on my mood. I used to use the tea in the tea bags, until I discovered the tea infuser spoon (pictured above).
The tea infuser spoon makes it so easy to use the loose-leaf tea (the tea that's not in the tea bags). Loose-leaf tea is generally tastier and has higher quality than the tea in the tea bags. There are also more choices for gourmet teas sold as loose-leaf. Also, loose-leaf tea is cheaper than the same kind of tea packaged in tea bags.
Before I discovered the tea infuser spoon, brewing the loose-leaf tea was so complicated that I simply didn't feel like dealing with it in the mornings. Brewing a single cup of loose-leaf tea using the tea infuser spoon is as easy as dumping the tea bag in a cup! I got my tea infuser spoon for a whopping $2, at the store section where they the spatulas, whisks, garlic presses and other little cooking tools.
Here's how to use the tea infuser spoon –
First, bring a cup of water to a boil in a microwave.
Next, open the container with the loose-leaf tea:
Squeeze the sides of the tea infuser spoon handle with your fingers to OPEN the tea infuser: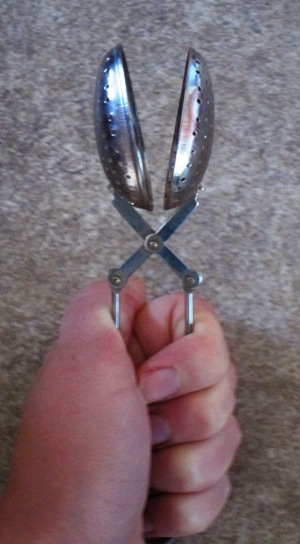 Scoop the tea out of a jar with the opened tea infuser spoon, then loosen your hand grip to close the tea infuser spoon: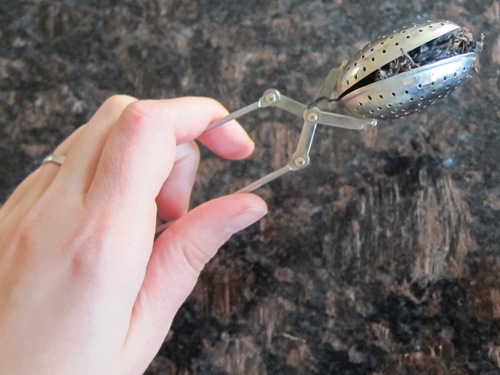 Put the tea infuser spoon with the tea inside in a cup of boiling water, and let brew 3-5 minutes.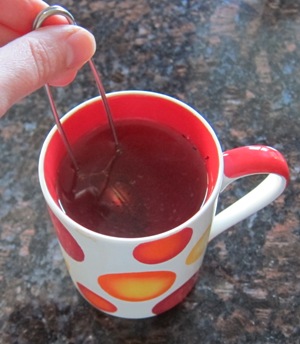 Enjoy your freshly brewed hot tea!

Save this for later on your social media:
Get Melanie's FREE Recipes In Your Inbox!
https://www.melaniecooks.com/wp-content/uploads/2011/10/tea-infuser.jpg
163
500
Melanie Mendelson
https://www.melaniecooks.com/wp-content/uploads/2015/11/logo-new2.png
Melanie Mendelson
2011-10-26 08:57:14
2013-01-16 10:57:03
How To Use A Tea Infuser Spoon To Brew Loose-Leaf Tea