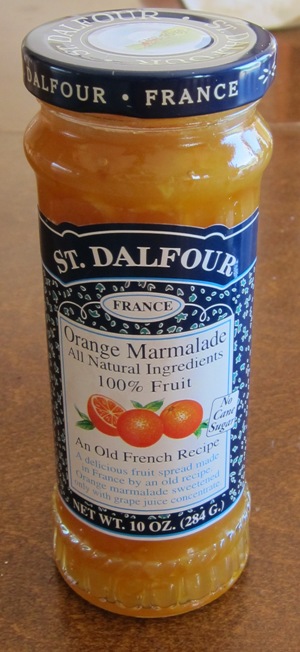 Orange marmalade is my favorite kind of jam. I can just eat orange marmalade with a spoon! Orange marmalade has a very unique flavor: intense sweet citrus with the hint of bitterness from the peels. Orange marmalade includes orange peels, and that's what I really love about it! I love the texture of the pieces of orange rind inside the sweet spread, and I love the citrus taste explosion when I chew those orange peel pieces!
Not all orange marmalades are created equal. This is the case where the brand really does matter. I've tried many kinds of orange marmalade, and my favorite is by far the St. Dalfour Orange Marmalade – the one pictured on the photo. The front label on the jar describes the St. Dalfour Orange Marmalade as "A delicious fruit spread made in France by an old recipe. Orange marmalade sweetened only with grape juice concentrate". The back label says: "By gently cooking in the tradition of the french countryside, the natural flavor of the fruit is conserved". Every word of it is true!
I've tried other brands of orange marmalade that tasted pretty artificial and blah. If I didn't try St. Dalfour orange marmalade, I wouldn't even know that I love orange marmalade! St. Dalfour orange marmalade is available in most big grocery stores, so if you haven't tried it, put it on your grocery list.
As I was typing the description on the jar label, I couldn't help myself and opened the jar and dipped my finger in the orange marmalade! Yummy! What a flavor!
Save this for later on your social media:
Get Melanie's FREE Recipes In Your Inbox!
https://www.melaniecooks.com/wp-content/uploads/2011/05/orange-marmalade-jar.jpg
652
300
Melanie Mendelson
https://www.melaniecooks.com/wp-content/uploads/2015/11/logo-new2.png
Melanie Mendelson
2011-05-18 19:20:34
2011-05-22 16:56:57
Orange Marmalade