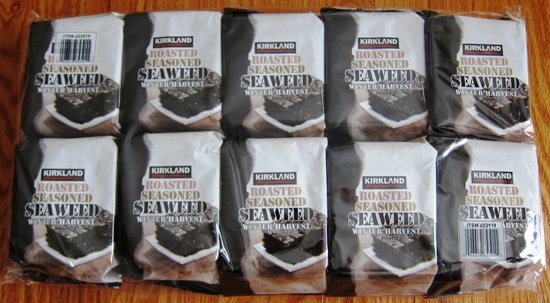 I love roasted seaweed snacks! Small thin pieces of dried seaweed are so addictive! Dried roasted seaweed is low calorie and healthy – seaweed is a great source of iodine, vitamin A and vitamin C.
Costco has great deals on seaweed snacks. Before Costco used to carry JayOne roasted seaweed snacks, and now they've replaced it with their own Kirkland brand of dried seaweed snacks – Kirkland Roasted Seasoned Seaweed. Costco sells the Kirkland seaweed snacks in the case of 10 packages.
Costco Kirkland Roasted Seaweed tastes exactly the same as the JayOne Roasted Seaweed. The only difference is package size. JayOne seaweed packages are much smaller, in fact more than 3 times smaller. Kirkland seaweed snack package size is 17 grams, while JayOne dried seaweed is just 5 grams. The individual package of Kirkland dried seaweed is too big to eat all at once – I usually eat about one third and save the rest for later.
Here's the nutritional information for Kirkland Roasted Seaweed snacks – serving size 1/5 package, 20 calories, 1.5 g fat, zero saturated fat, zero trans fat, zero cholesterol, 60 mg sodium, 1 g total carbohydrate, zero fiber, 1 g protein, 25% vitamin A, 6% vitamin C, 1 % iron. The ingredients are seaweed, corn oil, grape seed oil, sesame oil and sea salt.
Here are some more pictures of Costco Kirkland dried roasted seaweed snacks:
Individual roasted seaweed package –
Opened package of seaweed snacks: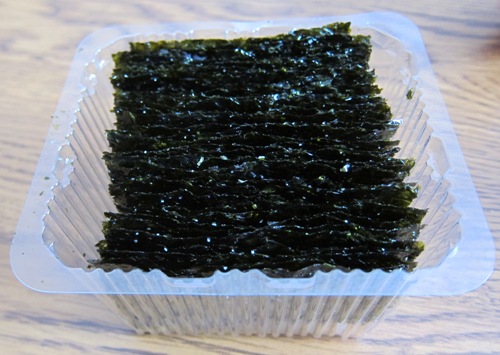 One piece of dried roasted seaweed:
How do you eat roasted seaweed? I just eat that seaweed by itself as a snack! Other ways to eat dried seaweed is to wrap it around sushi (see my california rolls recipe) or cut it up with scissors and put in a salad. And if you like seaweed, also check out Costco seaweed salad.
Save this for later on your social media:
Get Melanie's FREE Recipes In Your Inbox!
https://www.melaniecooks.com/wp-content/uploads/2013/03/costco-kirkland-seaweed2.jpg
455
400
Melanie Mendelson
https://www.melaniecooks.com/wp-content/uploads/2015/11/logo-new2.png
Melanie Mendelson
2013-03-14 14:52:56
2013-03-06 14:56:53
Kirkland Roasted Seaweed - Dried Seaweed Snacks From Costco