Instant Pot Frozen Chicken Legs With Lemon And Garlic
This post may contain affiliate links (disclosure).
These Instant Pot frozen chicken legs with lemon and garlic is the easiest recipe ever! A solid block of frozen chicken legs will become a mouthwatering dinner 30 minutes from now – this pot is truly magic!
Watch out, world! Melanie got an Instant Pot and hopped on the Instant Pot bandwagon! What's the best food to use to test out this new toy? A block of frozen chicken legs of course :)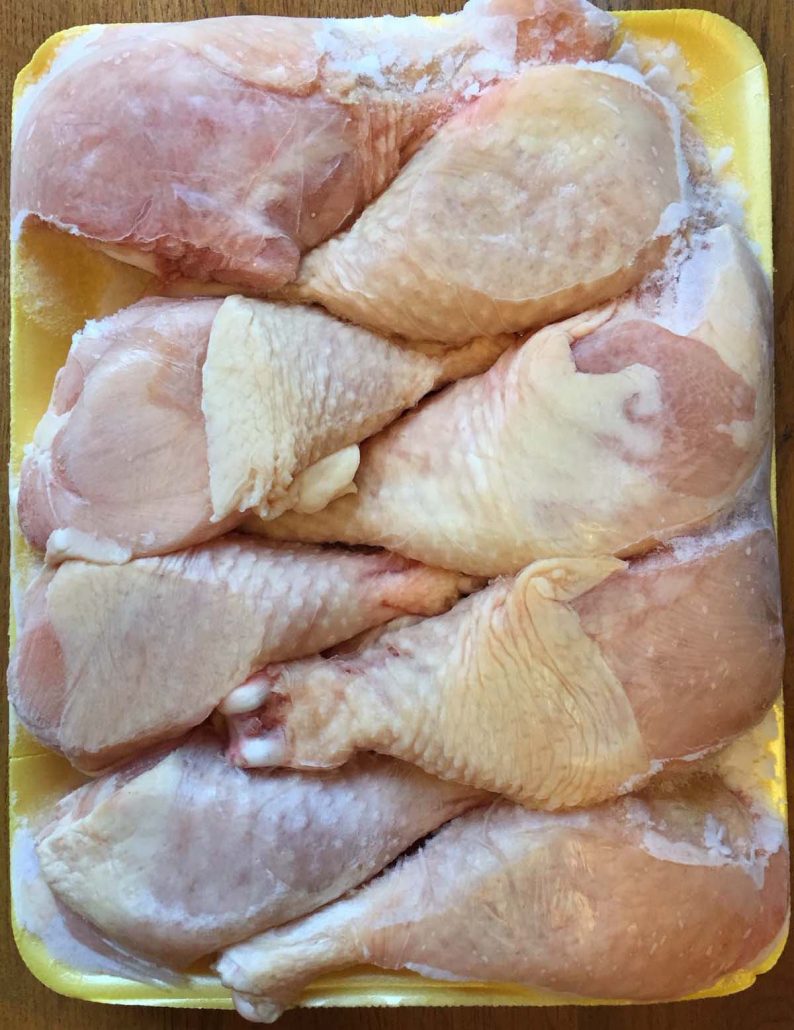 If you are disorganized like me and can never remember to defrost meats in advance, the Instant Pot will be your true life-saver! It cooks the meat perfectly and quickly straight from frozen! These frozen solid hard-as-a-rock chicken drumsticks were cooked completely in 25 minutes and the meat was so tender and juicy, it was falling off the bone! To top it off, they were swimming in a super-flavorful lemon-garlic sauce!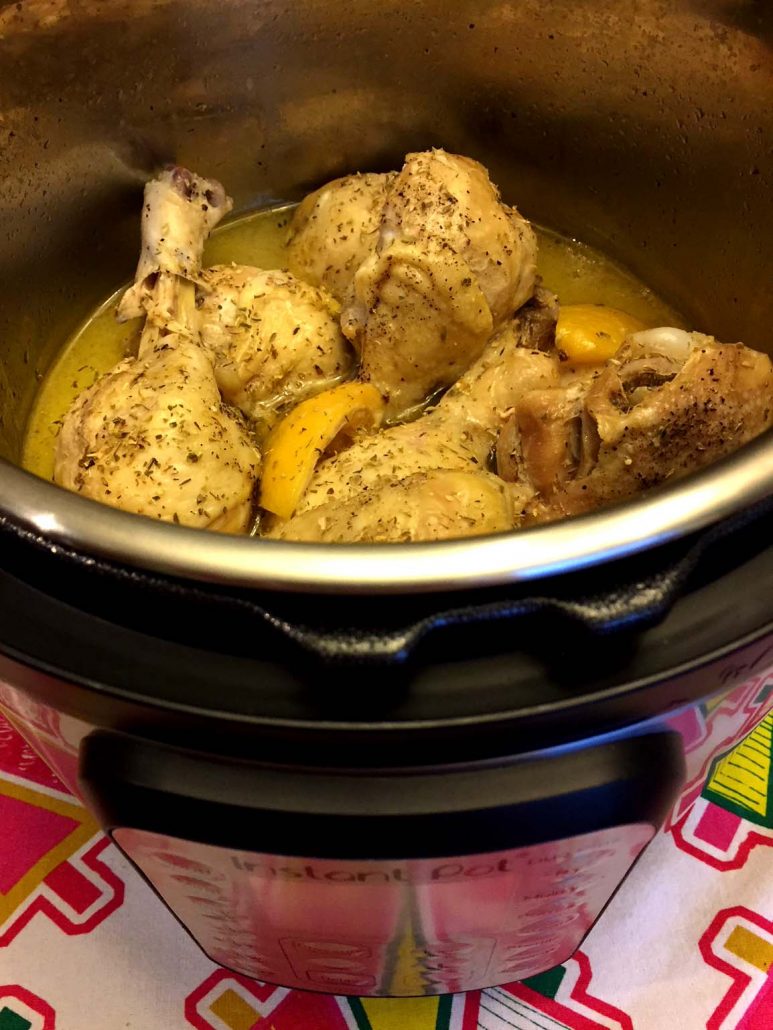 When I first got an Instant Pot (DUO Plus 6 Quart 9-in-1 model), I was sceptical, very sceptical. What can this thing do that my crockpot or oven can't already do? I didn't want it to do the same old thing in some cumbersome new way :) I wanted the Instant Pot to do something truly unique that my other appliances can't do, so I can clearly see it's advantage. Cooking frozen meat quickly is where the Instant Pot truly shines. No other appliance can turn a pack of frozen meat into dinner in under 30 minutes!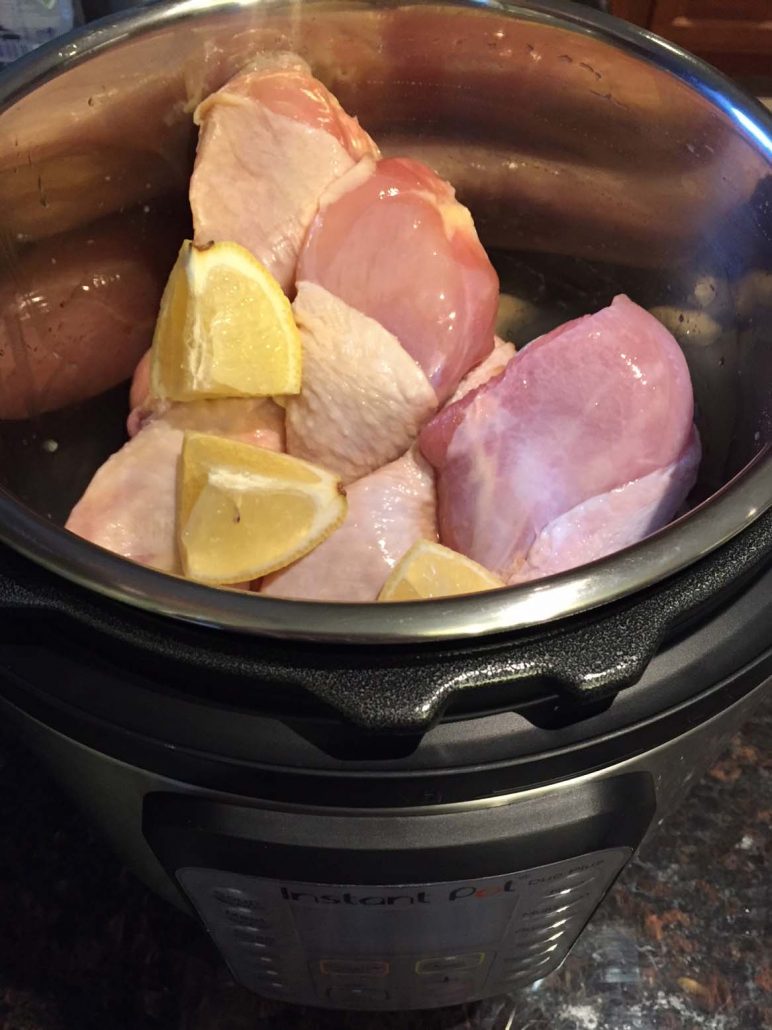 How To Cook Frozen Chicken Legs In The Instant Pot
Making these amazing lemon garlic chicken legs in the Instant Pot is really easy. All you need to do is put a cup of water in your Instant Pot, add 8 garlic cloves to the water, then add frozen chicken legs, sprinkle the frozen chicken legs with salt, pepper and Italian herbs seasoning and put quartered lemon on top. Close the pot, set it to cook on Manual High Pressure for 25 minutes and walk away. When the timer beeps, do a Quick Release. Dinner is ready!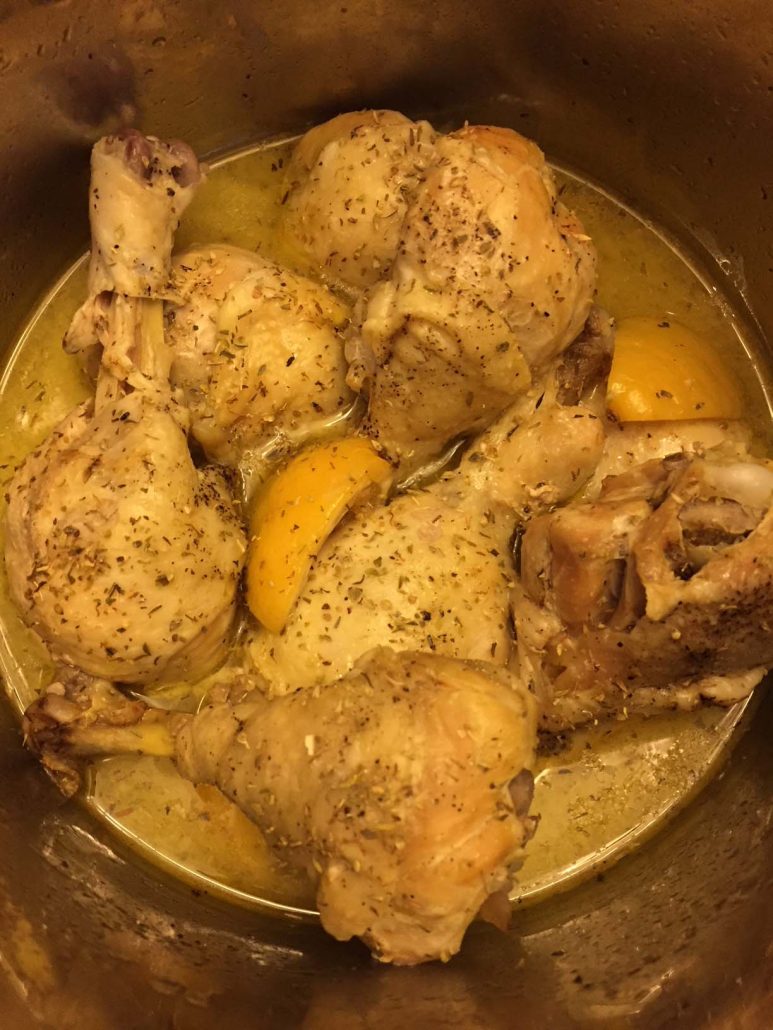 Take a look at the picture below – how do you like the price of these frozen chicken legs that I got on sale? A dinner for 4 people for $2.21 – how's that for a budget meal?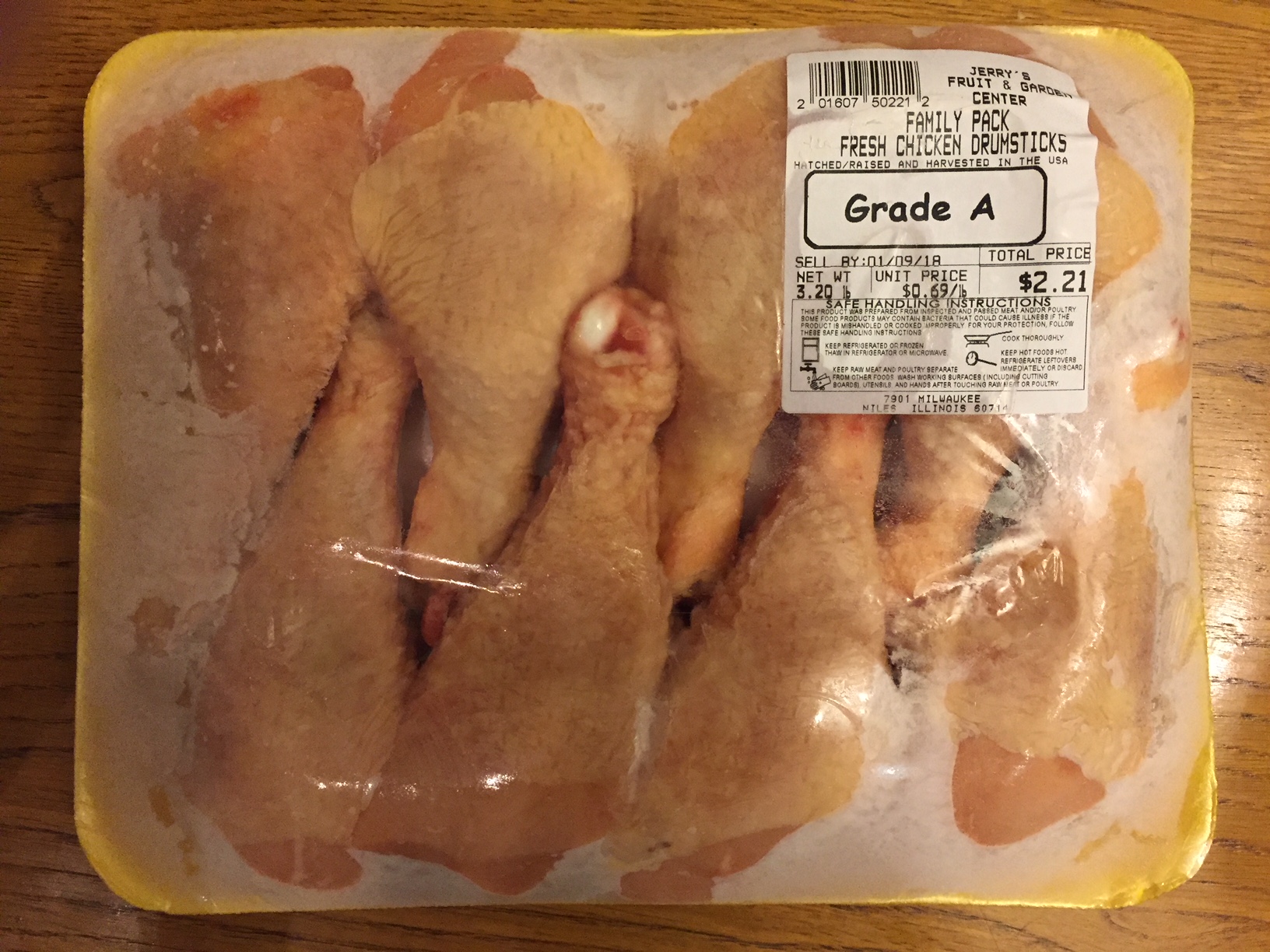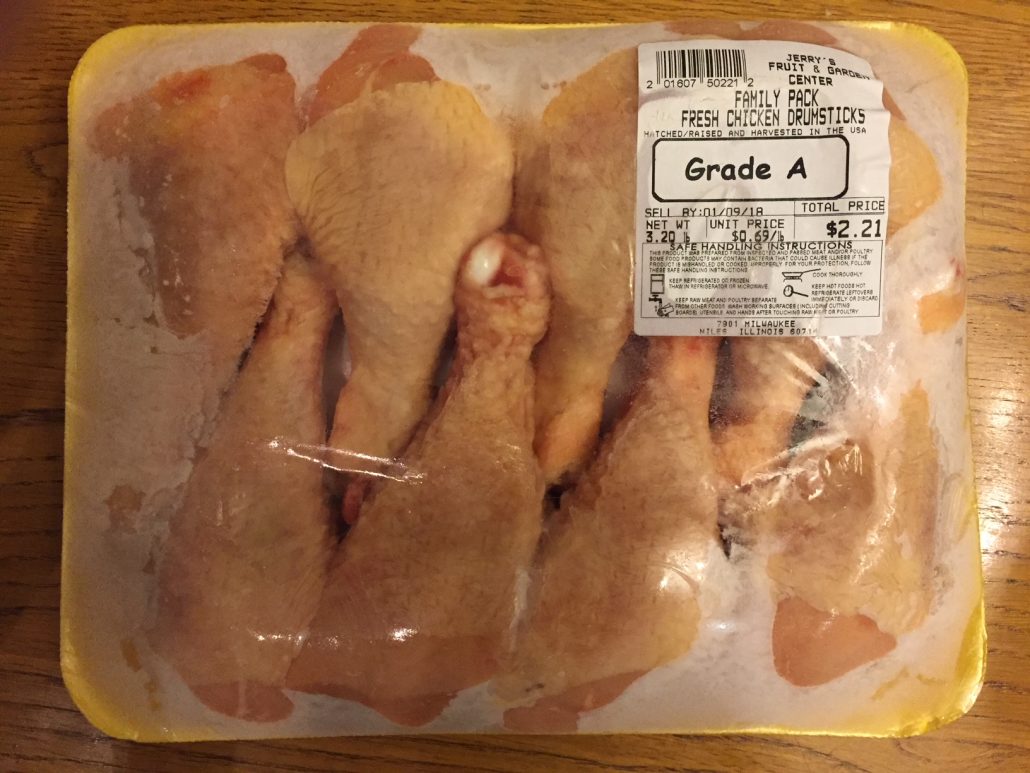 How many frozen chicken legs can you cook in the Instant Pot at the same time? As many as it will fit, the cooking time will remain the same! If you have an extra-large frozen "family pack" of chicken legs that doesn't fit into the Instant Pot in one chunk, break it up so it fits – you might need to thaw it on Defrost setting in a microwave for a few minutes until you are able to break it up in the middle into two pieces.
Have frozen chicken breasts instead of chicken legs? Check out my Instant Pot Frozen Chicken Breasts recipe.
Want to make lemon-garlic chicken legs and don't have an Instant Pot? No problem! I have recipe for baked lemon garlic chicken legs in the oven that are also really delicious! You'll just have to defrost them first before baking :)
Click Here To Pin This Recipe
Instant Pot Frozen Chicken Legs With Lemon And Garlic
These Instant Pot Frozen Chicken Legs are amazing! Just throw in frozen chicken legs with some garlic cloves and lemon slices into your Instant Pot, and you'll have delicious dinner on the table in 30 minutes!
Instructions
Pour 1 cup of water into the Instant Pot and add garlic cloves to the water.

Put frozen chicken legs into the Instant Pot.

Sprinkle frozen chicken legs with salt, pepper and Italian herbs seasoning.

Add quartered lemon on top of frozen chicken legs.

Close the Instant Pot and turn the pressure valve to Seal.

Press "Pressure Cook" or "Manual" button, and set the time to 25 minutes.

When the Instant Pot finishes cooking, use the Quick Release to release the steam.
Save This Recipe
Save this for later on your social media:
Get Melanie's FREE Recipes In Your Inbox!
https://www.melaniecooks.com/wp-content/uploads/2018/01/instant_pot_chicken_legs_from_frozen.jpg
1538
1154
Melanie Mendelson
https://www.melaniecooks.com/wp-content/uploads/2015/11/logo-new2.png
Melanie Mendelson
2018-01-13 07:15:18
2021-12-08 07:54:19
Instant Pot Frozen Chicken Legs With Lemon And Garlic