Homemade Chinese Sweet & Sour Chicken Recipe
This post may contain affiliate links (disclosure).
You can make this amazing homemade sweet and sour chicken faster than you can order a Chinese takeout! Soft chicken pieces in a crispy crust and finger-licking sticky sweet and sour sauce – doesn't get any better than that!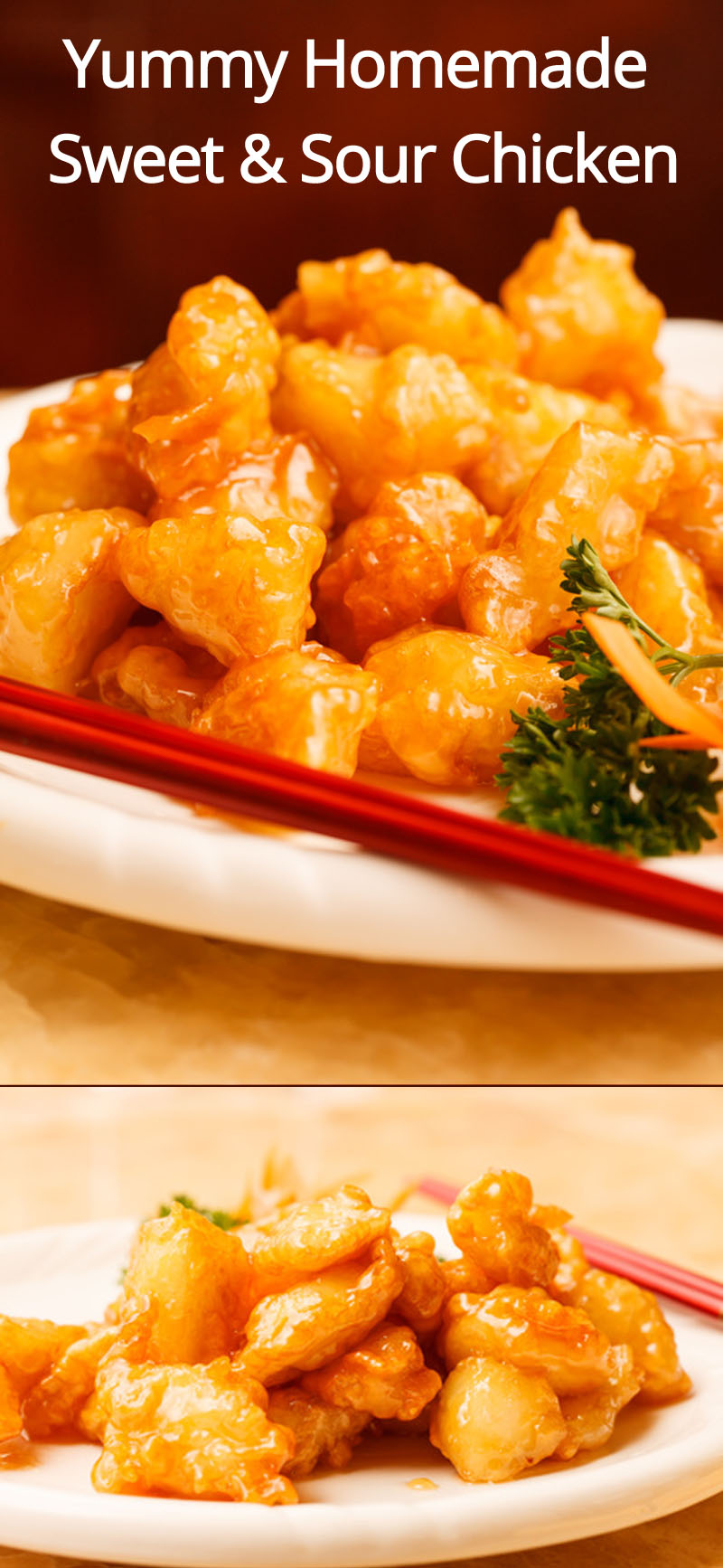 Sweet and sour chicken is one of the most popular items on the menu of Chinese restaurants in the US. Who doesn't love the soft chicken with the crispy crust that's coated in the sweet, tangy and sticky sauce? What makes the sweet & sour sauce so addictive is the complex combination of flavors. It's not just sweet, it's not just sour, it's simply something out of this world.
If you attempted to make sweet & sour chicken at home before, you were probably disappointed with the result because most recipes are missing the secret ingredient that makes it taste the same as in a Chinese restaurant (not, it's not MSG).
But sweet and sour chicken doesn't have to taste flat and boring. This easy recipe will show you how to make restaurant-quality Chinese sweet and sour chicken at home. This chicken is soft on the inside, has a tender crust on the outside and coated with a finger-licking sweet and sour sauce that you just can't stop eating!
So, what is the secret ingredient for the authentic-tasting sweet & sour chicken? Well, it's not a single ingredient… the secret is in a combination of ingredients. The complex taste can never be achieved by one thing, it's always a mix. The secret combination of ingredients gives this chicken the same depth of flavor that you would find in a sweet and sour chicken at a Chinese restaurant. The sweetness in this sauce comes from sugar, the sourness comes from vinegar, and the depth from the mix of Worchestershire sauce, Oyster sauce (found in the ethnic isle of the supermarket next to soy sauce), soy sauce and ketchup. Yes, there is ketchup in there :) Even though ketchup is not a typical Chinese ingredient, the sweet & sour chicken is an American-Chinese invention after all!
Once you assembled all the ingredients for the sauce, making sweet and sour chicken is pretty easy. What you need to do is cut the chicken into pieces, coat them in egg, coat them in cornstarch, pan-fry until cooked and coat in the sauce. Delicious! I even have a shortcut for coating the chicken – instead of dipping each chicken piece in egg and cornstarch individually, I mix the chicken and egg in a bowl, then put the chicken and cornstarch in a gallon-size ziploc bag, close the bag and shake until the chicken is evenly coated with cornstarch. It's like magic! ;)
What kind of Chinese food is without leftovers? Sweet and sour chicken reheats very well, so make enough to have some leftovers the next day. You can also make this into a freezer meal by doubling the ingredients and freezing half of the sauce in a freezer bag, along with the raw chopped chicken in another freezer bag. Label both ziploc bags "Sweet & Sour Chicken" – this meal kit will really come in very handy for those times you don't feel like going to the grocery store!
Click Here To Pin This Recipe
Chinese Sweet And Sour Chicken Recipe
This finger-licking sweet & sour chicken tastes exactly like a sweet & sour chicken from a Chinese restaurant! Easy to make foolproof recipe, amazing taste!
Instructions
Put the sauce ingredients (sugar, apple cider vinegar, ketchup, Worcestershire sauce, soy sauce and Oyster sauce) in a microwave-safe bowl. Microwave on High for 1 minute, then stir with the spoon so the sugar is dissolved.

Cut the chicken into 1-inch pieces and put in another bowl.

Add the eggs to the chicken and toss to coat.

Take two 1-gallon ziploc bags and put 1 cup of cornstarch in each bag. Put half the chicken in each bag, zip the bags and shake them until the chicken is evenly coated with cornstarch.

Heat the oil in a large non-stick frying pan over medium-high heat.

Cook the chicken in batches (so it fits in the pan in a single layer without the pieces touching each other), stirring every minute, for 4 minutes. Removed cooked chicken in a bowl.

Put all cooked chicken back into a frying pan (all at once) and pour sweet & sour sauce over it. Heat over medium-high heat until the sauce starts boiling. Start stirring the chicken every 20 seconds until the sauce is thickened and all the chicken is evenly coated with sauce (about 4 minutes).
Save This Recipe
Save this for later on your social media:
Get Melanie's FREE Recipes In Your Inbox!
https://www.melaniecooks.com/wp-content/uploads/2016/04/sweet_sour_chicken_chinese_recipe3.jpg
849
566
Melanie Mendelson
https://www.melaniecooks.com/wp-content/uploads/2015/11/logo-new2.png
Melanie Mendelson
2016-04-29 07:51:55
2021-12-08 09:12:05
Homemade Chinese Sweet & Sour Chicken Recipe