Free Weekly Meal Plan – Family Dinner Menu Ideas (Week 5)
This post may contain affiliate links (disclosure).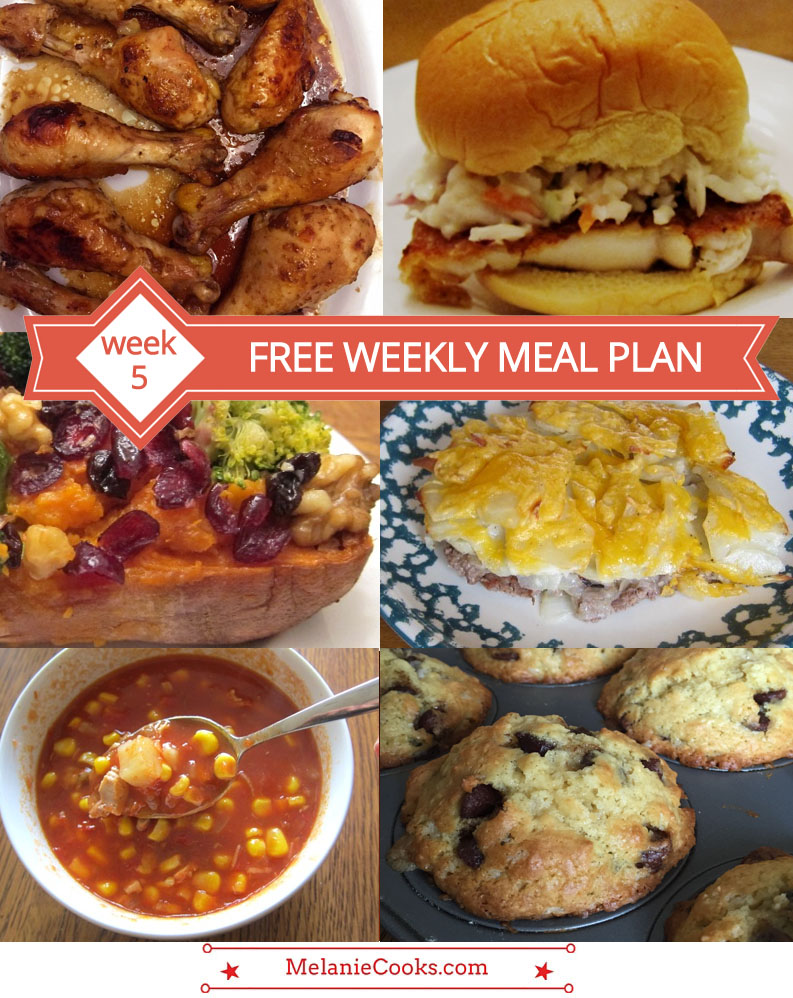 Welcome to week 5 of Melanie's FREE Meal Plans! Here's what's cooking this week:
Garlic Apricot Chicken Drumsticks
Tilapia Sandwiches With Coleslaw
Stuffed Baked Sweet Potatoes
Ground Beef And Potatoes Casserole
Chicken, Corn And Tomato Soup
And for dessert we'll be having Bakery-Style Chocolate Chip Muffins – YUM!
See below for pictures and recipes of all these delicious meals, plus a handy printable shopping list of all the recipe ingredients! Your "What's For Dinner" dillemma is finally solved!
FREE Family Meal Plan – Week 5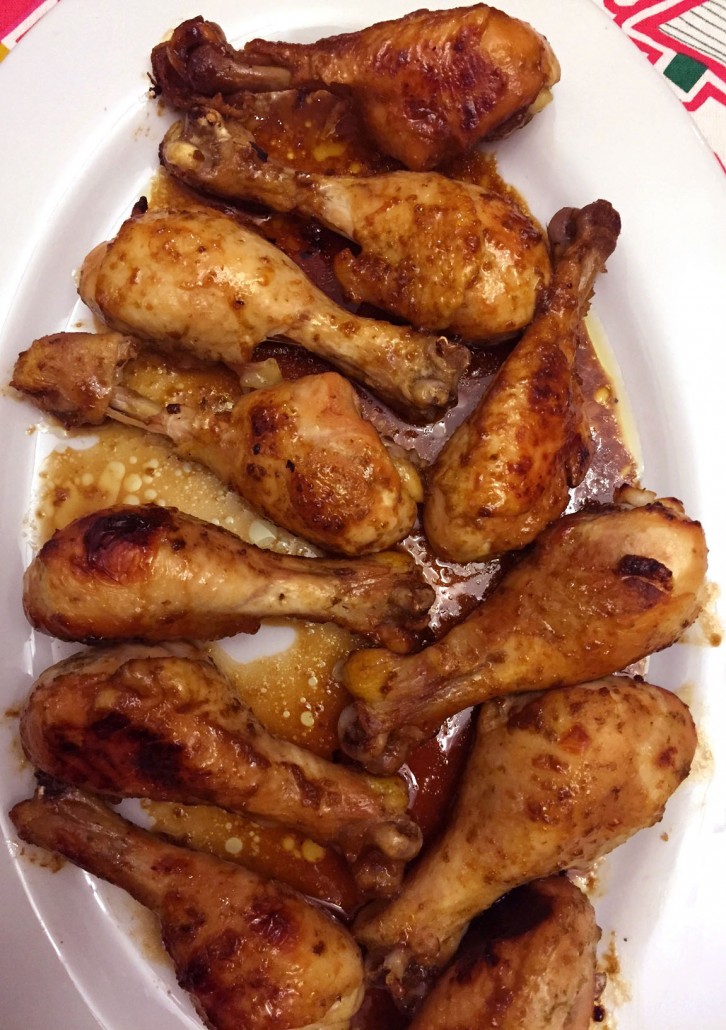 These chicken legs are flavored with a sweet, sticky, spicy and garlicky sauce – a universal favorite! Apricot jam is combined with soy sauce, minced garlic and jalapeno pepper to make a tasty marinade. Chicken drumsticks are coated in sauce and baked in the oven – easy and tasty!
Recipe link: Garlic Apricot Chicken Drumsticks Recipe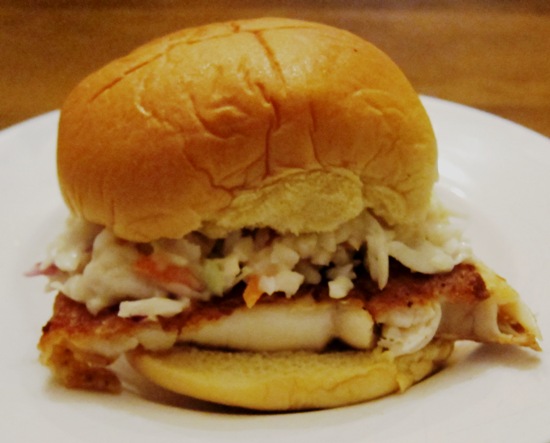 Tilapia fish fillet is coated in flour and egg, then pan-fried. Feel free to substitute the tilapia with a different kind of fish if you'd like. The sandwich is assembled with fish fillet topped with a creamy coleslaw – a delicious combo! These easy fish sandwiches will quickly become your favorite!
Recipe Link: Tilapia Sandwich Recipe With Coleslaw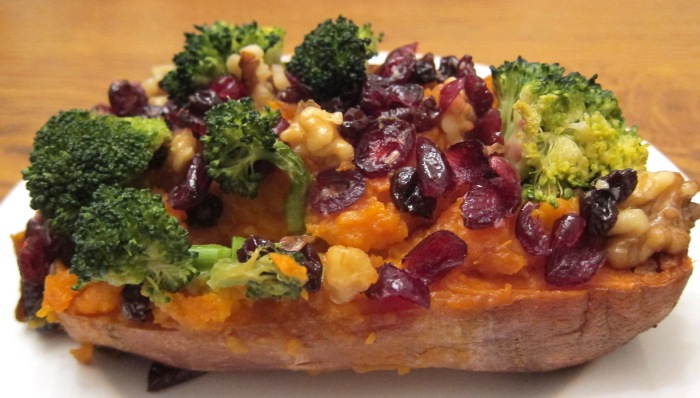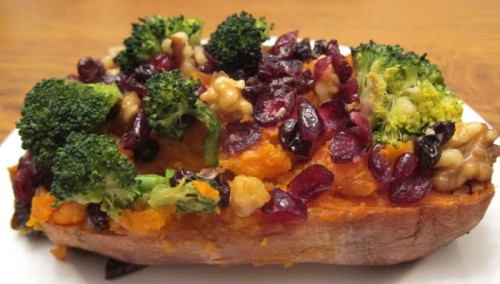 For the vegetarian meal this week we are having a stuffed baked sweet potato! Huge sweet potatoes are baked in the oven, then stuffed with walnuts, broccoli and dried cranberries. This meal is super healthy and tasty!
Recipe Link: Stuffed Baked Sweet Potato Recipe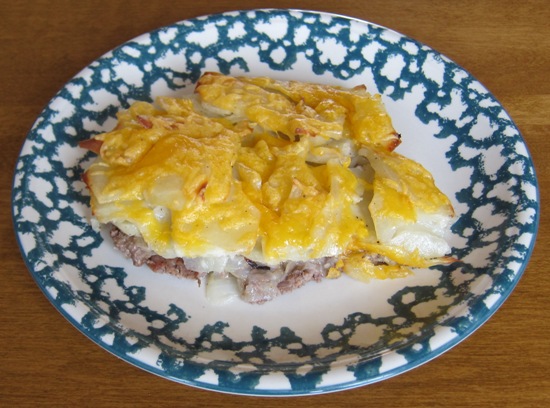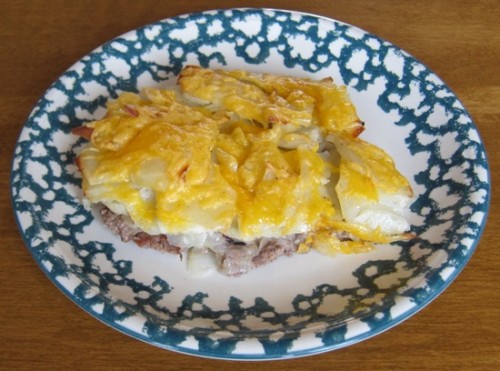 Are you a "meat and potatoes" person? If so, you are going to love this easy recipe! Ground beef, onions, potatoes and cheese are layered in the baking dish and baked in the oven! Very simple recipe that tastes great!
Recipe Link: Ground Beef And Potato Casserole Recipe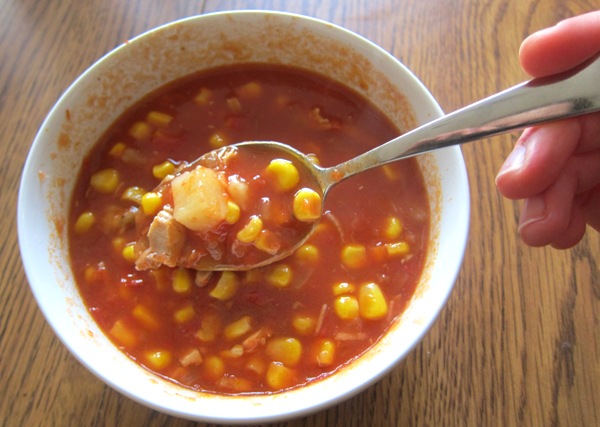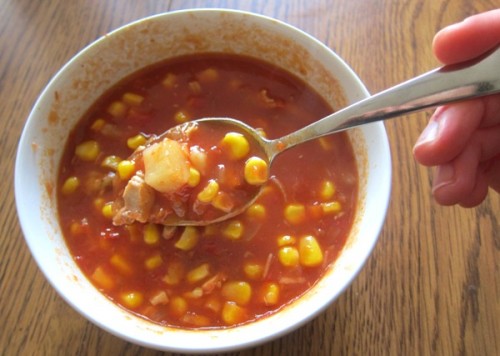 This is a great soup to eat on a cold winter day – chicken, potatoes, corn and tomatoes are simmered together to make a hot yummy soup! Use a chopped rotisserie chicken to keep things simple!
Recipe Link: Chicken, Corn and Tomato Soup Recipe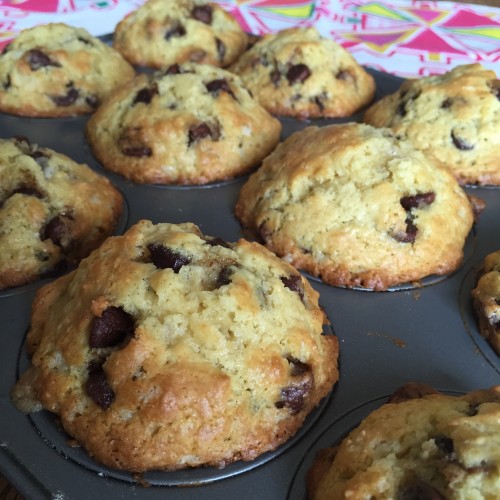 This recipe makes huge muffins that are loaded with chocolate chips! If your homemade muffins fall short of the bakery ones, you need to try this recipe. Perfect bakery-style muffins made at home!
Recipe Link: Chocolate Chip Muffins Recipe
Meal Plan Shopping List
Garlic Apricot Chicken Drumsticks

½ cup apricot jam
¼ cup soy sauce
2 jalapeno peppers
4 gloves garlic
12 chicken drumsticks
Tilapia Sandwiches With Coleslaw
1 lb tilapia fish fillets (4 pieces)
4 hamburger buns (or 8 slices of bread)
½ package coleslaw mix
½ cup mayo
1 egg
½ cup flour
1 tbsp oil
Stuffed Baked Sweet Potatoes
4 large sweet potatoes
1 bunch of broccoli
1 cup of walnuts
1 cup of dried cranberries
¼ tsp cinnamon
Ground Beef And Potato Casserole
2 lbs ground beef
2 onions
8 potatoes
1/4 cup mayo
1 package (8 oz) shredded cheddar cheese
1 tsp oil
Chicken, Corn and Tomato Soup
1 small onion
3 garlic cloves
28 oz can of crushed tomatoes
2 cups chicken broth
1 bag (1 lb) frozen corn
2 potatoes
1 rotisserie chicken
2 tbsp olive oil
½ tsp cumin
Chocolate Chip Muffins
2½ cups flour
1 tbsp baking powder
1 tsp baking soda
1½ cups chocolate chips
½ tsp salt
½ cup butter, melted (use the microwave for an easy way to melt it)
1 cup sugar
2 eggs
1 cup milk
1 tbsp vanilla
https://www.melaniecooks.com/wp-content/uploads/2016/01/free_meal_plan_weekly5a.jpg
647
1269
Melanie Mendelson
https://www.melaniecooks.com/wp-content/uploads/2015/11/logo-new2.png
Melanie Mendelson
2016-02-01 07:32:20
2017-03-09 17:37:08
Free Weekly Meal Plan – Family Dinner Menu Ideas (Week 5)