Best Homemade Chocolate Chip Muffins Recipe – Bakery Style!
This post may contain affiliate links (disclosure).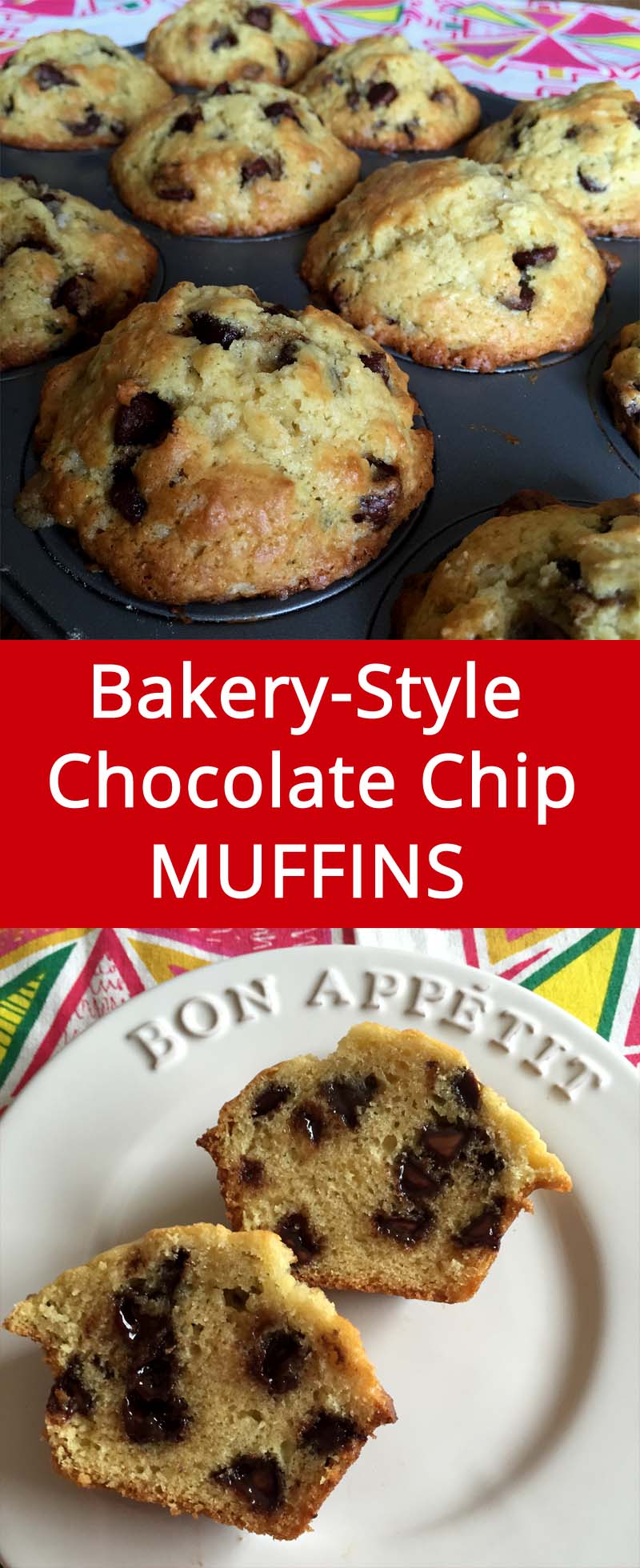 These homemade chocolate chip muffins rival any bakery muffins. They are big tall muffins with a tender crumb, and you can taste delicious chocolate chips with every bite!
If your past attempts at making muffins at home produced sad little muffins that taste nothing like the muffins from the bakery, you just have to give this recipe a try. You'll be amazed at the huge perfect muffins that come out of your oven, and you'll be saying to yourself "I can't believe I just made these!" This is the only chocolate chip muffin recipe you will ever need, you'll never want to try another recipe after you make these amazing muffins.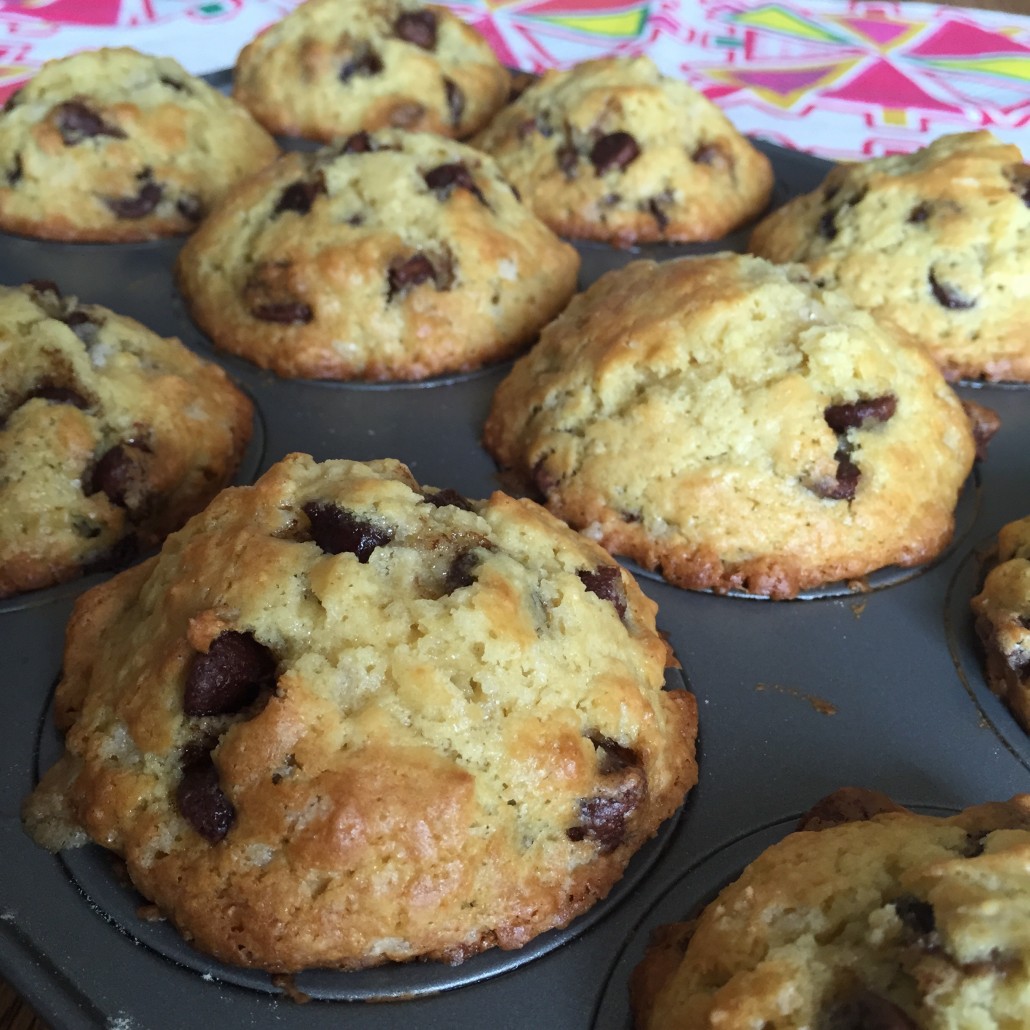 Making these bakery-style muffins is surprisingly easy. You just mix dry ingredients in one bowl and wet ingredients in another bowl, then combine them and pour in the muffin tin. This literally takes less than 10 minutes, then you bake them and the muffins are ready! All the ingredients are common – flour, baking powder, baking soda, sugar, salt eggs, butter, vanilla and chocolate chips – just all natural goodness. No special baking skills are required – psst, let this be our little secret :)
On the picture below, the chocolate chips are still melted as the muffin hasn't yet cooled down :) Can you imagine biting into this muffin – still warm from the oven, and the chocolate chips inside are still hot and melty! And as you can see, I don't skimp on chocolate chips :) Whenever I look at this picture, I get an intense craving for these muffins and need them right now!
My favorite way of eating these delicious bakery-style muffins is for breakfast with a cup of coffee. Coffee with baked goods is my weakness… especially when the chocolate chips are added to the mix! This muffin is large enough and substantial to be a stand-alone breakfast. And if you want more protein, you can have a side of sausage, bacon or your favorite cheese!
Click Here To Pin This Recipe
Chocolate Chip Muffins Recipe
These tall bakery-style muffins have amazing texture, tender crumb and delicious chocolate chips inside. This is the best home-baked muffin you will ever make!
Instructions
Preheat oven to 425°F. Line a 12-cup muffin tin with the paper baking cups, or spray with non-stick cooking spray.

In a large bowl,mix the flour, baking powder, baking soda, salt and chocolate chips.

In another bowl, whisk the eggs with sugar. Add milk and mix. Add melted butter and vanilla and mix until combined.

Pour the liquid ingredients into the bowl with the dry ingredients. Mix gently until just combined.

Pour the batter into the 12 muffin cups.

Put the muffin tin in the oven and bake at 425°F for 5 minutes.

Reduce the oven temperature to 375°F and bake another 15 minutes.
Save This Recipe
Save this for later on your social media:
Get Melanie's FREE Recipes In Your Inbox!
https://www.melaniecooks.com/wp-content/uploads/2015/05/IMG_1183.jpg
2448
2448
Melanie Mendelson
https://www.melaniecooks.com/wp-content/uploads/2015/11/logo-new2.png
Melanie Mendelson
2015-12-12 14:08:43
2021-12-08 09:13:58
Best Homemade Chocolate Chip Muffins Recipe – Bakery Style!