Authentic Mongolian Beef Copycat Recipe Like PF Chang's
This post may contain affiliate links (disclosure).
This copycat Mongolian Beef recipe is simply amazing! Nobody will believe this Mongolian Beef is homemade – it tastes exactly like the one from Chinese restaurant!

This delicious recipe makes authentic Mongolian beef that tastes exactly like the Mongolian beef from your favorite Chinese restaurant. This dish is a copycat version of Mongolian beef served by PF Chang's. Thinly sliced pieces of beef are cooked in the delicious sweet and salty sauce, and garnished with sliced green onions. Once you taste this amazing Mongolian beef recipe, you won't be able to tell the difference between this homemade version and the PF Chang's!
If you are reading it and thinking that "Authentic" and "PF Chang's" shouldn't be used in the same sentence, here's some background on Mongolian beef. Mongolian beef recipe in the form that we know didn't originate in Mongolia or China. According to Wikipedia, it is a Chinese-American creation by the Chinese restaurants in the US. In China, they have numerous dishes of stir-fried beef with green onions and other vegetables, but they don't use the same sauce and don't have the same taste as what we in the US know as a classic "Mongolian beef".
So my goal is to recreate the recipe of Mongolian beef that we, as Americans, perceive as authentic – the taste of Mongolian beef that comes to our mind when we are craving one. And PF Chang's version of Mongolian beef hits the spot :)
Ever wondered how to achieve that unique flavor of Mongolian beef sauce? That sauce tastes mysteriously deep even though it's not spicy, so what is the secret ingredient? If you thought it's MSG, it is not :) This recipe doesn't include MSG, but has the amazing and complete flavor you are looking for. The Mongolian beef sauce ingredients are soy sauce, garlic, fresh ginger, water and dark brown sugar – the ingredients that aren't very unique on their own, but work wonders when combined together in the right proportions.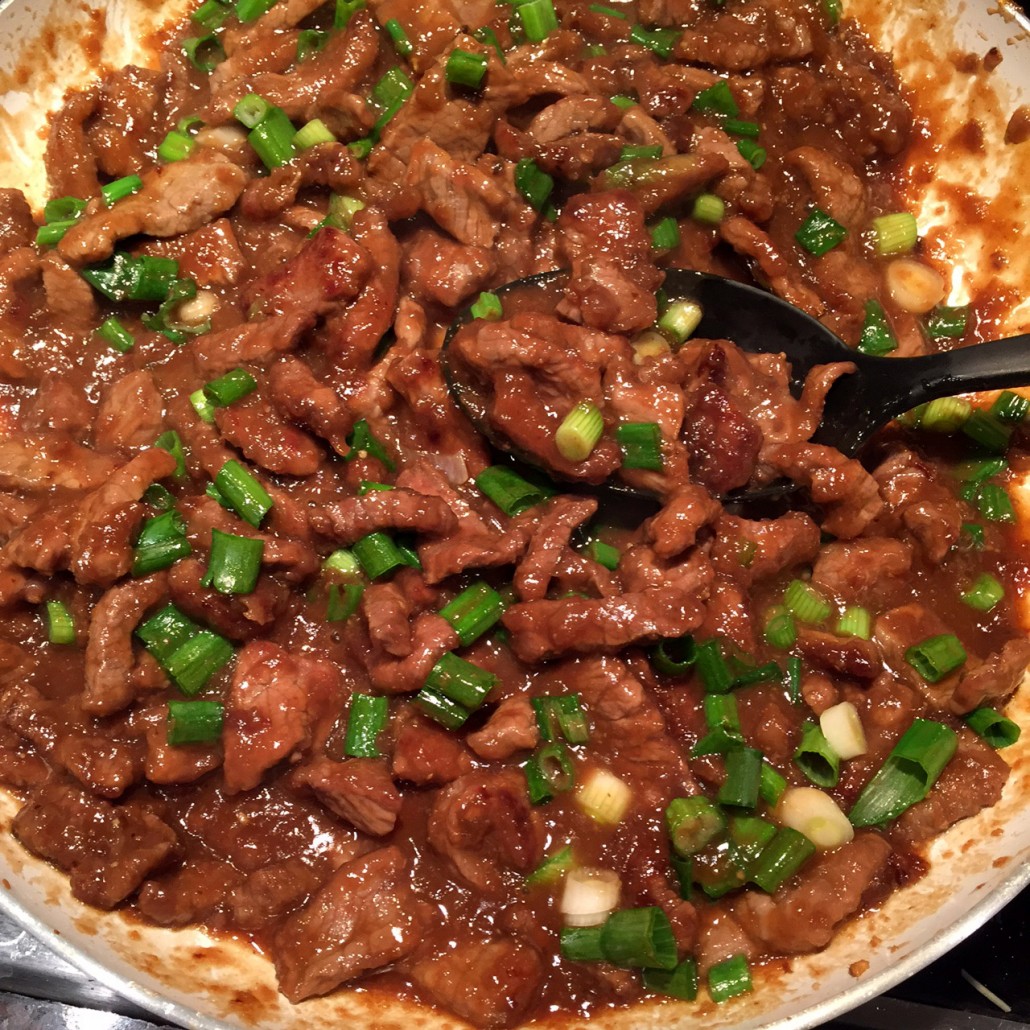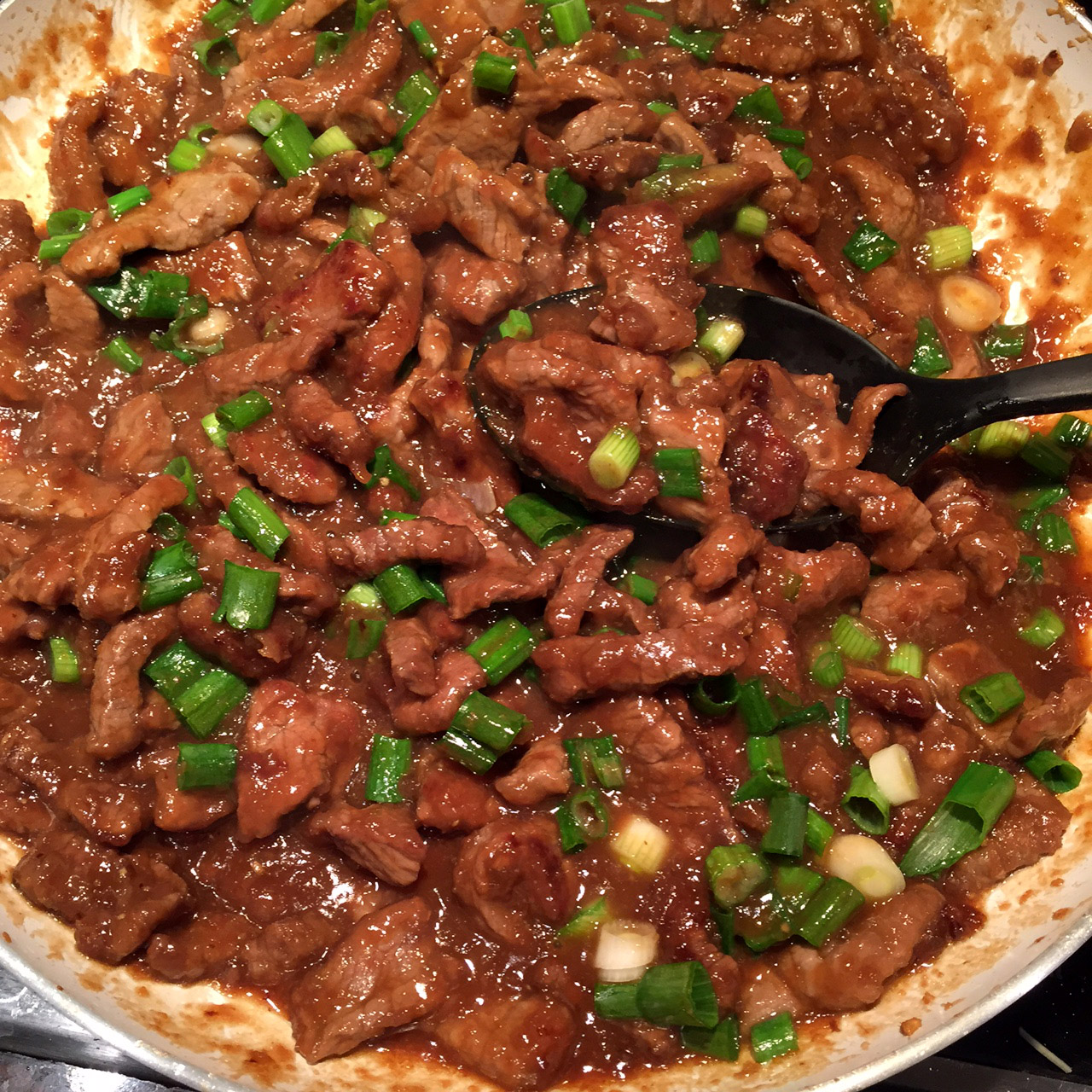 Making Mongolian beef at home is pretty easy – you just combine the sauce ingredients in a blender, stir-fry the beef and add the sauce. From start to finish this recipe takes less than 20 minutes – that's faster than getting a Chinese takeout. Not to mention that it will cost you a fraction of the restaurant meal!
Serve Mongolian beef over rice (I always cook rice in my rice cooker, so it will be ready by the time I'm ready to serve the Mongolian beef). Feel free to double the portion, as Mongolian beef reheats very well and makes great leftovers! We need to have leftovers to truly replicate the Chinese restaurant experience :)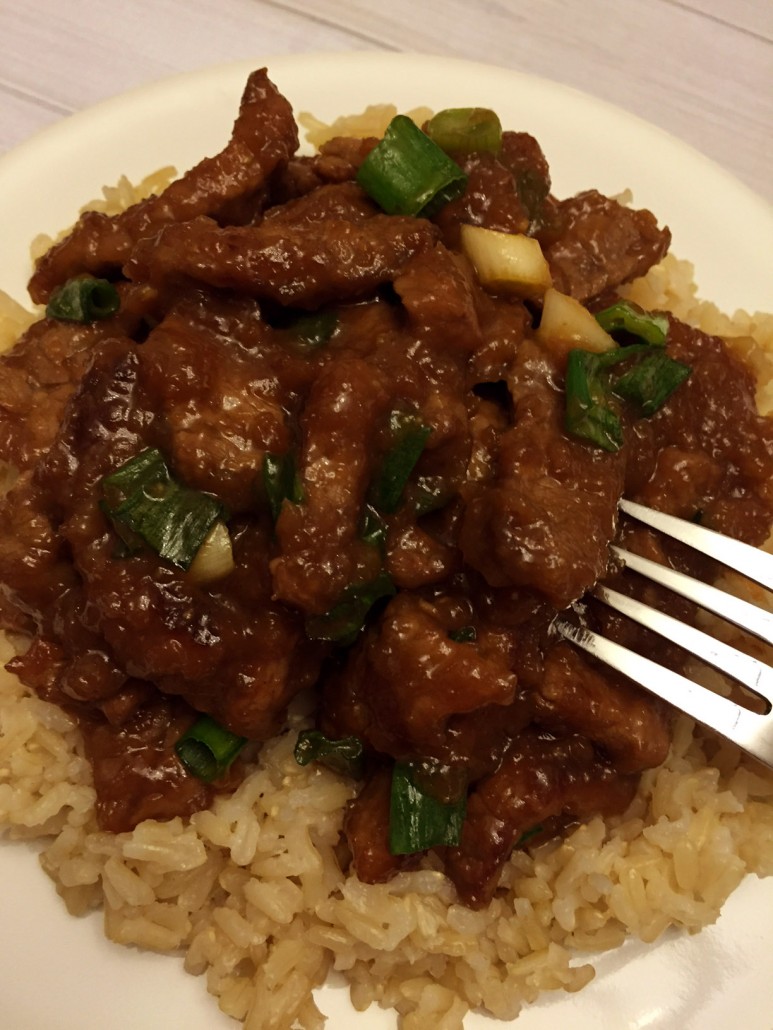 Click Here To Pin This Recipe
Authentic Mongolian Beef Copycat Recipe Like PF Chang's
This easy Mongolian beef recipe tastes exactly like the version served in a popular Chinese restaurant PF Chang's - amazing!
Instructions
Slice the beef across the grain as thinly as you can.

Put the beef in the bowl and add cornstarch to it. Toss beef and cornstarch with your hands until all beef pieces are covered in cornstarch.

Slice the green onions and set aside in a separate bowl.

Combine soy sauce, water, garlic, ginger and brown sugar in a blender (or a food processor bowl fitted with a steel blade). Process for 1 minute or until smooth.

Heat the oil in a non-stick frying pan over medium-high heat.

Add the beef to the frying pan and cook, stirring every 30 seconds, for 4 minutes.

Add the sauce mixture to the beef in the frying pan and cook, stirring constantly, for 2 minutes, or until the sauce thickens.

Add the green onions and cook, stirring, for 1 minute.

Remove Mongolian beef from heat and serve over rice.
Save This Recipe
If you like Mongolian Beef, you will also like my Orange Chicken recipe. Click on the picture below to check it out:
Save this for later on your social media:
Get Melanie's FREE Recipes In Your Inbox!
https://www.melaniecooks.com/wp-content/uploads/2016/01/mongolian_beef_recipe4.jpg
1632
1224
Melanie Mendelson
https://www.melaniecooks.com/wp-content/uploads/2015/11/logo-new2.png
Melanie Mendelson
2016-01-06 09:59:12
2021-12-08 09:13:26
Authentic Mongolian Beef Copycat Recipe Like PF Chang's