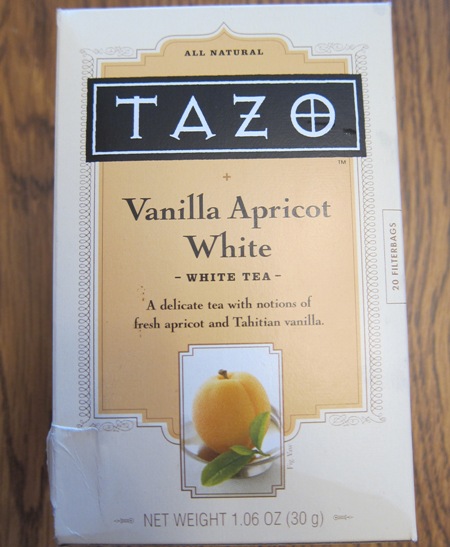 Tazo Vanilla Apricot White Tea is a very tasty tea.  On the package, this tea is described as "a delicate tea with notions of fresh apricot and Tahitian vanilla".  I love Tazo teas, and this tea is great!  "Delicate" is such an accurate description – this Tazo tea is very gentle, and it has a mild tea flavor with clear notes of apricot and vanilla – so nice and refreshing!
How much caffeine does white tea have?  Most people think that white tea has less caffeine than black tea, but in reality the white tea has the highest amount of caffeine among all kinds of tea!  I was very surprised too when I found this out 🙂 A study published in 2005 in the Journal of Food Science found the white tea the highest in caffein.  The reason why the white tea has more caffeine is because it is made with the youngest and freshest tea buds – and the young tea buds have more caffeine than older mature tea leaves.
Here's the description of the Tazo Vanilla Apricot White Tea from the box: "Tazo Vanilla Apricot White mixes prized Chinese tea buds plucked in the splendor of their youth, alluring hints of creamy Tahitian vanilla and notes of fresh, juicy apricots in a golden brew that positively glows in the cup.  After a long sip, you may detect a certain glow in your aura as well.  But that could just be the tea talking".
The tea bags in this Tazo white tea are sealed in individual packages, so they stay fresh after the box is opened.  Here's the picture of the individual package of Tazo Vanilla Apricot White tea: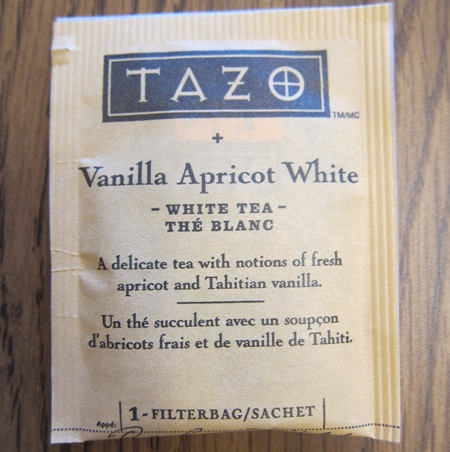 Here's the Tazo Vanilla Apricot White tea bag: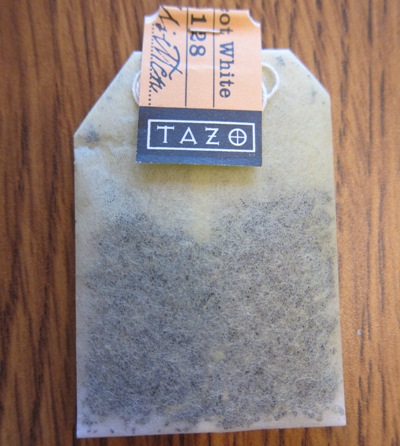 And here's the freshly brewed cup of this tasty Tazo tea: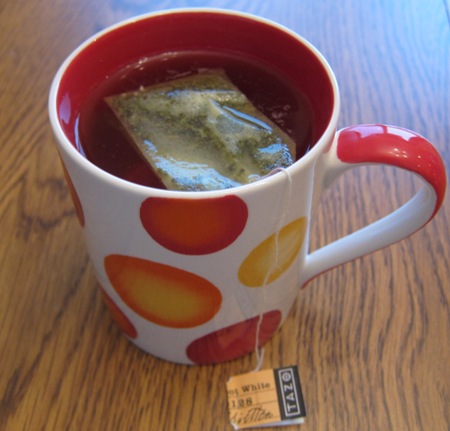 If you like Tazo teas, here's another great Tazo tea to check out: Tazo Focus Black Tea.
http://www.melaniecooks.com/wp-content/uploads/2013/05/tazo-vanilla-apricot-white-tea.jpg
547
450
Melanie Mendelson
http://www.melaniecooks.com/wp-content/uploads/2015/11/logo-new2.png
Melanie Mendelson
2013-05-07 06:07:43
2013-05-04 11:10:41
Tazo Vanilla Apricot White Tea