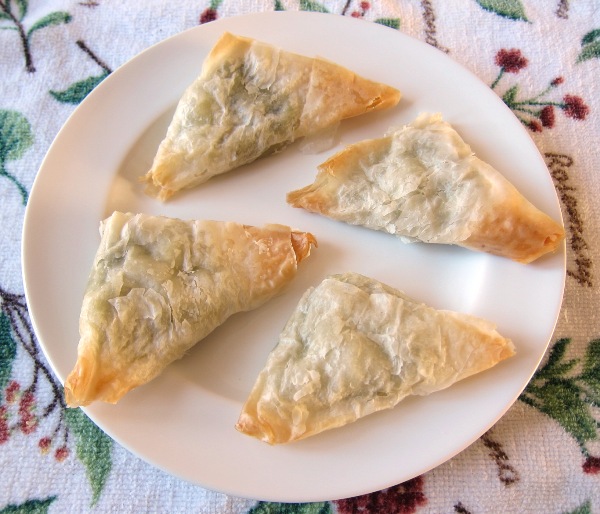 If you are looking for a great pre-made appetizer for a crowd, look no further – get a box of frozen Spanakopita appetizers from Costco.   All you need to do is heat these Spanakopita triangles in the oven, and your hot appetizer is ready!
Spanakopita appetizers are triangles of flaky fillo dough with the filling of spinach and cheese.   Imagine how long it would take you to make these from scratch 🙂
The Costco Spanakopita is such a great deal – the price is $9.99 for 48 pieces!  There are 4 separate trays inside the Costco box, and each tray has 12 Spanakopita triangles.  So you don't have to prepare all 48 pieces of Spanakopita at once – they will be enough for several get-togethers 🙂
The brand of Costco Spanakopita appetizers is Athens, and here's the picture of the package: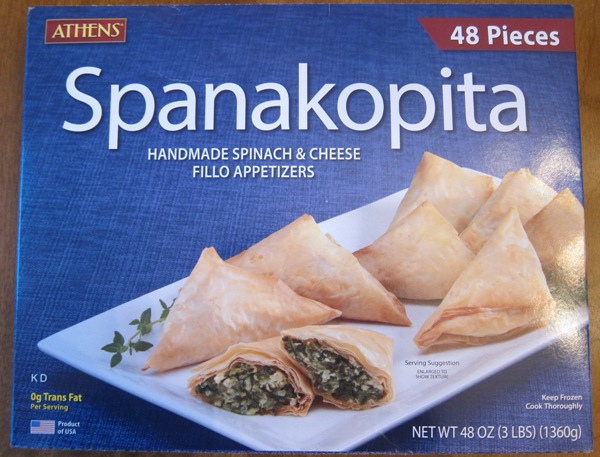 Here are the cooking instructions for Costco frozen Spanakopita appetizers:
Preheat oven to 350F.  Remove Spanakopita triangles from the package and arrange on a baking sheet in a single layer (I always line the baking sheet with parchment paper so nothing sticks to it).  Bake for 25-30 minutes, or until golden brown.
Here's the nutritional information for Costco Spanakopita (Athens brand) – serving size 2 pieces, 140 calories, 7 grams of fat, 2 g saturated fat, zero trans fat, 15 g total carb, 1 gram of fiber,  1 gram of sugar, 4 grams of protein, 8% vitamin A, 4% calcium, 4% iron.  They are actually not as unhealthy as I thought 🙂
So there you have it – tasty hot appetizer for a party that doesn't break a budget and doesn't require any work.  I always have some of these Spanakopita triangles in my freezer for an impromptu gathering 🙂
For more great appetizers, check out Costco edamame, Costco potstickers, Costco hummus and mini bagel dogs.  They also have great deals on cheeses and platters of smoked meats.  Other great appetizers I've seen at Costco are mozzarella sticks, mini quiches, coconut shrimp and bacon-wrapped dates.  Yum!
http://www.melaniecooks.com/wp-content/uploads/2013/12/spanakopita-costco.jpg
514
600
Melanie Mendelson
http://www.melaniecooks.com/wp-content/uploads/2015/11/logo-new2.png
Melanie Mendelson
2014-01-05 08:55:50
2013-12-30 17:12:03
Spanakopita Spinach And Cheese Triangles - Frozen Appetizers From Costco