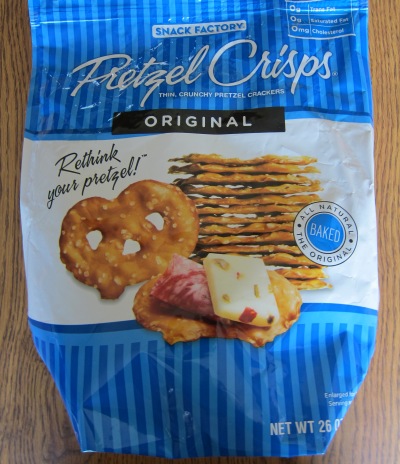 I love these Pretzel chips!  They are made by a company called Snack Factory, and they are called Pretzel Crisps – thin, crunchy pretzel crackers.  The pretzel crisps are so yummy – I like them even more than regular pretzels!
The Pretzel Crisps are shaped like a pretzel, but they are thin like a chip 🙂  The pretzel chips are really crunchy and tasty – really addictive!  There are many way to eat these pretzel crisps – you can eat them plain, you can dip them into your favorite dip (try dipping them in tzatziki or hummus), or you can spread them with your favorite spread.
You can use the pretzel chips like crackers and make delicious party appetizers – try spreading the pretzel chips with cream cheese and topping with smoked salmon,  You can also spread the pretzel crisps with jam or chutney, or spread them with the plain or flavored butter – yum!
These Snack Factory Pretzel Crisps are getting really popular – I now see them in all major supermarkets!  I guess lots of people like the pretzel chips as much as I do 🙂  The cheapest place to buy the Pretzel Crisps is Costco.  The Costco price for Snack Factory Pretzel Crisps is only $5.89 for a huge 26 oz bag!
Another great thing about the Snack Factory Pretzel Crisps is that they are pretty healthy.  They are low in calories and have no fat!  The pretzel chips make an excellent healthy snack that's so tasty.
Here's the nutritional information for the Snack Factory Pretzel Crisps: service size 11 crackers, 110 calories, zero fat, zero cholesterol, 330 mg sodium, 23 g total carbohydrate, 1 gram of fiber, 3 grams of protein.  The ingredients for these pretzel chips are wheat flour, sugar, salt, malt syrup.  How refreshing it is to see such a simple ingredient list – no chemicals or preservatives!
Here's the picture of these pretzel crisps on a plate: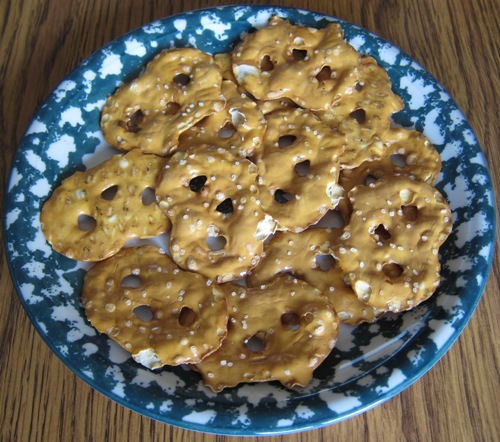 Here's one of those pretzel chips in my hand – just to show you how thin is that pretzel!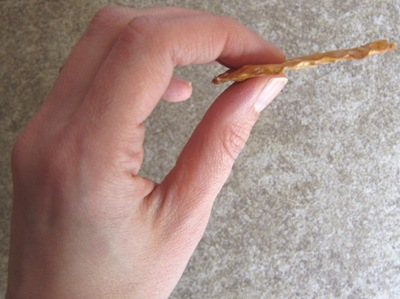 If you like pretzel crisps, also check out Bagel thins – they use the same concept – making a bagel thin instead of a pretzel 🙂
http://www.melaniecooks.com/wp-content/uploads/2013/05/pretzel-crisps-chips-costco.jpg
464
400
Melanie Mendelson
http://www.melaniecooks.com/wp-content/uploads/2015/11/logo-new2.png
Melanie Mendelson
2013-05-16 11:51:04
2013-05-16 11:51:04
Snack Factory Pretzel Crisps - Pretzel Chips At Costco