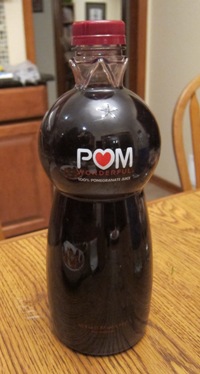 POM Wonderful is my favorite pomegranate juice.  POM is expensive, but worth it.  All other pomegranate juices that I tried either have a hint of bitter aftertaste or are too sour.  POM wonderful is simply perfect – it tastes sweet, complex, clean and refreshing!
The cost of POM Wonderful is what keeps most people from enjoying it more often.  In Whole Foods, a medium size 48 oz bottle of POM pomegranate juice is a whopping $11.99.  That's why I was really excited when I saw POM Wonderful pomegranate juice at Costco.  The price of POM pomegranate juice at Costco is $9.99 for a huge 60 oz bottle, and it's the exact same juice.  A bigger bottle of POM Wonderful that costs less than a smaller bottle – I'll take it 🙂
Every time I'm at Costco I get a couple of those big bottles of POM Wonderful and put them in the refrigerator.  I've even seen them on sale at Costco for $6.99!
POM Wonderful pomegranate juice is a pure pomegranate juice without any other juices mixed in.  Sometimes a juice is labeled as "pomegranate", and then you'll look at the back label and you'll see "apple juice" as the main ingredients, with some pomegranate juice added 🙂  POM Wonderful is 100% pomegranate juice, and no sugar is added to it – it's naturally sweet.  The only ingredient of POM Wonderful is 100% pomegranate juice – no sweeteners or preservatives.
How many calories are in POM Wonderful pomegranate juice? POM pomegranate juice has 150 calories in an 8 ounce serving.  If you are watching your calories, mix 1/2 glass of POM pomegranate juice with 1/2 glass of water.  You will cut the calories in half and will still enjoy a very tasty drink.  In fact, you can even add just a splash of POM Wonderful juice to a glass of water – it will transform the tasteless water into flavored water that is so much easier to drink.
POM wonderful pomegranate juice is also a great source of anti-oxidants – enjoy it, this juice is really good for you!
http://www.melaniecooks.com/wp-content/uploads/2012/12/pom-wonderful-pomegranate-juice.jpg
374
200
Melanie Mendelson
http://www.melaniecooks.com/wp-content/uploads/2015/11/logo-new2.png
Melanie Mendelson
2012-12-28 07:45:01
2012-12-28 07:45:03
Pom Wonderful Pomegranate Juice At Costco