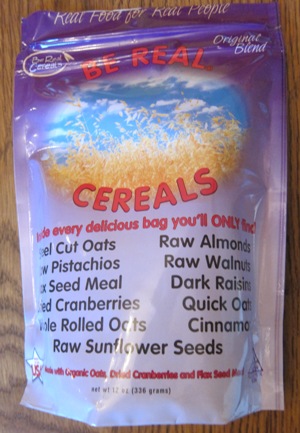 When I was shopping at Whole Foods, they were giving out samples of this cereal called "Be Real Cereals".  They were tiny paper cups with yogurt, fresh blueberries and this cereal.  I tried this new Be Real cereal, and it was really yummy!  I immediately got myself a package of Be Real cereal, and from then on I was hooked.
Be Real Cereal is a very healthy cereal of oats, nuts, seeds and raisins.  Here are the ingredients of Be Real cereal: organic whole rolled oats, organic quick cooking oats, organic steel cut oats, dark raisins, organic flax seed meal, organic dried cranberries, raw slivered almonds, raw walnuts, cinnamon, raw pistachios, raw hulled sunflower kernels.  Note – no sweeteners, no artificial ingredients and no preservatives!
Be Real Cereal is extremely nutritious.  Here's the nutritional information of Be Real Cereal: serving size 1/3 cup, 172 calories, 5 grams fat, 1 gram saturated fat, zero trans fat, zero cholesterol, zero sodium, 21 grams total carb, 5 grams of fiber, 3 grams of sugar, 6 grams of protein, 6% calcium, 15% iron.  Note its high fiber and protein content – this cereal really keeps you full!
There are several different ways to eat Be Real Cereal.  You can eat it as a hot cereal, cold cereal, snacks or add to smoothies.  Since this cereal is oat based, you can cook it like you would oatmeal.
To make hot cereal on the stove top, heat 2/3 cup of milk or water, add 1/3 cup of cereal, cook, stirring for 3 minutes, remove from heat and serve.  To make hot cereal in the microwave, mix 2/3 cup milk or water with 1/3 cup of cereal and microwave 2-4 minutes.
To eat Be Real Cereal as a cold cereal, simply add cold milk to it.  To eat Be Real Cereal as a snack, mix it with cut up fruit and/or yogurt.  You can also add Be Real Cereal to smoothies – try adding it to these delicious smoothie recipes: strawberry yogurt smoothie, banana blueberry smoothie or almond berry smoothie.  You can just add Be Real Cereal to the blender while making the smoothie.
My favorite way to eat Be Real Cereal is with yogurt.  I mix 1/2 cup of Be Real Cereal with a cup of lowfat yogurt. Even those cereal is typically eaten for breakfast, believe it or not I often eat Be Real Cereal for lunch!  Because of all the protein and fiber, this cereal is so filling that it really keeps me full until dinner.  If I don't feel like cooking, Be Real cereal with yogurt is an excellent super-healthy lunch idea!
Here's a picture of Be Real Cereal in a bowl – just the dry cereal, nothing yet has been added: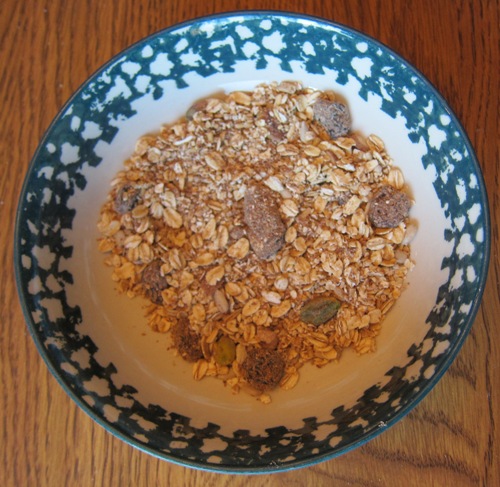 Here's the picture of Be Real Cereal with Greek blueberry yogurt: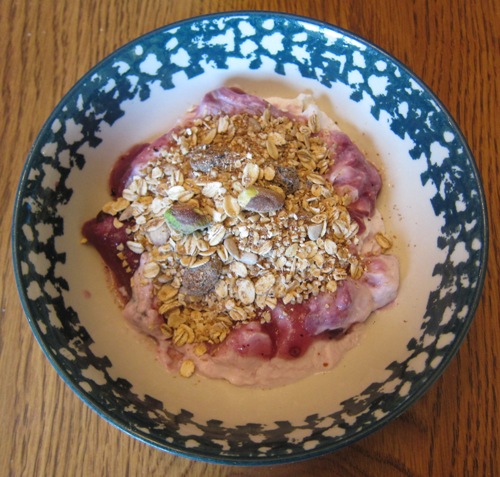 If you like healthy cereals, also check out organic cinnamon raisin granola cereal, chocolate almond granola cereal and  fiber one honey squares cereal.
Get Melanie's FREE Recipes In Your Inbox!
http://www.melaniecooks.com/wp-content/uploads/2012/10/be-real-cereal-package.jpg
433
300
Melanie Mendelson
http://www.melaniecooks.com/wp-content/uploads/2015/11/logo-new2.png
Melanie Mendelson
2012-11-18 06:45:34
2012-11-14 14:49:52
Be Real Cereal From Whole Foods