Easy Oven Baked Salmon Kabobs Skewers Recipe
This post may contain affiliate links (disclosure).
These baked salmon skewers are so healthy and delicious! They come from your oven looking like they came from the grill!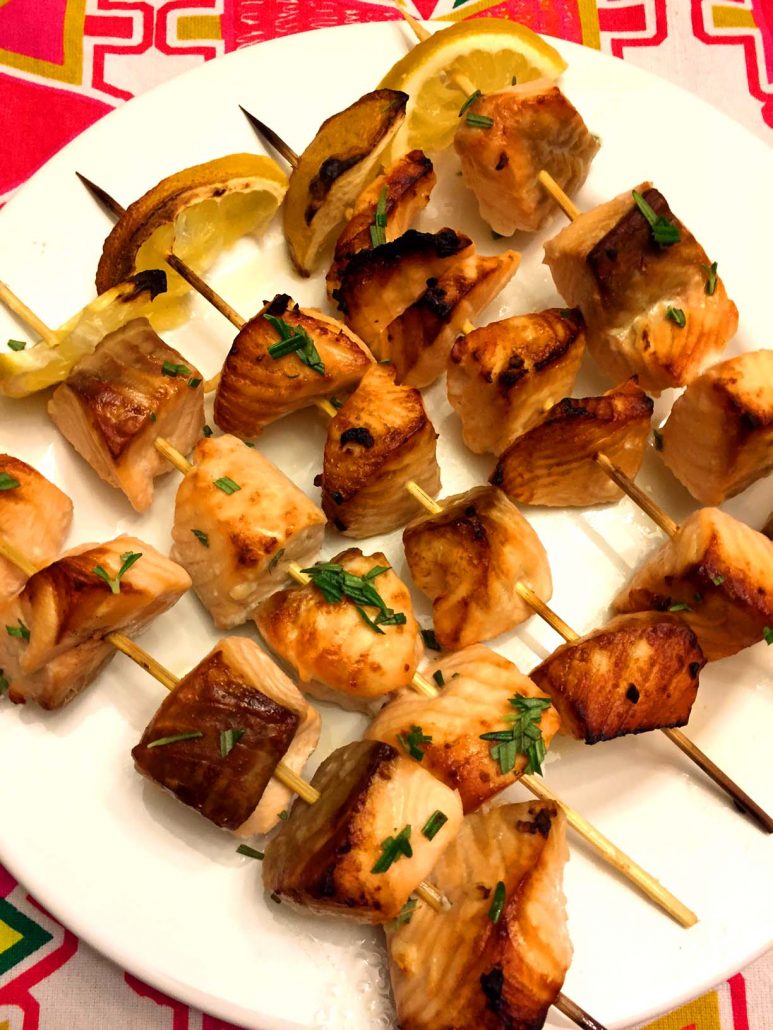 These salmon kabobs are so juicy and tasty! Seasoned with simple flavors of freshly squeezed lemon juice, garlic powder, salt and pepper, they are your perfect clean eating recipe!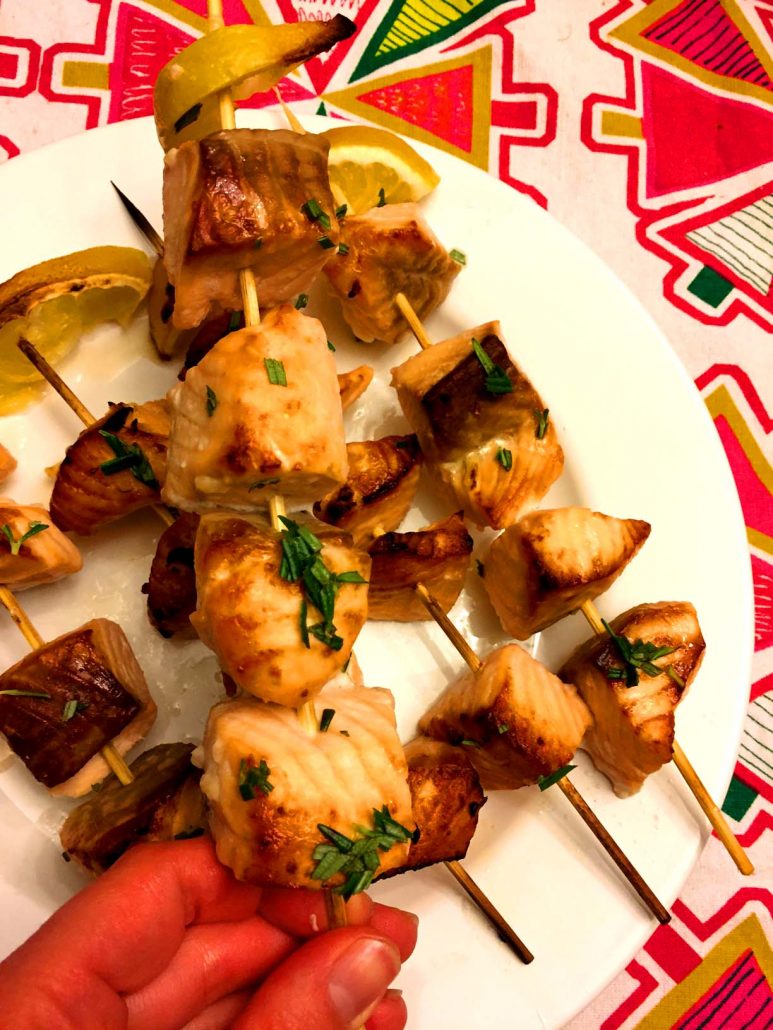 This salmon recipe is so good for you, it will fit into any healthy diet! Salmon itself is very nutritious and full of Omega-3 fatty acids, vitamin B, antioxidants and protein. This recipe also has no added fat and is low in calories, and there is no added sugar, carbs or gluten. Salmon skewers are a perfect addition to low carb, low fat, keto, whole 30, sugar free and gluten free diets. If you are looking for more healthy salmon recipes, check out baked salmon with vegetables in foil, lemon dill salmon and salmon with yogurt sauce – you'll love them too!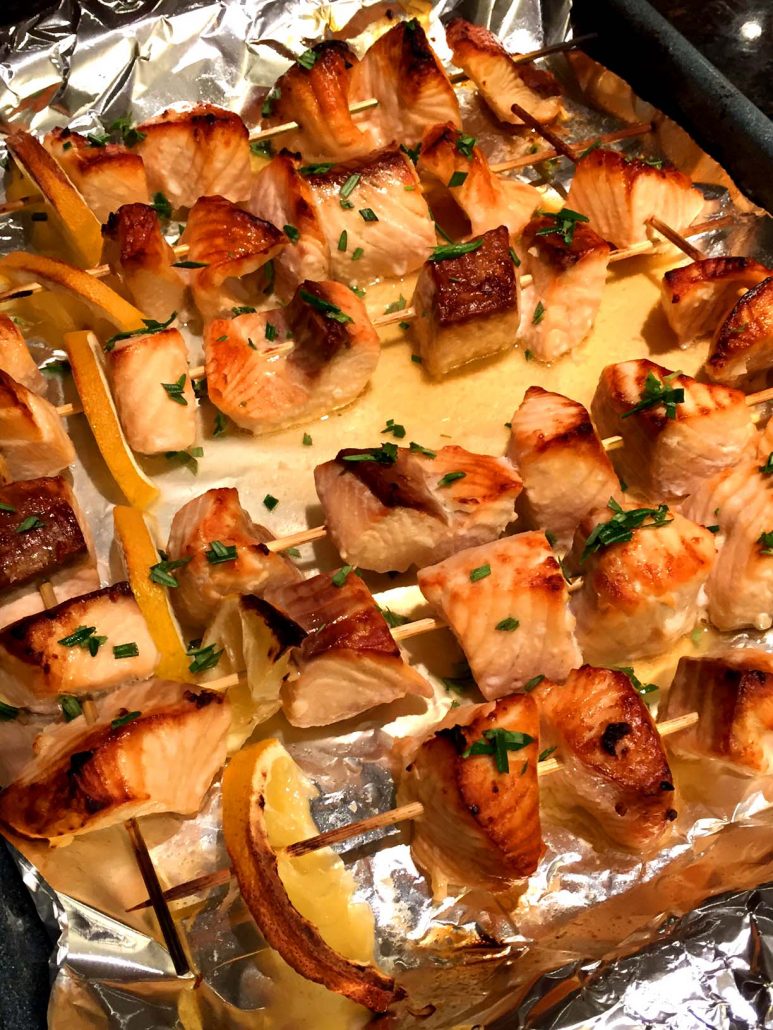 Salmon kabobs take less than 20 minutes to make, it's one of the quickest and easiest main dish recipes ever! Prepping the salmon takes about 10 minutes – just cut salmon into 1-inch cubes, toss with lemon, garlic powder, salt and pepper and thread onto skewers. Baking the salmon in the oven takes 8 minutes – 5 minutes baking at 425F, then 3 minutes on Broil. Because the salmon is cut into relatively small pieces, it bakes really quickly – to keep salmon juicy, make sure you don't overcook it!
The trick to the baked salmon kabobs looking like they came from the grill is the Broiling method. Since Broil is a very high heat coming from the top of the oven, it slightly chars the salmon so it gets the "grilled" look :) Using the oven to cook salmon kabobs is so much easier than the grill and the result is just as delicious!
If you like these healthy salmon skewers, you will also love these other clean eating recipes:
Fresh Tomato Salsa – this Mexican salsa made with tomatoes, onions, cilantro and jalapeno will be perfect with salmon kabobs!
Spicy Cajun Blackened Salmon – another awesome healthy salmon recipe, so spicy and flavorful!
Parmesan Roasted Broccoli – this is my favorite way to eat broccoli and a perfect side dish for this salmon recipe!
Grilled Chicken Skewers – if you like fish skewers, you are also going to love these marinated chicken skewers, so yummy!
Mexican Street Corn Salad – so colorful, delicious and full of flavor!
Click Here To Pin This Recipe
Baked Salmon Kabobs Skewers Recipe
These baked salmon kabobs are so healthy and delicious! So easy to make - put salmon pieces on the skewers, put in the oven and bake to perfection! Perfect for weeknight dinners!
Instructions
Put wooden skewers in water to soak. Line a baking sheet with parchment paper or foil.

Preheat the oven to 425F.

Cut salmon fillets into 1-inch cubes.

Squeeze the lemon over the salmon cubes, sprinkle garlic powder, salt and pepper, and toss to coat.

Put the salmon pieces on the skewers. Put the salmon skewers on the baking sheet.

Put salmon skewers in the oven on the top rack and bake for 5 minutes.

Switch the oven to Broil and cook for 3 minutes.
Save This Recipe
Save this for later on your social media:
Get Melanie's FREE Recipes In Your Inbox!
https://www.melaniecooks.com/wp-content/uploads/2017/12/salmon_kabobs_recipe.jpg
1632
1224
Melanie Mendelson
https://www.melaniecooks.com/wp-content/uploads/2015/11/logo-new2.png
Melanie Mendelson
2018-01-08 07:38:40
2021-12-08 07:54:41
Easy Oven Baked Salmon Kabobs Skewers Recipe