Kale Salad Recipe With Cranberries And Pine Nuts
This post may contain affiliate links (disclosure).
This kale salad with cranberries and pine nuts is my favorite way to eat kale! This kale salad tastes amazing, you'll love it!
Most people have heard that eating dark leafy greens is great for your health, and kale is one of the most nutritious vegetables from the dark leafy greens family. In addition to being a powerhouse of antioxidants, kale also has anti-inflammatory and cholesterol-lowering properties. Unfortunately, most people don't ever eat kale simply because they don't know of any good recipes to make with it.
You can eat kale raw or you can cook it by sauteeing in a little olive oil. A very easy and tasty way of eating raw kale is to make a salad out of it. To make a salad out of kale, just wash the kale leaves under cold running water and then chop them into pieces. Once the kale leaves are chopped, you can use them in place of other kinds of lettuce in your favorite green salad recipes. If kale tastes too unusual for you, you can mix some kale leaves with other more familiar salad greens like romaine lettuce. When you get used to eating kale on a regular basis, you can increase the proportion of it in your lettuce mix. Also, another clever way to get more kale into your diet is making homemade kale chips – they are so yummy and crunchy!
The secret to making the kale leaves softer and tastier is to squeeze them with your hands in a "massage" motion. Unlike other types of lettuce, kale leaves won't get visibly wilted when you squeeze them. Instead, kale texture will actually improve!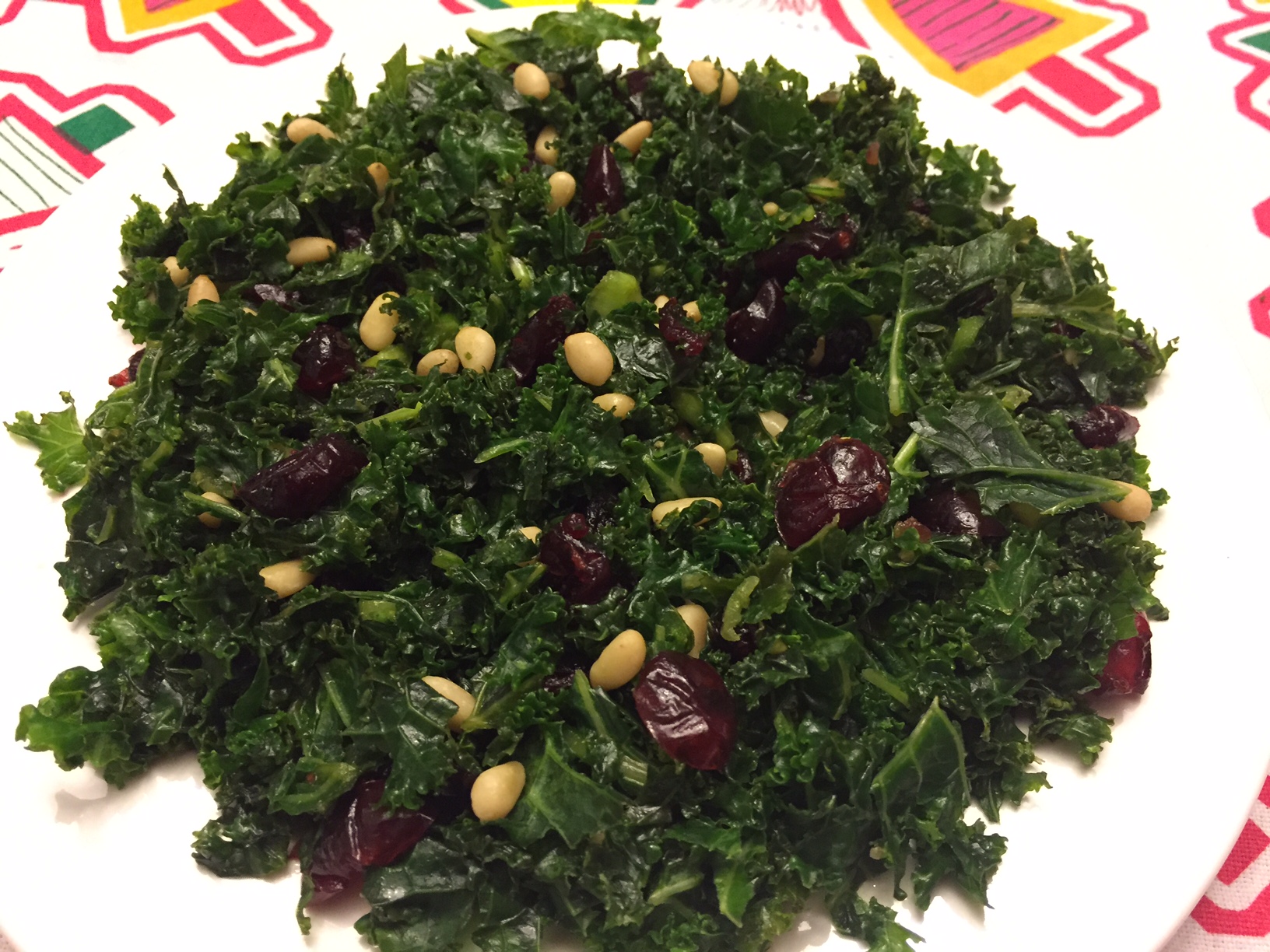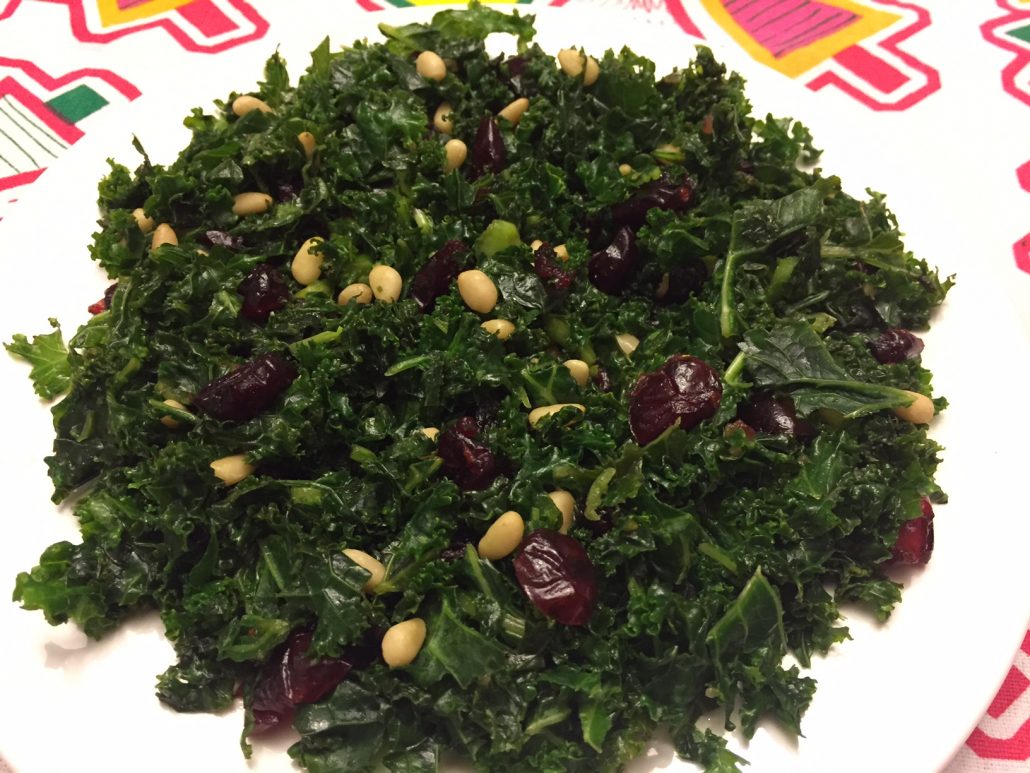 This yummy kale recipe is very easy to make. Dried cranberries and pine nuts together taste amazing, and when you add kale, it makes an absolutely awesome combo! Sweet and crunchy, colorful and festive and so delicious! Kale, pine nuts and cranberries are dressed with olive oil and balsamic vinegar, making a very elegant, tasty and healthy salad!
Enjoy this delicious kale salad – a tasty way to nourish your body with the healthy nutrients it needs! For other recipes with dark leafy greens, check out beet greens recipe, radish greens recipe and collard greens recipe.
Click Here To Pin This Recipe
Kale Salad Recipe With Pine Nuts And Cranberries
This kale salad recipe is so easy to make and delicious! Cranberries and pine nuts are a perfect addition to kale, this salad is so bright, colorful and festive! What a great way to eat more kale!
Instructions
Wash the kale leaves and dry them with paper towels to absorb extra water.

Tear or cut the kale leaves into pieces (remove and discard the tough stems).

In a cup, whisk olive oil and vinegar with a fork so they are combined together.

Pour the olive oil and vinegar dressing over kale.

Toss with your hands to coat all kale leaves with the dressing.

Squeeze the kale leaves with your hands as if kneading them for 1 minute, or until the kale softens.

Add pine nuts and dried cranberries to kale and toss to combine.
Save This Recipe
Save this for later on your social media:
Get Melanie's FREE Recipes In Your Inbox!
https://www.melaniecooks.com/wp-content/uploads/2014/02/kale_salad_cranberries_pine_nuts.jpg
1632
1224
Melanie Mendelson
https://www.melaniecooks.com/wp-content/uploads/2015/11/logo-new2.png
Melanie Mendelson
2014-02-12 14:25:30
2021-12-08 09:14:45
Kale Salad Recipe With Cranberries And Pine Nuts