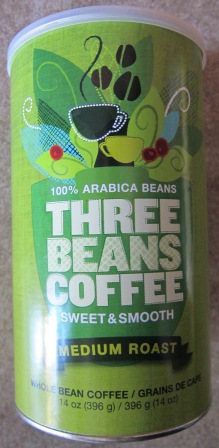 If you like good coffee but don't want to spend money on expensive coffee beans, you need to try Three Beans Coffee From Whole Foods.  Whole Foods is not the place you'd expect to go if you are on a budget, but this Three Beans Coffee is an exception – it only costs $4.99 for a 14 oz package of great quality coffee beans.
Three Beans Coffee from Whole Foods is made with 100% Arabica coffee beans, and it's medium roast.  It's labeled as "sweet & smooth", and I find this description perfect.  Three Beans Coffee makes a tasty smooth cup of coffee that doesn't have much bitterness, yet has a deep coffee flavor.
Here's the description from the back of the Three Beans Coffee package: "Deep, sweet, smooth and full bodied.  That's what you get when you brew up our Three Beans Medium Roast coffee – it's that sweet spot on the roasting scale.  This aromatic mix of 100% Arabica beans is our most popular brew and is a great coffee for any time of day and any time of year."
If you haven't yet tried the Three Beans Coffee from Whole Foods, give it a try – it's a great coffee to enjoy without spending lots of money!  Just make sure you resist buying all those other tempting Whole Foods goodies 🙂
To learn how to make great coffee, see good coffee secrets and how to brew coffee at home.  For interesting coffee drink ideas, see adding liquor to coffee, cinnamon dolce latte recipe and iced coffee latte recipe.
Enjoy the Three Beans Coffee – it will be a great addition to the coffee brands you use for your morning coffee!
http://www.melaniecooks.com/wp-content/uploads/2013/01/whole-foods-three-beans-coffee.jpg
448
219
Melanie Mendelson
http://www.melaniecooks.com/wp-content/uploads/2015/11/logo-new2.png
Melanie Mendelson
2013-01-28 07:39:31
2013-01-28 07:40:23
Whole Foods Three Beans Coffee