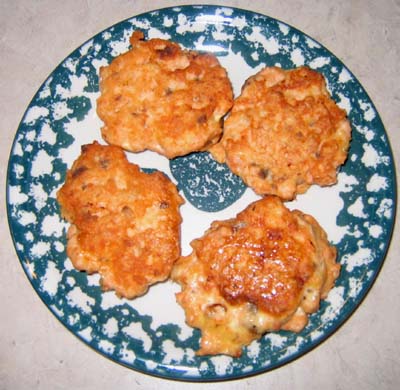 Ingredients:
1 lb salmon fillets
1 egg
1 onion, minced
2 tbsp flour
3/4 tsp salt
1/4 tsp pepper
1 tbsp oil
Directions:
Grind the salmon in the food processor.  Mix with minced onion, egg, flour, salt and pepper until combined.
Heat some oil in the non-stick frying pan over medium-high heat.  Form the salmon mixture into patties and put on a frying pan.  Cook for 7 minutes, then flip the patties and cook for another 7 minutes (until cooked through).
Serve with cocktail sauce (a.k.a "shrimp sauce") for dipping.
Here's the picture of salmon fishcakes served with quinoa with raisins side dish – check out my quinoa recipe with raisins.