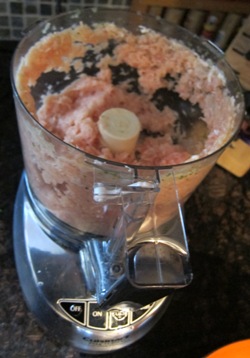 If you want to make a recipe that uses ground meat but only have big pieces of meat in your freezer, there is no need to make a trip to the store.  If you have food processor, you can turn a big piece of meat into ground meat in less than a minute!
You can make ground chicken out of chicken breasts or chicken thighs, you can make ground beef out of beef stakes or beef stew meat, you can make ground pork out of pork chop meat and you can make ground turkey out of turkey breast or turkey thighs pieces.  The only requirement is that the meat should not have bones – grinding the bones in the food processor wouldn't be a good idea 🙂
Homemade ground meat tastes great and is better for you than store-bought ground meat, and the reason is that store-bought ground meat has lots of added chemicals.  You can also save money by making your own ground meat at home if you buy a big piece of meat on sale.  You can also grind that piece of meat and freeze homemade ground meat for later use.
How To Make Ground Meat In A Food Processor
What You Need To Make Ground Meat At Home:
Meat without bones
Food processor
Instructions How To Make Ground Meat:
If the meat is frozen, first defrost the meat.  You can defrost the meat overnight in the refrigerator, or quickly in a microwave on the "Defrost" setting.
Cut the meat with the knife into 2-inch pieces.
Put the steel blade inside the food processor bowl.
Put the meat pieces in the food processor so the food processor is about 1/4 full.
Pulse the meat 10 times.  After that, run the food processor continuously for 30 seconds or until the meat is evenly ground.
Take the ground meat out of the food processor into a bowl. Add another batch of the meat pieces to the food processor and repeat the process until all meat is ground.
Here are a some great recipes that use ground meat: easy meatballs recipe, easy meatloaf recipe and easy shepherd's pie recipe.
http://www.melaniecooks.com/wp-content/uploads/2013/01/ground-meat-food-processor.jpg
358
250
Melanie Mendelson
http://www.melaniecooks.com/wp-content/uploads/2015/11/logo-new2.png
Melanie Mendelson
2013-01-09 07:11:31
2013-01-09 07:11:34
How To Make Ground Meat With The Food Processor At Home