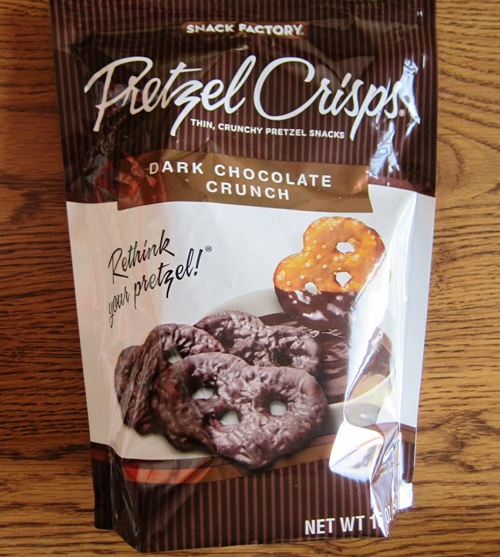 What can be better than the pretzel crisps?  Chocolate-covered pretzel crisps! 🙂  These are the pretzels that you just won't be able to stop eating.
The difference between the pretzel crisps and regular pretzels is that the pretzel crisps are very thin.  That's why they are also known as "pretzel chips" or "pretzel thins".  And when the pretzel is thin and it's coated in chocolate, the ratio of chocolate to pretzel is high 🙂  You can really enjoy the taste the chocolate around the super-thin crunchy pretzel!
These chocolate pretzel crisps are made by the Snack Factory brand – the same company that makes the regular pretzel crisps.  Pretzels and chocolate make a delicious combination, and the chocolate coated pretzel chips are divine!  And if the chocolate is dark, even better!
The Snack Factory chocolate pretzel crisps are called "Dark Chocolate Crunch".  The hint of salt in the pretzels and the deep flavor of dark chocolate coating combine in an outstanding taste.
If you can control yourself and not eat the whole bag of chocolate pretzels at once, these chocolate covered pretzel crisps are actually fairly healthy.  Five of those chocolate pretzels have 130 calories and 5 grams of fat.  And don't forget about those anti-oxidants in dark chocolate 🙂
Here's the complete nutritional information for Snack Factory Dark Chocolate Crunch Pretzel Crisps: serving size 5 chocolate pretzel chips, 130 calories, 5 g fat, 3 g saturated fat, zero trans fat, zero cholesterol, 140 mg sodium, 20 g total carbohydrate, 1 g fiber, 9 g sugar, 2 g protein, 6% iron.
I buy these chocolate pretzel crisps at Costco.  The Costco package has 1 lb of chocolate pretzel crisps – yum!
Here's the picture of those chocolate covered pretzel crisps out of the package:
http://www.melaniecooks.com/wp-content/uploads/2013/07/chocolate-pretzel-crisps1.jpg
557
500
Melanie Mendelson
http://www.melaniecooks.com/wp-content/uploads/2015/11/logo-new2.png
Melanie Mendelson
2013-07-26 07:16:34
2013-07-25 10:36:29
Chocolate Covered Pretzel Crisps From Costco