This post may contain affiliate links (disclosure).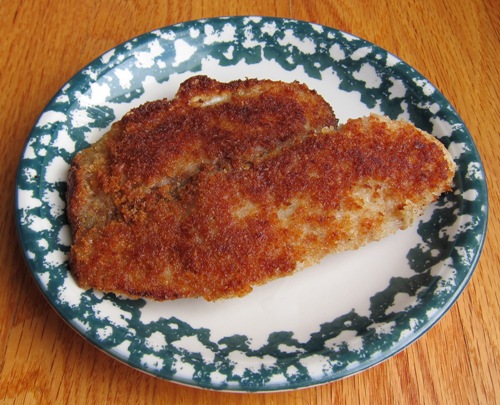 Crispy breaded fish recipe is very easy to make and very tasty. Tender succulent fish fillet with a golden crispy crust – yum! To make crispy breaded fish recipe, first the fish fillets are dipped in the egg, then rolled in the bread crumbs, then pan-fried until golden brown.
Crispy breaded fish recipe needs very few ingredients – the core ingredients are fish, eggs and bread crumbs. You can use store-bought packaged bread crumbs, or you can make your own bread crumbs by toasting a couple of slices of bread in a toaster, then pulsing them in a food processor until they turn into crumbs.
Crispy breaded fish goes well with white tartar sauce or red seafood cocktail sauce. Both sauces can be found in the grocery stores in the ketchup isle. Crispy breaded fish can be served with rice, mashed potatoes, vegetables or fries.
Ingredients For The Crispy Breaded Fish Recipe:
1 lb fish fillets
2 eggs
1 cup breadcrumbs
4 tbsp oil
3/4 tsp salt
1/4 tsp pepper
Directions How To Make Crispy Breaded Fish:
Whisk the eggs in a bowl. Put the bread crumbs on a large plate.
Heat the oil in a large non-stick frying pan over medium-high heat.
Dip each fish fillets in egg on both sides, then put the fish in the plate with bread crumbs, press so the bread crumbs stick to one side of the fish, then flip the fish and press the other side of the fish into bread crumbs. Put the fish on a frying pan. Fry the fish on one side for 4 minutes, then flip and fry on the other side for 4 minutes. Remove the fish from the frying pan and serve immediately.
Crispy breaded fish is the crispiest when it is served right away. If you reheat the crispy breaded fish, it will still taste good but will no longer be crispy. So time it well so you can enjoy this yummy fish recipe while the fish is crispy and piping hot!
Save this for later on your social media:
Get Melanie's FREE Recipes In Your Inbox!
https://www.melaniecooks.com/wp-content/uploads/2011/07/crispy-breaded-fish.jpg
405
500
Melanie Mendelson
https://www.melaniecooks.com/wp-content/uploads/2015/11/logo-new2.png
Melanie Mendelson
2011-07-08 19:10:14
2013-03-02 13:18:12
How To Make Crispy Breaded Fish Recipe