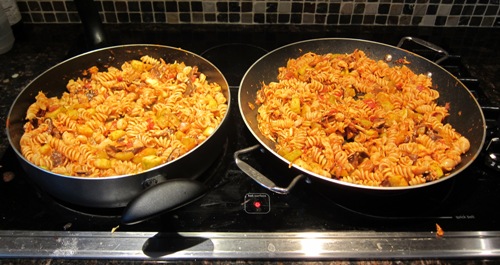 This post may contain affiliate links (disclosure).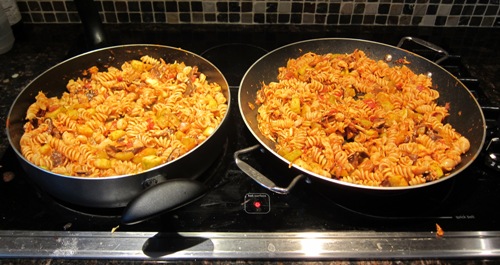 Every cook wants to find shortcuts to speed up their cooking.  Who doesn't want to cook faster and get the same results?  Here's a very simple, yet often overlooked tip on how to cook faster: use two frying pans at the same time on 2 burners!  And if you have the space on your cooktop, you can even use 3 or 4 frying pans at once if needed :)
If you use just one frying pan, you have to wait till one portion of the food finished cooking, remove it from the frying pan and then put the next portion of food on this frying pan.  Think of how much time you are losing by doing that!  I always use the 2 largest frying pans on 2 burners at the same time.  Two huge frying pans are usually enough to fit all the food that I'm cooking.  I waste no time – I put all the food on those 2 frying pans, and when it's done cooking all at once, I am done!
Another advantage of using 2 frying pans at once is that the food is not crowded.  How many times did you have pieces of meat touching just because you were trying to squeeze everything into a frying pan?  Meat, fish and any other kind of patties and pieces cook best when they are not touching.  Avoid crowding your food – use the 2 large pans at once.
Now you are doing to say – how about having to wash an extra frying pan? Nice excuse :) Washing a non-stick frying pan takes less than a minute.  Using 2 frying pans to cook your food all at once usually saves at least 10 minutes.
If you are still using just one frying pan when you cook a lot of food, and waiting for one batch to finish cooking before starting another batch, don't wait any longer – try my tip! You will save so much time, and you'll never want to go back to the old way.
Save this for later on your social media:
Get Melanie's FREE Recipes In Your Inbox!
https://www.melaniecooks.com/wp-content/uploads/2011/10/pasta-shredded-chicken-2burners.jpg
265
500
Melanie Mendelson
https://www.melaniecooks.com/wp-content/uploads/2015/11/logo-new2.png
Melanie Mendelson
2011-10-24 12:55:37
2011-10-24 12:55:37
How To Cook Faster - Use Two Frying Pans At The Same Time