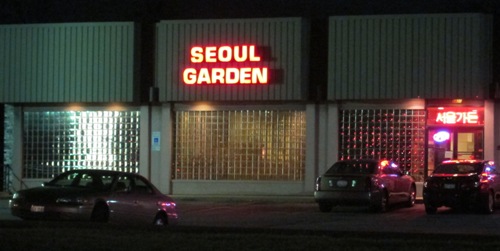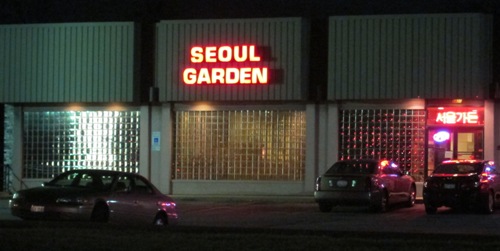 If you like Korean food, Seoul Garden restaurant in Northbrook is a great place to visit.  It has very tasty authentic Korean food – most people who eat there are Korean.  The food at Seoul Garden is very tasty, the prices are cheap and the service is good – we ate there many times and keep coming back.
Like in most Korean restaurants, the meal at Seoul Garden comes with the complimentary side dishes.  One of the side dishes is always spicy kimchi, and the others change from time to time.  It's always exciting to see what side dishes you will get!
The dish that I really love there is the Spicy Squid.  It's the stir-fried squid with green onions in a very delicious unique spicy sauce!  One portion of this squid is enough for 2 people, and it comes with steamed rice.  We order one squid for $12.95 and still get 5 side dishes – it's a true bargain!
Another dish that I like at Seoul Garden is the bibimbop.    Bibimbop is a signature Korean dish – it's a bowl of rice topped with thinly sliced steak, sunny-side-up egg, cooked vegetables and spicy sauce.  When the bibimbop is brought to the table, you stir it to mix the ingredients together – yum!  Bibimbop at Seoul Garden is a true bargain at $8.95.
Here's the photo of our meal at Seoul Garden (the rice is in the closed metal bowl on the left, it didn't fit in the picture).  In the middle is spicy squid, and around it are the side dishes.  One of the side dishes is spicy kimchi, another is roasted seaweed, another one is daikon radish, and I'm not sure what the other two are, but they were really good!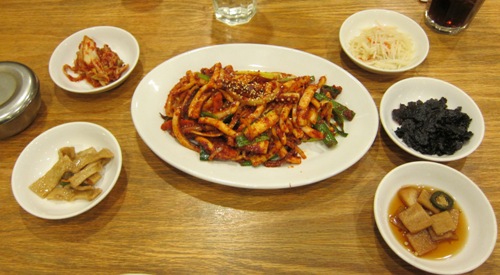 Seoul Garden Korean Restaurant is located at 3420 Milwaukee Avenue  Northbrook, IL 60062 (the corner of Milwakee and Sanders), their phone number is (847) 390-8390.
If you are looking for a Korean Buffet in Chicago area, check out Senoya Korean Buffet Restaurant.
http://www.melaniecooks.com/wp-content/uploads/2012/12/seoul-garden-korean-restaurant.jpg
251
500
Melanie Mendelson
http://www.melaniecooks.com/wp-content/uploads/2015/11/logo-new2.png
Melanie Mendelson
2012-12-19 07:52:36
2012-12-19 07:53:20
Seoul Garden Korean Restaurant Review - Northbrook IL, Chicago Suburbs