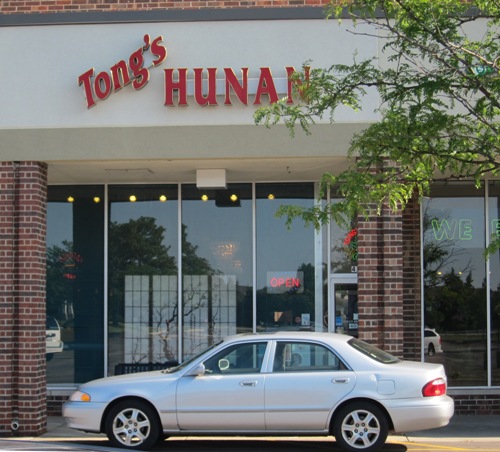 Tong's Hunan is a very popular Chinese Restaurant in Northbrook IL (a Northwest Suburb of Chicago). People love Tong's Hunan – it's always busy! While several other Chinese restaurants in the area closed down, Tong's Hunan continues to do well – so they must be doing something right :) Great Chinese food, quick service, good prices and huge portions – it all keeps people coming for more. Don't let the strip mall location fool you – this place is really authentic. For a great Chinese Food in Northbrook, head over to Tong's Hunan!
Tong's Hunan is located in the strip mall on the corner of Dundee Rd and Sanders Rd – in the same plaza as Dominick's. So if you see Dominicks, go to that plaza – Tong's Hunan is to the right of Dominicks. And of course, a car had to be parked in front of Tong's as I was taking a picture of it from the outside :)
Here's the photo of the interior of Tong's Hunan: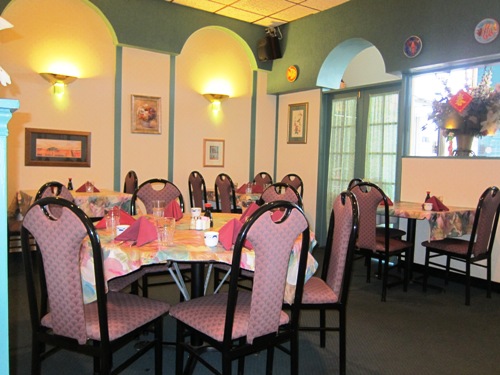 As Tong's Hunan I never have to order a drink – you get a huge pot of complimentary hot tea! Just pour it from the teapot into your cup – there is enough tea for lots of refills – free!
Here's the pic of Tong's Hunan tea cup and tea pot:
Tong's Hunan has great hot & sour soup. It's rich and chunky and has the right amount of spice and an outstanding taste! They also have a version that uses chicken instead of pork :)
Below is a picture of their garlic chicken. It's hard to tell on the photo, but this portion is huge! One portion is enough to feed two hungry adults, and it's just $10.95 :) Can't beat that price for a sit-down dinner for two!
Tong's Hunan garlic chicken is delicious – the chicken is tender, spicy and super garlicky with a yummy sauce – just as the perfect garlic chicken should be!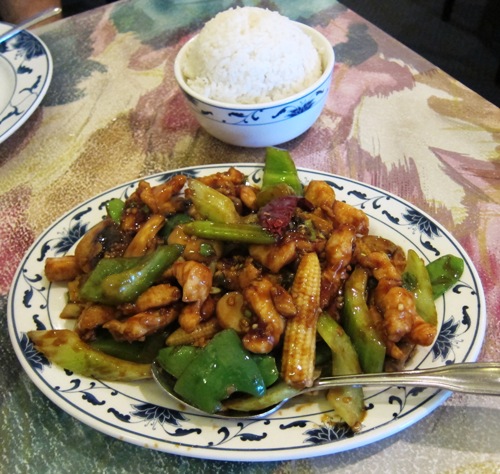 Tong's Hunan has a huge menu with a variety of chicken, meat and seafood dishes. Here are some popular Chinese favorites on their menu: Mongolian beef, Kung-Pao Shrimp, Sweet & Sour Chicken, Hunan Chicken, Mu-Shu Pork, Orange Chicken, Sesame Chicken, Fried Rice, Chow Fun and Lo Mein. Everything that I've tried at Tong's Hunan Northbrook is excellent! And they also have really good egg rolls!
The meal ends with complimentary cookies – not just a fortune cookie but also another crispy sweet round cookie – yum!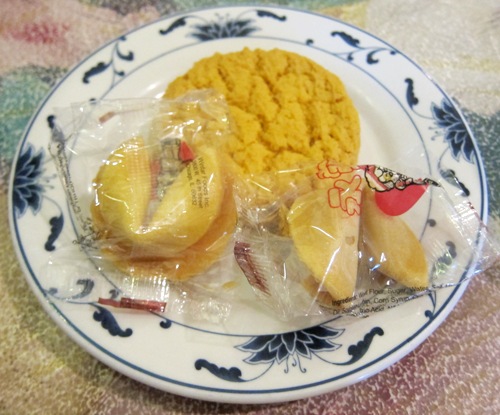 If you have picky small chicken that won't eat Chinese food, here's what you do. Even though Tong's Hunan doesn't have a kids menu, as the waiter for some plain boiled noodles for the kids. Most kids love plain noodles, and they'll be busy and happy eating them while you have a feast of Chinese food :)
Tong's Hunan also has great lunch specials – for $8 or less, you get a huge entree, 2 pieces of crab won-ton appetizer, fried rice and fortune cookies. And remember, you don't have to pay for a drink, since you get that free tea :)
In addition to dining in, Tong's Hunan is also very popular for take-out. If you live nearby and don't feel like cooking dinner, just call Tong's and place an order for Chinese takeout. The food will be ready in 15 minutes!
Tong's Hunan is located at 4145 Dundee Rd, Northbrook IL 60062 (next to Dominick's on Dundee & Sanders). Their phone number is 847-480-1123.
Save this for later on your social media:
Get Melanie's FREE Recipes In Your Inbox!
https://www.melaniecooks.com/wp-content/uploads/2013/07/tongs-hunan-hot-and-sour-soup.jpg
457
500
Melanie Mendelson
https://www.melaniecooks.com/wp-content/uploads/2015/11/logo-new2.png
Melanie Mendelson
2013-09-10 07:00:01
2013-09-09 12:40:33
Tong's Hunan Chinese Restaurant In Northbrook IL, Chicago Suburbs