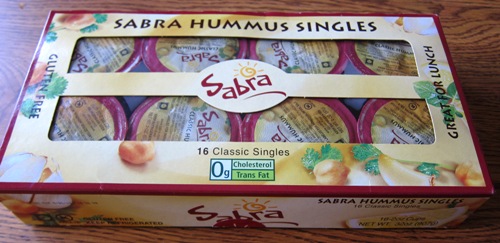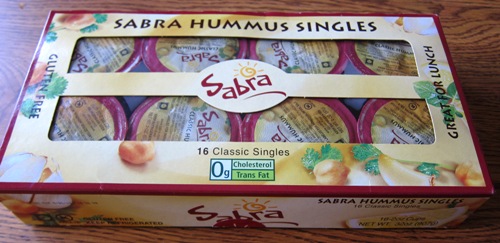 I was really happy to find individual packs of hummus at Costco!  Since everything in Costco is packaged in huge portions, it's especially exciting to find something packaged in the individual serving cups!  Costco carries Sabra Hummus Singles individual hummus packs that are 2 ounches each.  There are 16 hummus singles in a Costco package of Sabra hummus.  Each hummus single is individually sealed.
Individual packs of hummus is a great thing to have in your refrigerator.  When you buy a large tub of hummus, you are forced to eat it within a few days from opening, otherwise it will spoil.  Single serving packages of hummus are much more convenient – the package has just enough hummus for one serving.  If you don't feel like eating more hummus for another week, you don't have to worry about your hummus spoiling – single serve individual packs of hummus are sealed, and will be perfectly fine in your refrigerator before the expiration date (which can be more than a month away).
Sabra individual hummus packs from Costco is a pretty healthy snack option.  The nutritional information for Sabra Hummus Singles classic hummus from Costco is as follows: each individual Sabra hummus from Costco has 150 calories, 11 grams total fat, 1.5 grams saturated fat, zero cholesterol, 260 mg sodium, 9 grams of carb, 3 grams of fiber, 1 gram of sugar and 4 grams of protein.  It also has 2% of calcium and 8% of iron.
A great thing about Costco individual hummus pack is that the individual portion is small, so if you are watching your calories, you won't overeat on hummus 🙂 The individual hummus is very portable, it's so convenient to pack it in a lunchbox.  Sabra Hummus Singles are very tasty.  It has a classic hummus taste – a blend of ground chickpeas, tahini and garlic.  For a healthy snack, you can dip some carrot sticks or other vegetables in this yummy hummus.
Here's a picture of the individual pack of Sabra Hummus Singles from Costco: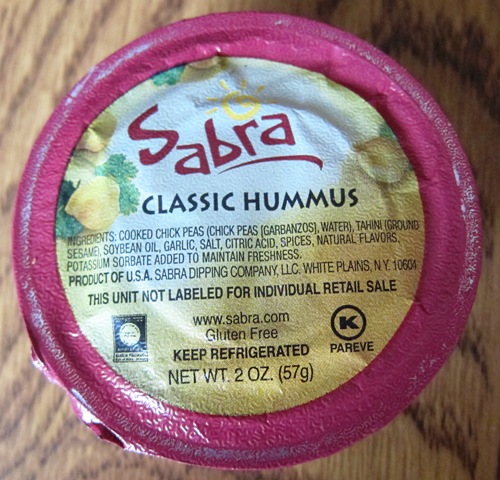 And here's the picture of this individual hummus package after it's been opened: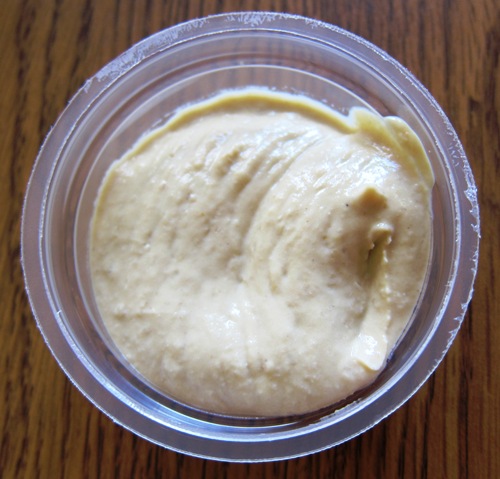 Also, did you know that it's very easy to make hummus yourself?  Check out my page on how to make your own hummus, and also homemade pita chips recipe for a super-easy way to make pita chips in a microwave!
Get Melanie's FREE Recipes In Your Inbox!
http://www.melaniecooks.com/wp-content/uploads/2012/08/costco-individual-hummus3.jpg
243
500
Melanie Mendelson
http://www.melaniecooks.com/wp-content/uploads/2015/11/logo-new2.png
Melanie Mendelson
2012-08-23 06:52:44
2012-08-22 12:50:12
Sabra Hummus Singles Individual Packs From Costco