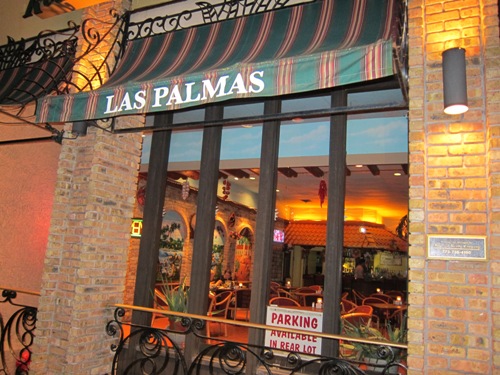 Las Palmas is my favorite Mexican restaurant in Chicago Suburbs.  Las Palmas has 8 locations in Chicago suburbs and I've tried 3 of them.  So far my favorite location of Las Palmas is the one in Highland Park.  They have the best ceviche!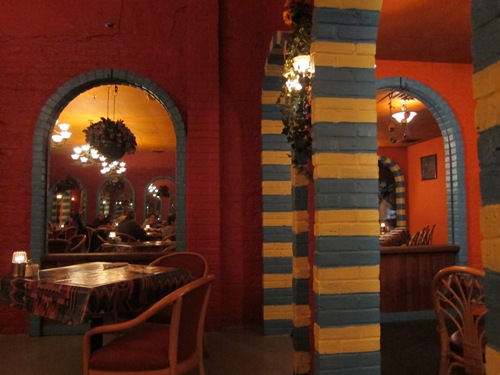 The interior of Las Palmas restaurant in Highland Park is painted and decorated in very bright Mexico-inspired colors.  Dimmed lights combined with unique bright decor create a very nice mood.  It feels cozy and intimate, yet family-friendly.
The meal starts with the complimentary chips and salsa.  The standard salsa at Las Palmas is pretty spicy and very flavorful, with the taste of chilies and cilantro.  If there are kids at the table, the waiter also brings the mild salsa in addition to the spicy one.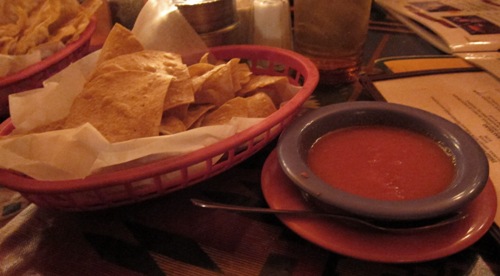 Below is the picture of Las Palmas ceviche.  I love their ceviche and always order it there.  Las Palmas ceviche tastes just like the ceviche that I had in Mexico!  It tastes so light, so refreshing – seafood marinated in lime.
The ceviche is huge – it's enough for 2 people to share as an appetizer.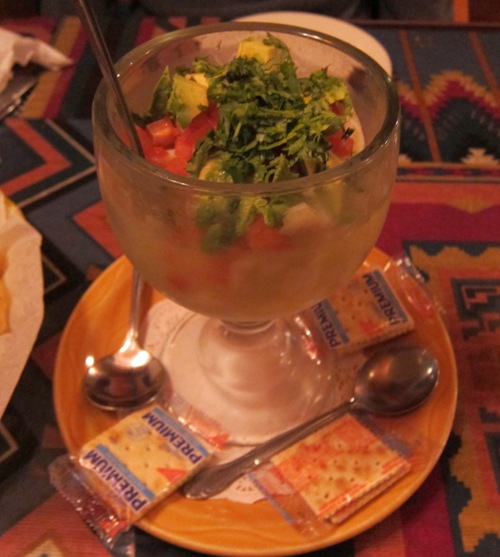 Here's the picture of the ceviche as I took it from the glass and put it on a plate:
Here's the picture of guacamole at Las Palmas – the picture is dark, but be assured that the guacamole is very tasty 🙂 It comes served on a huge crispy chip!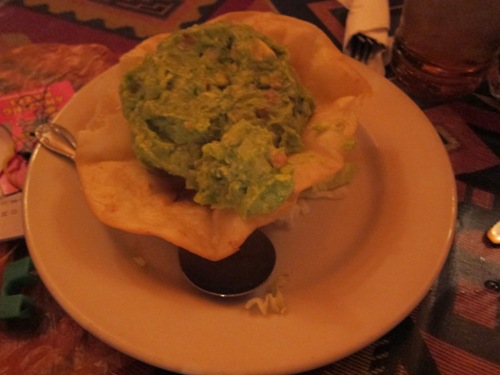 Here's the picture of the vegetarian combination plate – cheese quesadilla, tostada and enchilada, served with refried beans and Spanish rice.  I always have leftovers to take home!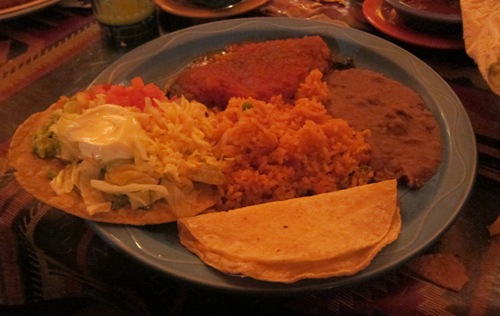 And here's Banana Enchiladas Con Mole – enchiladas with fried bananas and mole sauce!  This description sounds weird, but the banana enchiladas are delicious!  Fried bananas, gooeye melted cheese and chocolate mole sauce create a very unique, deep and complex flavor.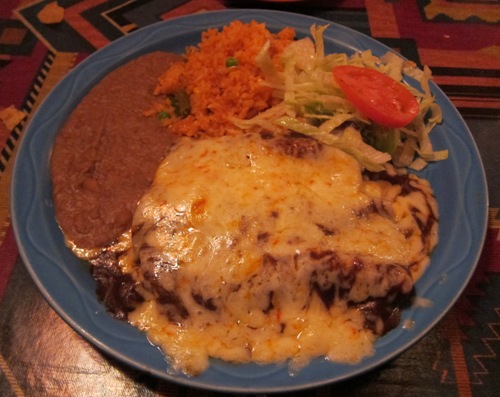 Las Palmas at Highland Park is located Downtown Highland Park at 474 Central Ave.
Highland Park, IL 60035.  Las Palmas phone number is (847) 432-7770.
http://www.melaniecooks.com/wp-content/uploads/2011/10/las-palmas-outside1.jpg
375
500
Melanie Mendelson
http://www.melaniecooks.com/wp-content/uploads/2015/11/logo-new2.png
Melanie Mendelson
2011-10-30 12:45:37
2011-10-30 12:45:37
Las Palmas Mexican Restaurant Review (Highland Park IL, Chicago Suburbs)