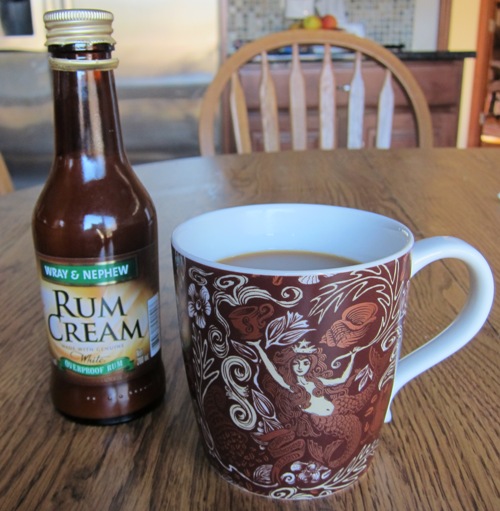 Coffee and liquor is a great combination.  They are both very powerful drinks, and when combined they create something unique – the alcohol really enhances the taste of coffee and gives it new depth.
Your coffee with liquor is as good as the components – you need great coffee and great liquor 🙂  To make great coffee, start with fresh whole coffee beans, grind them and brew coffee in a good coffee maker.  Don't skimp on the coffee beans, so your coffee can be strong and full of flavor.
When the coffee is done brewing, pour yourself a cup of fresh coffee and add a little bit of coffee liquor. What kind of liquor goes well with coffee?  There are several kinds of liquor that go well with coffee: Rum, Kahlua, Baileys and Amaretto.
Don't add too much liquor – a little goes a long way.  You want to make your coffee tasty, not to get drunk 🙂  If needed, you can also add extra sugar and milk.
On the top picture is a cup of coffee with the Jamaican White Rum Cream Liquor.
http://www.melaniecooks.com/wp-content/uploads/2012/12/coffee-rum-cream.jpg
511
500
Melanie Mendelson
http://www.melaniecooks.com/wp-content/uploads/2015/11/logo-new2.png
Melanie Mendelson
2012-12-23 07:43:25
2012-12-23 07:44:00
Coffee With Liquor - Adding Alcohol To Coffee Drinks