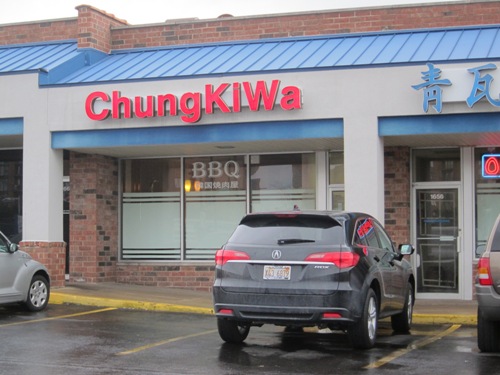 ChungKiWa is my favorite Korean restaurant in Chicago area.  ChungKiWa is located in the Northwest suburb of Mount Prospect.  This Korean BBQ restaurant is inside the strip mall, but don't be fooled by its plain exterior – that place is amazing!  I've tried many Korean restaurants, and ChungKiWa has the best authentic Korean food and amazing service!
Here's the picture of the ChungKiWa interior – it's very clean and modern: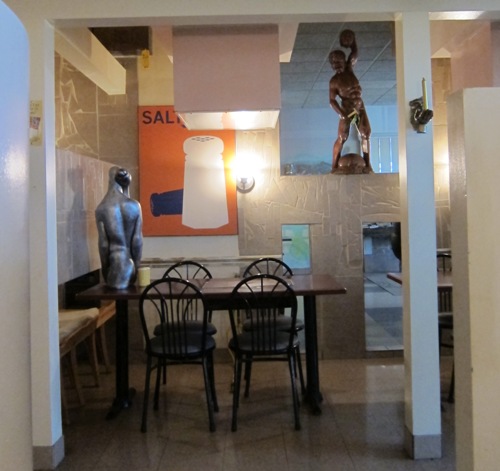 ChungKiWa has a large assortment of authentic Korean BBQ dishes, Korean Hot Pot Casseroles, noodle dishes and other traditional Korean foods.   The prices range from $9 for noodle dishes to $18 for Korean BBQ – and you get a lot of food for the money!
What I really love about Korean restaurants are the assortment of complimentary side dishes/appetizers.  Here are the side dishes that we got a ChungKiWa: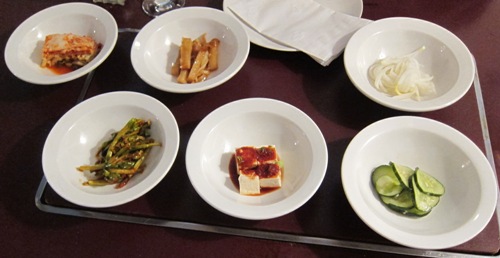 One of the side dishes is spicy kimchi.  Other side dishes tend to change every time we come, but kimchi is always there!  Here's the closeup picture of kimchi: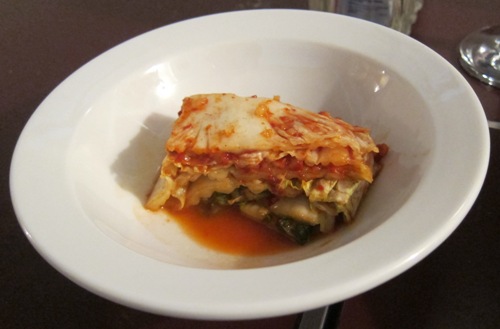 The next Korean side dish are the braised potatoes: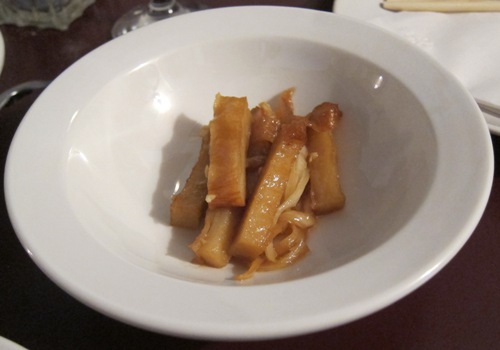 Another Korean side dish is the spicy tofu: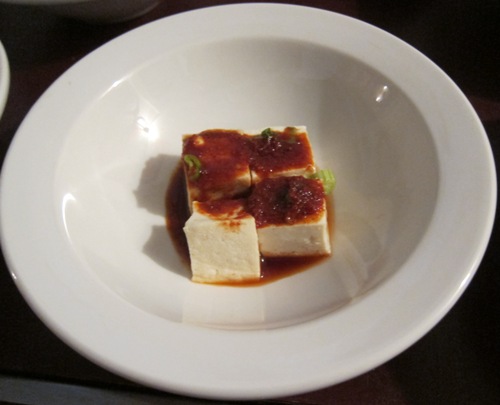 This Korean side dish is the cucumbers: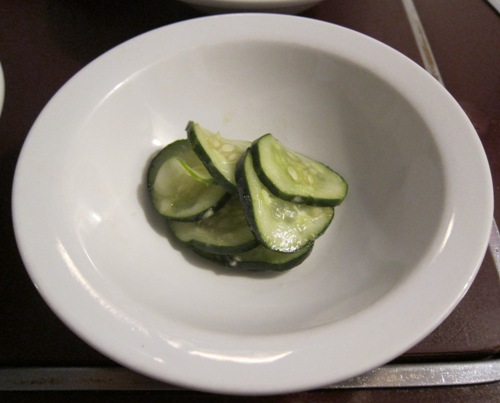 Another Korean side dish are the spicy green beans: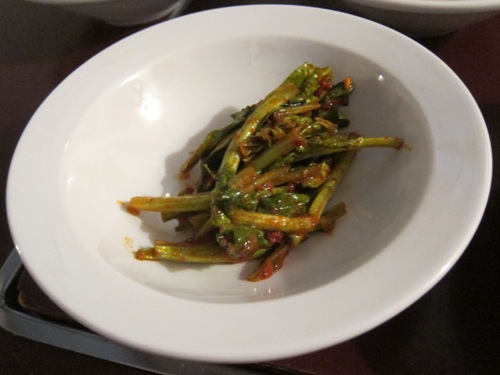 And the last Korean side dish was the daikon radish salad:
Our meal also came with the complimentary beef soup: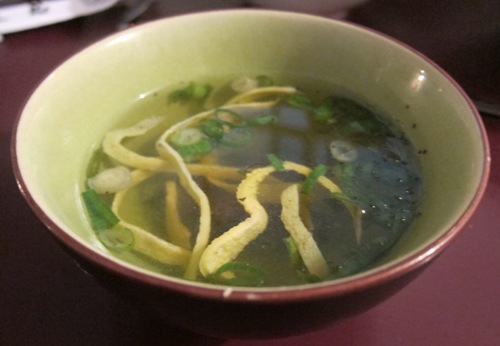 And I also ordered a very unusual Korean tea: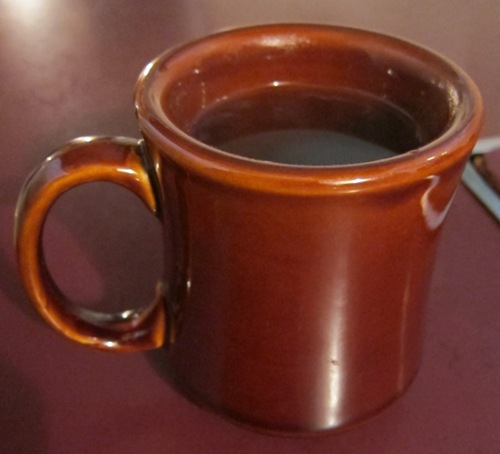 Here is the picture of the most popular Korean main dish – bi bi bop: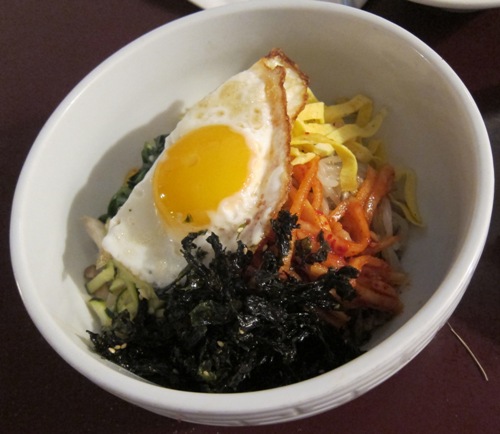 Bi bim bop is a very tasty dish that consists of assorted vegetables (this time spicy carrot, dried seaweed, bean sprouts and zuchini), sliced beef and fried egg on top of a bowl of rice, served with the spicy sauce.  When the bi bim bop is brought to the table, it is not mixed – it looks like the picture above, with all ingredients separate.
Bi bim bop is mixed right before eating, and you can add the spicy sauce to taste.  Here's the picture of the mixed bi bim bop: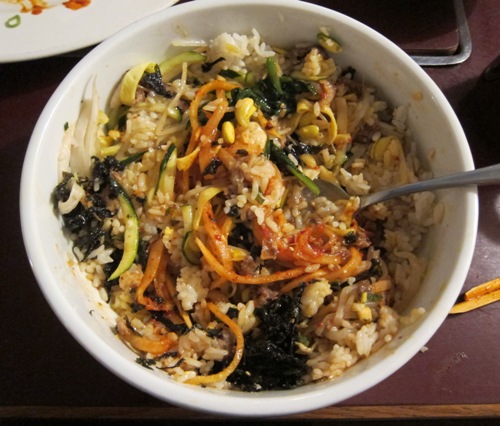 Here's the picture of another delicious main dish – squid bokum (squid is a spicy sauce):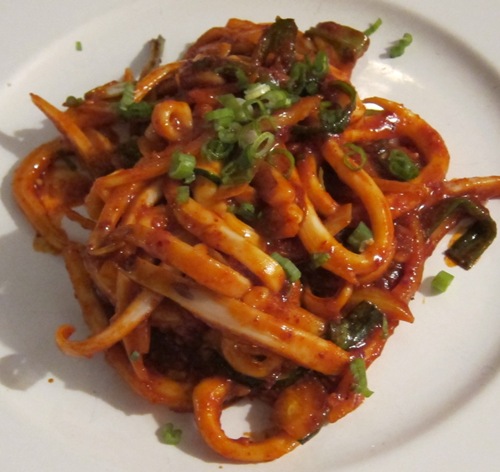 At the end of our meal we got complimentary slices of delicious Korean cheesecake – what a perfect way to finish off this feast!
Here's the closeup of Korean cheesecake after the wrapper was taken off: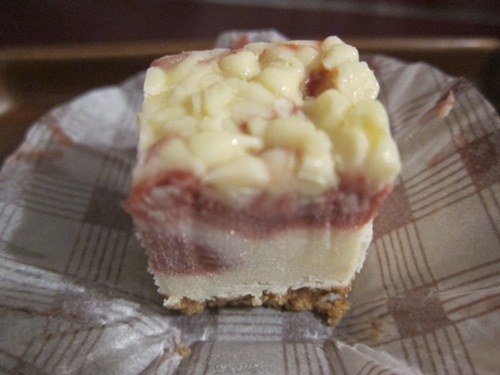 If you want to experience authentic Korean food in Chicago area, ChungKiWa is a perfect place to go.  ChugKiWa restaurant is located at 1658 W Algonquin Rd  Mt Prospect, IL 60056, phone # 847-806-1633.  You just can't go wrong with this restaurant – I recommend it very highly!
If you like Korean food, also check out my homemade Korean BBQ Beef Bulgogi recipe.
http://www.melaniecooks.com/wp-content/uploads/2013/04/korean-bbq-arlington-heights.jpg
375
500
Melanie Mendelson
http://www.melaniecooks.com/wp-content/uploads/2015/11/logo-new2.png
Melanie Mendelson
2013-04-22 07:58:48
2013-04-15 10:22:03
ChungKiWa Korean BBQ Restaurant Review - Korean Food In Chicago, Mt Prospect