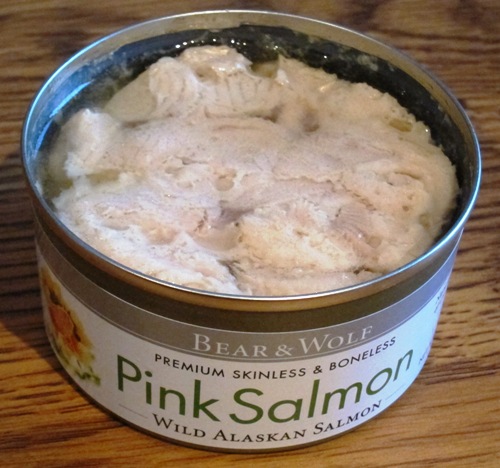 Costco sells excellent canned salmon – Bear & Wolf Wild Alaskan Pink Salmon.  This canned salmon is a high quality wild salmon that naturally contains 325mg of Omega-3s per serving.  In addition to being nutritious, this Bear & Wolf wild canned salmon also tastes great – it's the best tasting canned salmon I've ever tried.
Costco sells this Bear & Wolf canned pink salmon in a package of 6 cans (6 ounces each).  Here's the nutritional information for this canned wild salmon: serving size 2 oz (drained), 60 calories, 1 g fat, zero saturated fat, zero trans fat, 20 mg cholesterol, 220 mg sodium, zero carbohydrates, 13 g protein, 4% calcium.  As you can see, canned salmon is a perfect diet food – it's low in calories and fat, has no carbs and is packed with protein, and all this this protein really makes you full!
Another great thing about Bear & Wolf canned pink wild salmon from Costco is that it doesn't have any added preservatives or chemicals – the only ingredients on the ingredient list are Alaskan Pink Salmon and salt!
There are many ways to eat canned wild pink salmon – you can eat it as a main dish with mashed potatoes or rice, add it on top of the green salad or make canned salmon shepherd's pie.  My favorite recipe using canned pink salmon is canned salmon fishcakes recipe – those salmon fishcakes are so delicious!
Here's the picture of the Costco package of Bear & Wolf premium canned wild Alaskan pink salmon – it's 6 cans of salmon inside that plastic wrapping:

Get Melanie's FREE Recipes In Your Inbox!
http://www.melaniecooks.com/wp-content/uploads/2013/03/costco-pink-salmon2.jpg
468
500
Melanie Mendelson
http://www.melaniecooks.com/wp-content/uploads/2015/11/logo-new2.png
Melanie Mendelson
2013-03-06 07:15:26
2013-03-04 16:46:02
Canned Wild Alaskan Pink Salmon From Costco