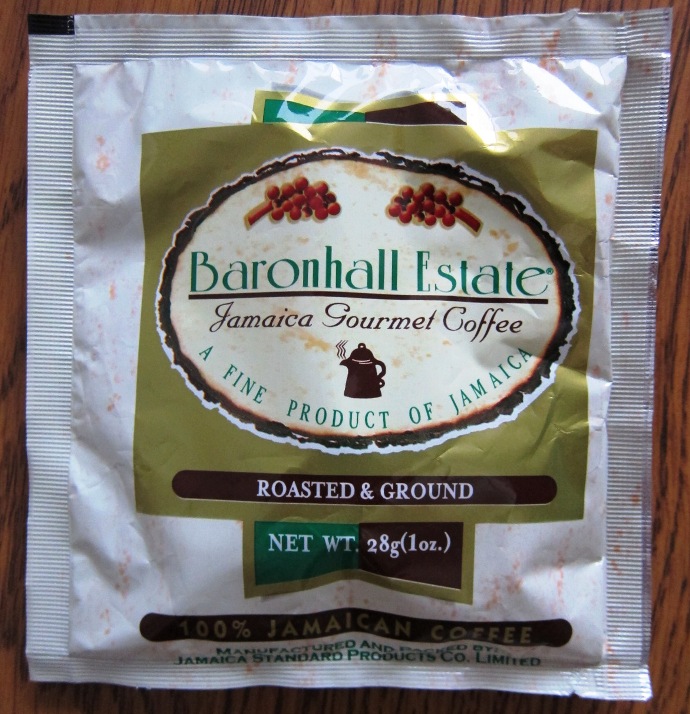 My parents brought me this Baronhall Estate Jamaica Gourmet Coffee from their vacation in Jamaica.  Their all-inclusive resort Grand Bahia Principe Jamaica in Montego Bay had lots of complimentary packets in their room.  I love trying new flavors of coffee, especially exotic coffees, so I was really excited to try out Baronhall Estate coffee 🙂
I've had outstanding Jamaican coffee before called Jamaica High Mountain Coffee, so I was definitely looking forward to trying another coffee from Jamaica.  Since Baronhall Estate coffee was already ground, I kept my expectations down (as I think whole-bean coffee that's freshly ground by me right before brewing tastes best).  However, this Baronhall Estate Jamaican coffee exceeded by expectations!  It tasted very fresh, bold and strong and I really enjoyed each and every sip.
Here's the description from the package of this tasty coffee: "Experience the full-bodied taste of Baronhall Estate Coffee, produced on the single largest coffee farm in Jamaica.  Located near Cave Valley in St. Ann, the estate, with its own 10 acre natural lake.  Today, the estate is owned by the Minott family, and its ocffee is packaged exclusively by the family owned Jamaica Standard Products Co., Ltd., the oldest and most reputable coffee-roasting company on the island.  All our coffee is pulped using only natural spring water from our estate, some 2000 feet above sea level, and is certified as 100% Jamaican by the government-owned Coffee Industry Board."  It's always nice to learn about the history of the coffee I'm drinking as it really adds to the experience!
Baronhall Estate Jamaica Gourmet Coffee is very strong.  For some reason, I found that both Baronhall and Jamaican High Mountain coffee are stronger than the usual kinds of coffee that I drink here in the US.  Maybe those coffee beans ground in Jamaica have more caffeine than usual!  The flavor of this coffee is strong, but not bitter, and it smells great.  Baronhall is a very powerful coffee that I recommend for all coffee lovers.
http://www.melaniecooks.com/wp-content/uploads/2014/02/coffee_baronhall_estates.jpg
714
690
Melanie Mendelson
http://www.melaniecooks.com/wp-content/uploads/2015/11/logo-new2.png
Melanie Mendelson
2014-02-10 11:20:38
2014-02-10 11:20:38
Baronhall Estate Jamaican Gourmet Coffee