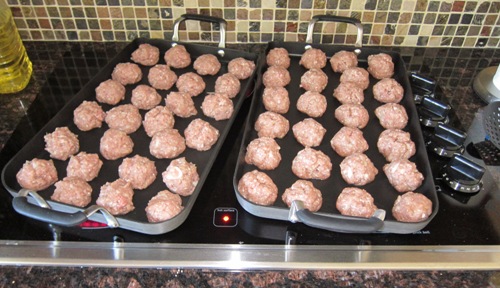 Cooking With Double Griddle Pan Over Two Burners
This post may contain affiliate links (disclosure).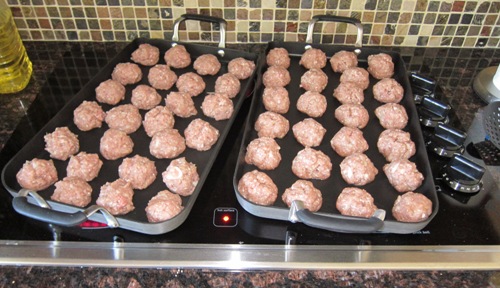 If you are cooking for a big family, having a double griddle is a huge time saver. Having to wait for one batch of food to finish cooking before adding another batch to the frying pan is an absolute waste of time. When I cook something, I always want it to fit everything on the stove all at once.
I have written before about cooking faster with two frying pans at the same time. But sometimes even two frying pans can't fit all the food that I'm cooking. So I got myself two non-stick double griddle pans. Each double griddle fits over two burners. I have four burners, so I can put two double griddles side by side. Two double griddles give me the cooking space equivalent of four frying pans at once!
You can use double griddle pans on any kind of stove – gas or electric. I have a glass electric cooktop, and as you can see on the picture I can still use those double griddles just fine :) If you buy a double griddle pan, make sure you buy the one that feels heavy – the thin ones will heat unevenly. Heavy double griddle pan will heat evenly, as long as you preheat it over medium heat. The double griddles that I have are Calphalon non-stick double griddle pans – they are excellent.
Washing the double griddle pan is as easy as washing any other non-stick frying pan. I wash mine in the sink with a sponge – just put a drop of dishwashing liquid on the sponge and wash the double griddle, and the dirt will come right off.
Double griddle pan is a real time saver. If you were considering getting the double griddle but just can't get around to it, do it – you'll save yourself lots of time when cooking large quantity of food. Looking for a perfect recipe to make using the double griddle pan? Pancakes! Check out my recipe on how to make really good pancakes – these blueberry pancakes are really delicious!
Save this for later on your social media:
Get Melanie's FREE Recipes In Your Inbox!
https://www.melaniecooks.com/wp-content/uploads/2012/08/double-griddle.jpg
288
500
Melanie Mendelson
https://www.melaniecooks.com/wp-content/uploads/2015/11/logo-new2.png
Melanie Mendelson
2012-09-02 07:19:35
2012-08-29 13:21:57
Cooking With Double Griddle Pan Over Two Burners