This post may contain affiliate links (disclosure).
This amazingly delicious chicken apple salad will tickle your taste buds! Colorful powerhouse of nutrition packed in layers in a mason jar! Make it in just 15 minutes for a week's worth of healthy lunches!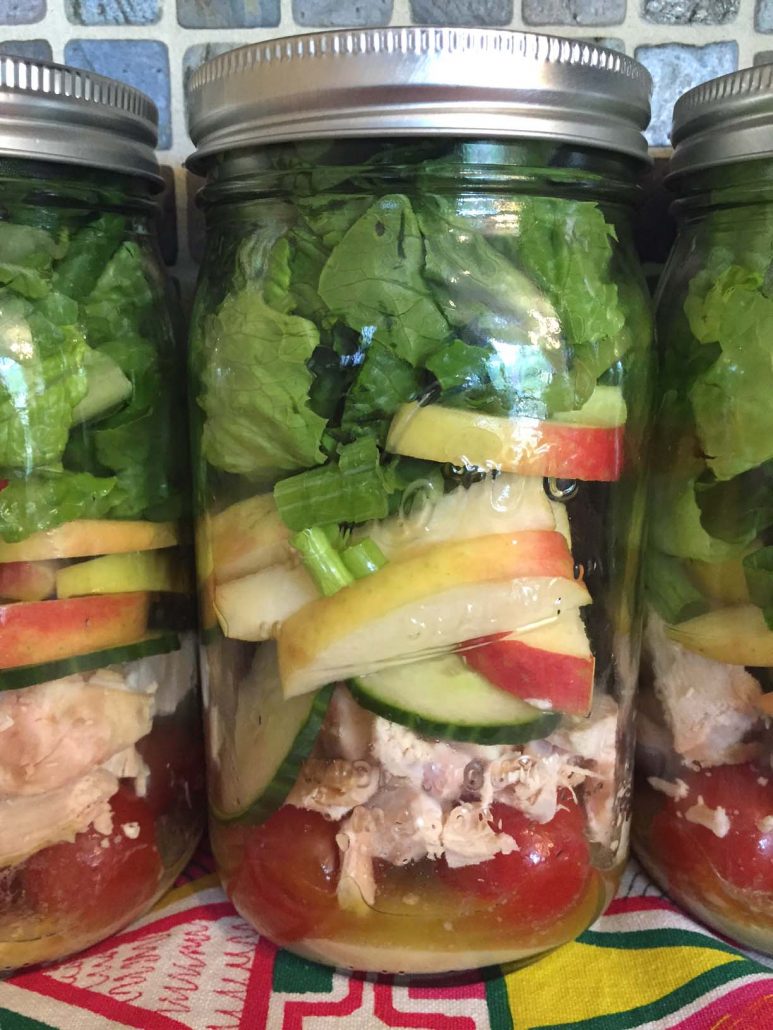 If you are looking to eat more healthy lunches, but it's just hasn't been happening, I've got 2 words for you: mason jars. Mason jar salads will totally transform the way you eat lunch, in a good way. You can make the whole week's worth of healthy lunches in less than 30 minutes, and the mason jars will keep them fresh!
This chicken apple mason jar salad is like a nutritional powerhouse – it has chicken breast, apple slices, cherry tomatoes, cucumbers, green onions and lettuce leaves – super healthy! This healthy deliciousness is dressed with a homemade dressing made with extra-virgin olive oil, Dijon mustard and freshly squeezed lemon juice – yum! This dressing goes so well with this salad, you'll love it!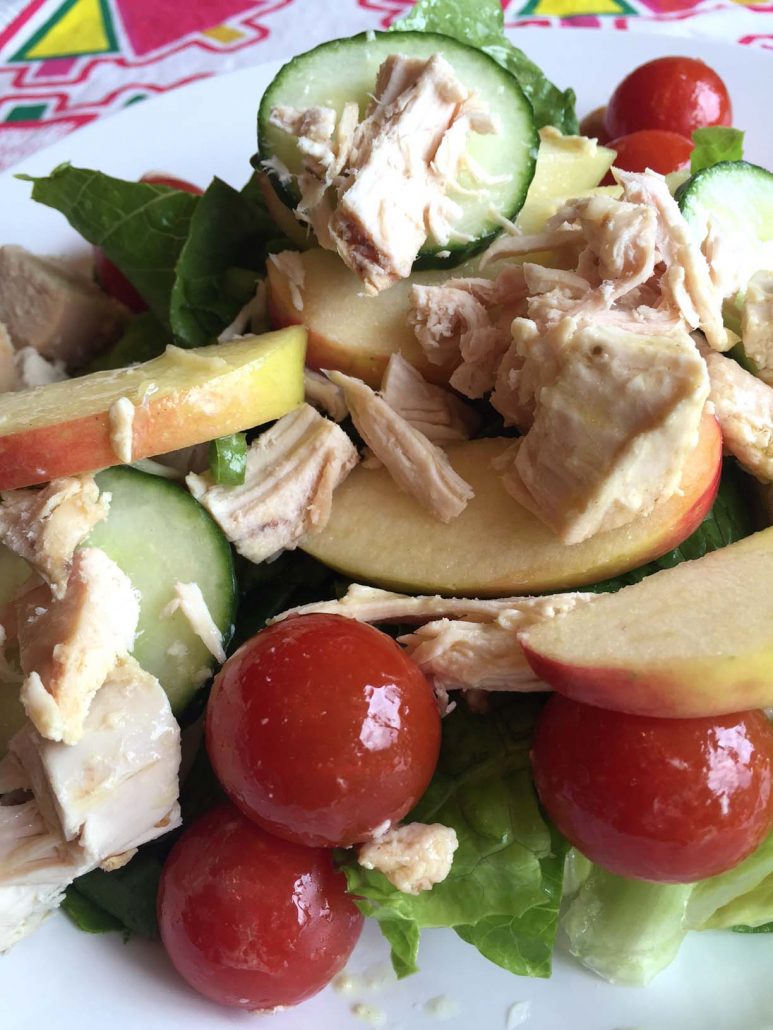 As with all mason jar salads, the clever layers keep everything fresh for up to 5 days! Dressing goes on the bottom and doesn't touch the lettuce, so the lettuce stays super crisp! The layers look so good too – eating healthy is really easy when you have this beautiful colorful deliciousness in your fridge!
Mason jar salads are super portable – just grab a jar and put it in your lunchbox, so convenient! Grab-and-go meals are such life savers for all of us busy folks!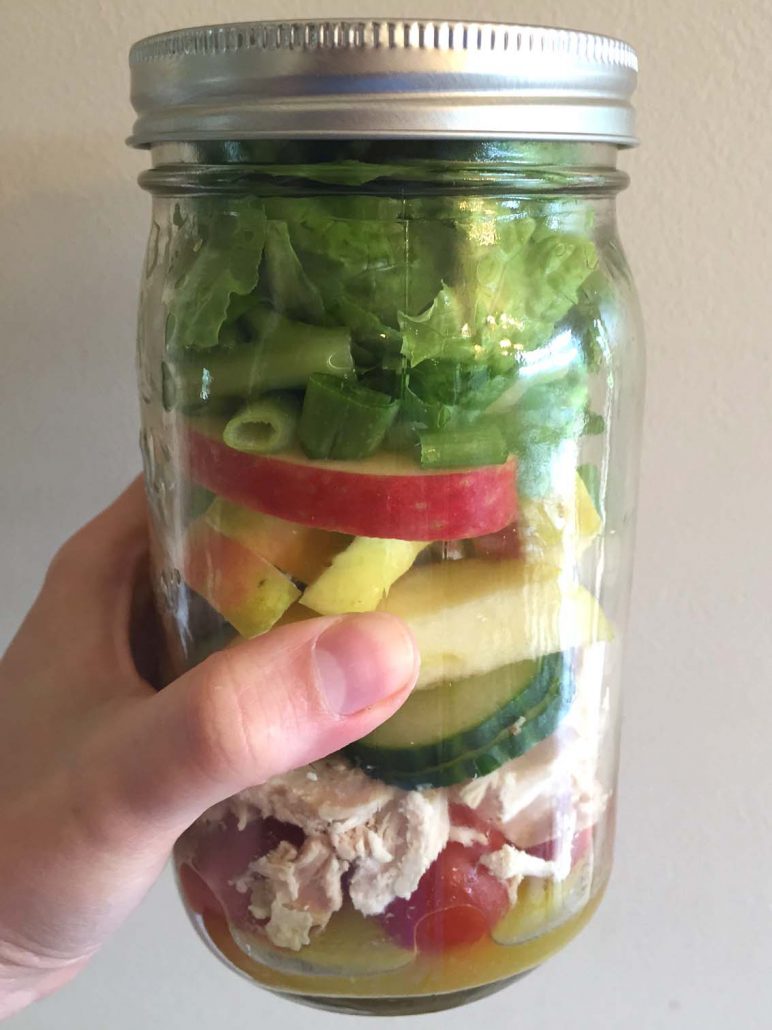 To eat the mason jar salad, simply invert it onto a plate – the lettuce will come out first and will end up on the bottom of the plate, while all other ingredients and the dressing will end up on top of the salad – just the way it should be! Or if you'd like to eat the salad on the go, simply shake the mason jar to distribute the dressing and eat straight out of the jar :)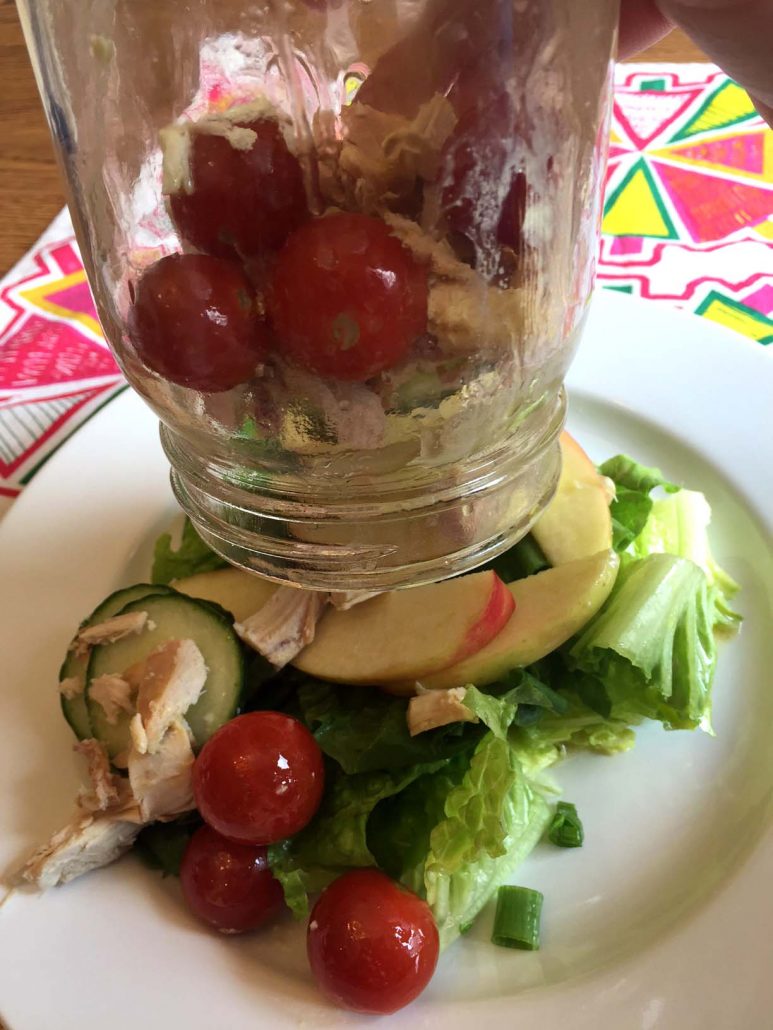 Enjoy these delicious mason jar salads! What a great way to have a healthy and yummy lunch!
Chicken Apple Mason Jar Salad Recipe
This amazing chicken apple mason jar salad is so delicious and so good for you! Chicken, apple slices, cherry tomatoes, cucumbers, green onion and lettuce leaves are layered beautifully in a glass mason jar, and flavored with the homemade lemon-Dijon dressing!
Ingredients
1 lb chicken breasts, cooked and chopped (Rotisserie chicken works great!)
1 package (8 oz) cherry tomatoes
1 cucumber, sliced
2 apples, sliced
4 green onions, sliced
2 cups lettuce leaves
1 lemon
4 tbsp extra-virgin olive oil
1 tbsp Dijon mustard
½ tsp salt
Instructions
Put apple slices in a bowl. Cut ¼ of the lemon and squeeze over the apple slices, and toss to coat. Lemon juice will prevent apple slices from browning.
Make a dressing: In a cup, add olive oil, Dijon mustard and salt. Squeeze the remaining ¾ of the lemon into that cup. Whisk oil, mustard and lemon juice with a fork until combined.
Pour the dressing on the bottom of 4 mason jars.
Next, layers the ingredients into the mason jars in the following order: cherry tomatoes, chicken, cucumber slices, apple slices, green onion and lettuce.
Close the mason jars and keep in a refrigerator for up to 5 days.
To serve the mason jar salad, invert it onto a plate.
Save this for later on your social media:
Get Melanie's FREE Recipes In Your Inbox!
https://www.melaniecooks.com/wp-content/uploads/2016/09/chicken_apple_salad_jar.jpg
1632
1224
Melanie Mendelson
https://www.melaniecooks.com/wp-content/uploads/2015/11/logo-new2.png
Melanie Mendelson
2016-09-07 13:26:08
2018-05-04 05:44:34
Chicken Apple Mason Jar Salad Recipe