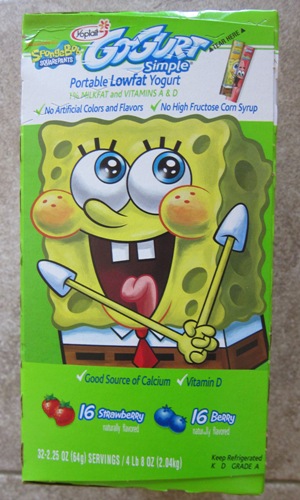 The name "GoGurt" means Yogurt On The Go 🙂  It's a genius way to package yogurt in a squeezable soft tube – perfect for kids' snacks!  GoGurt is perfect to pack in kids lunchboxes – instead of a big messy yogurt and a spoon you just put in a small portable tube of yogurt.  To eat a GoGurt, just rip off the top of the tube and suck the yogurt out – no spoon and no mess!
GoGurt is manufactured by Yoplait, and Costco sells a huge package of GoGurt – 32 GoGurt tubes!  If you have kids who like GoGurt, getting GoGurt at Costco will save you a lot of money – it's much cheaper to buy GoGurt at Costco then smaller packages of the same GoGurt at other grocery stores.  Costco GoGurt price is $7.89 for a package of 32 GoGurts.
The Costco GoGurt is Yoplait's GoGurt Simple Portable Low Fat Yogurt.  The package is called "easy to store fridge pack" – it's a rectangular box with 32 GoGurts inside.  The box states the following features: "No artificial colors, no artificial flavors, no artificial sweeteners, no high fructose corn syrup".
GoGurt is very healthy.  Here are GoGurt nutrition facts: each tube of GoGurt has 60 calories, 0.5 grams of fat, zero saturated fat, zero trans fat, 80 mg of potassium, 12 grams of carb, 2 grams of protein.  GoGurt has lots of vitamins – 8% of vitamin A, 10% of calcium, 10% of vitamin D, 6% of phosphorus, 4% of riboflavin.  GoGurt has active yogurt cultures, including L. Acidophilus.
On the GoGurt box, there is a great suggestion to freeze the GoGurt and put a frozen GoGurt in the lunchbox.  By lunch time, the GoGurt will thaw!  Personally, I don't freeze the GoGurts – I just put it in the lunchbox straight from the refrigerator and put an ice pack in the lunch box.  But if you don't use an ice pack, frozen GoGurt is a great idea!
The GoGurts inside have several different designs – lots of fun for the kids!  There are also 2 different flavors: berry and strawberry.  Here's the picture of the individual GoGurts from that Costco package: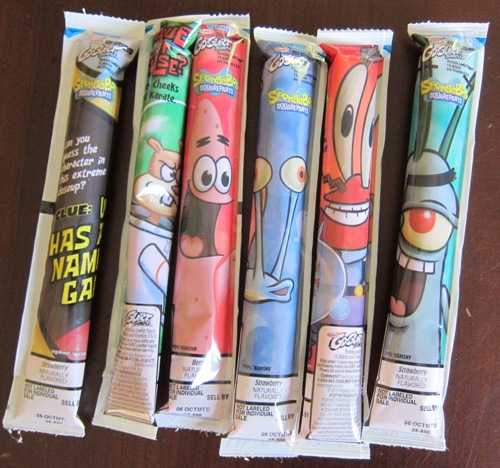 Other great Costco snacks that I really are 90 calorie brownies, dried apple chips and roasted seaweed snacks.  Costco is great for packaged snacks – every time I go there I find new tasty goodies!
http://www.melaniecooks.com/wp-content/uploads/2012/10/costco-gogurt.jpg
500
300
Melanie Mendelson
http://www.melaniecooks.com/wp-content/uploads/2015/11/logo-new2.png
Melanie Mendelson
2012-11-23 05:42:31
2012-11-21 16:38:53
Yoplait GoGurt - Portable Lowfat Yogurt At Costco