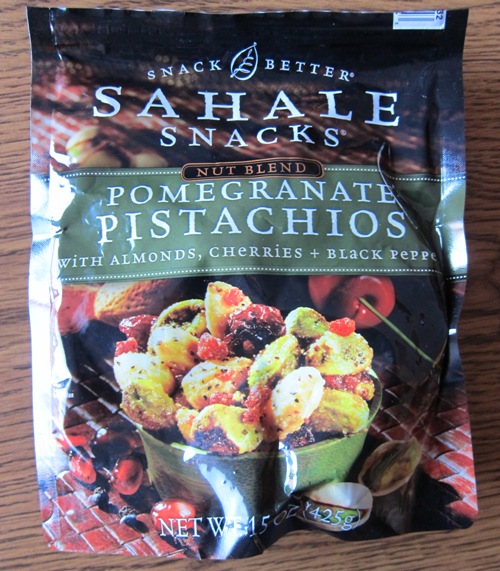 Pistachio nuts usually come with their shells on (I often buy regular pistachios at Costco), but this pistachio nut mix has those yummy nuts without shells – ready to eat without any extra work 🙂  This tasty nut mix is called Pomegranate Pistachios and is also sold in Costco.
The manufacturer of Pomegranate Pistachios is Sahale Snacks.  Most packages in Costco are huge, but this particular nut mix package is normal size – 15 oz.  On the front of the package, the mix is described as "Nut Blend – Pomegranate Pistachios with Almnods, Cherries + Black Pepper".  From this description, I envisioned this pistachio mix being sweet, sour and spicy at the same time, and it turned out to be true.  Sweet and sour pomegranate, slightly tart cherries and spicy black pepper give this pistachios a very unique and addictive flavor!
The description on the back of the package says: "Pomegranate Pistachios – exotic, yet accessible tastes combine in this blend inspired by some of our favorite Moroccan flavors.  Pistachios, pomegranate and lemon with a hint of pepper complemented with cherries and almonds in an irresistible balance".  The Moroccan influence is quite an interesting fact!
Here's the nutritional information for Sahale Snacks Pomegranate Pistachios from Costco: serving size 1/4 cup, 160 calories, 10 g total fat, 1 g saturated fat, zero trans fat, 3 g polyunsaturated fat, 6 g monounsaturated fat, zero cholesterol, 135 mg sodium, 12 g total carbohydrate, 3 g fiber, 7 g sugar, 5 g protein, 2% vitamin A, 2% vitamin C, 4% calcium, 6% iron.  The ingredients in Pomegranate Pistachios are: pistachios, almonds, dried apples, organic evaporated cane juice, dried cherries, organic tapioca syrup, brown sugar, sea salt, pomegranate juice concentrate, dried lemon peel, spices, lemon juice concentrate, natural flavor.
Pomegranate pistachios is a yummy and filling snack that's pretty healthy, so it's always on my list of snacks to buy when I go to Costco.  Other great Costco snacks you should check out are Costco apple slices, Costco Fiber One brownies, Costco seaweed snacks and Special K chocolate pretzel bars.
Here's the picture of Pomegranate Pistachios in a bowl: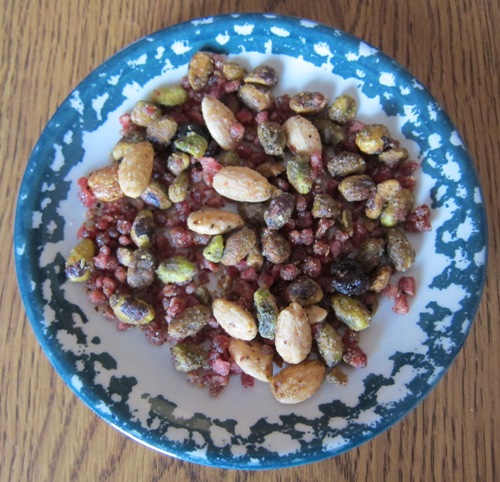 http://www.melaniecooks.com/wp-content/uploads/2013/01/pomegranate-pistachios.jpg
571
500
Melanie Mendelson
http://www.melaniecooks.com/wp-content/uploads/2015/11/logo-new2.png
Melanie Mendelson
2013-01-23 07:10:04
2013-01-23 07:11:03
Pomegranate Pistachios From Costco