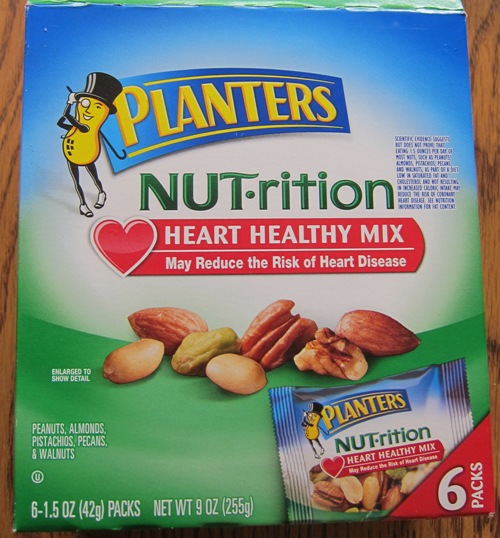 I really like nuts, and packaged nut snacks is a great way to take a nut snack with you and to control your portion.  Planters makes a great nut mix called "Heart Healthy Mix".  Planters heart healthy nut mix includes peanuts, almonds, pistachios, pecans and walnuts.  On the top photo is a package of Planters nuts that contains 6 individual snack packs of nuts.
Next is the photo of the individual Planters nut snack: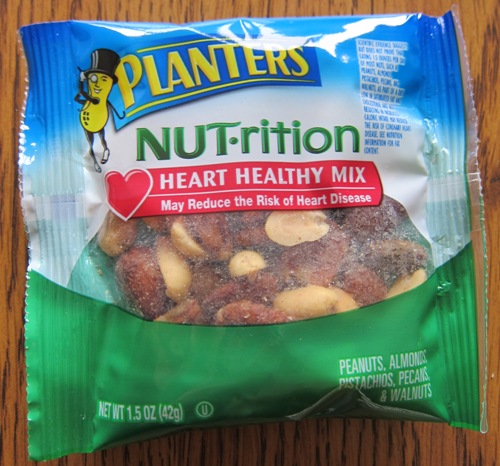 Here's the nutritional information for Planters nut snack mix: a serving is one individual package of nuts, and it has 250 calories, 22 grams of total fat, 2.5 grams of saturated fat, 7 grams of polyunsaturated fat, 11 grams of monounsaturated fat, zero cholesterol, 65 mg sodium, 7 grams of total carb, 4 grams of fiber, 2 grams of sugar, 8 grams of protein.  Even though the nuts are high in fat, it's healthy fat, that's why the nuts are labeled "heart healthy mix".  As long as you control your portion of the nuts, they are fine to eat even if you are on a diet.  The nuts are also a great source of vitamins – this package of Planters nut mix has 6% calcium, 8% iron, 20% vitamin E, 15% phosphorus, 20% magnesium, 25% copper and 50% manganese.
Here's the picture of the Planters nut snack mix outside of its package – I put the nuts of a plate: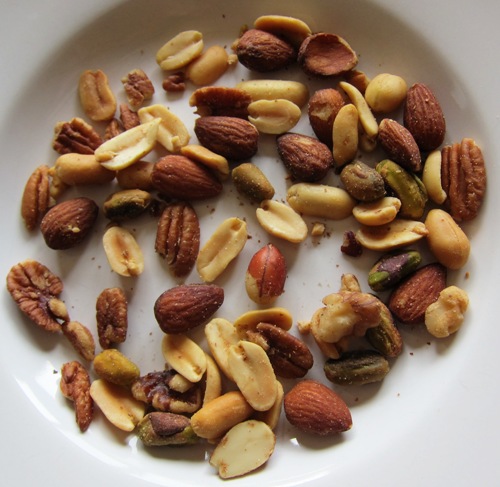 If you like nut snacks, have you ever tried to eat nuts together with dried cranberries?  It's really yummy! Check out my dried cranberries and walnuts page.
http://www.melaniecooks.com/wp-content/uploads/2012/10/planters-nut-mix3.jpg
487
500
Melanie Mendelson
http://www.melaniecooks.com/wp-content/uploads/2015/11/logo-new2.png
Melanie Mendelson
2012-10-20 07:15:40
2012-10-19 10:19:27
Planters Nuts Snacks Heart Healthy Mix