Uncle's Julio's is an upscale Mexican restaurant chain with around 20 locations in Texas, Virginia, Maryland, Illinois, Georgia, Florida and Pennsylvania.   We go to the location that's closest to us – Uncle Julio's in Skokie IL, located in the Westfield Old Orchard shopping mall (North Suburbs of Chicago).  I've been to Uncle Julio's restaurant many times and keep coming back – this place is great!
Here's the photo of the Uncle Julio's interior to give you an idea: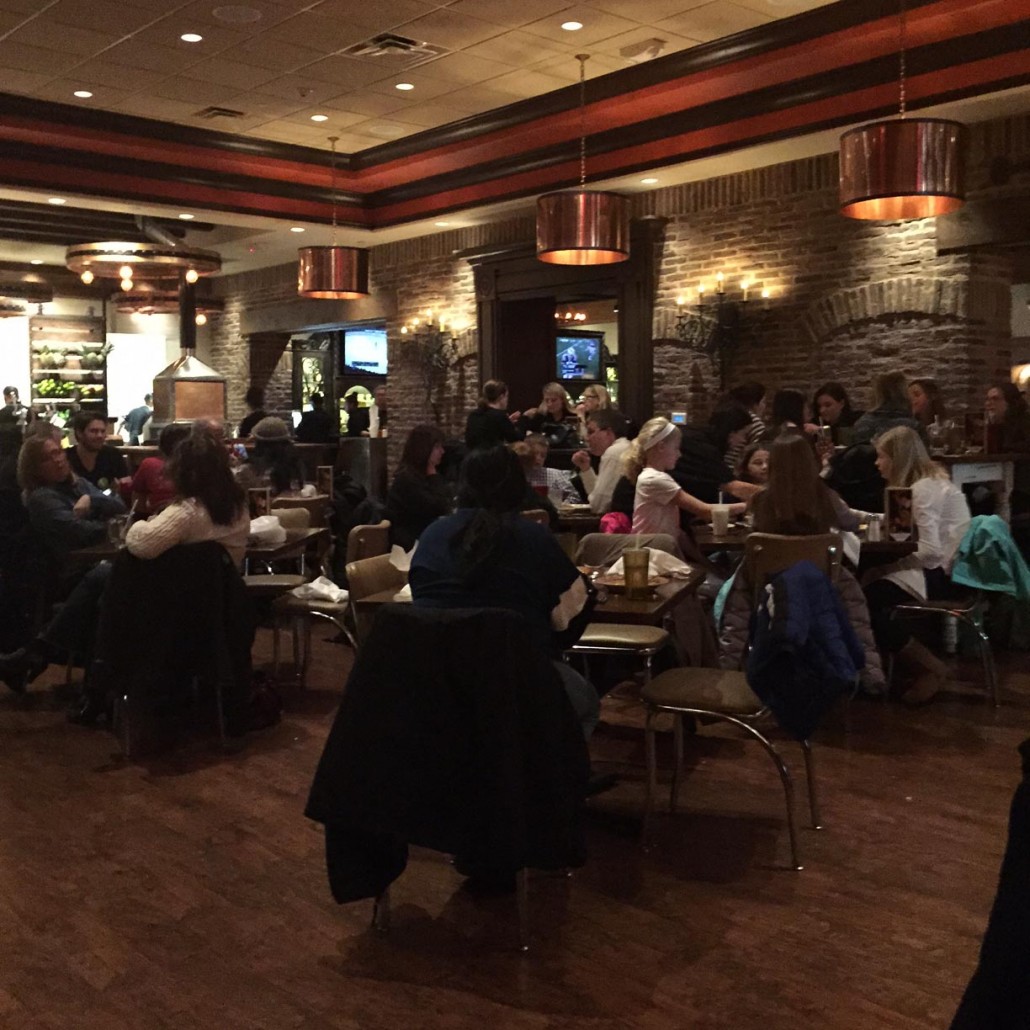 The Skokie location also has the outside seating so you can enjoy al fresco dining when the weather is nice: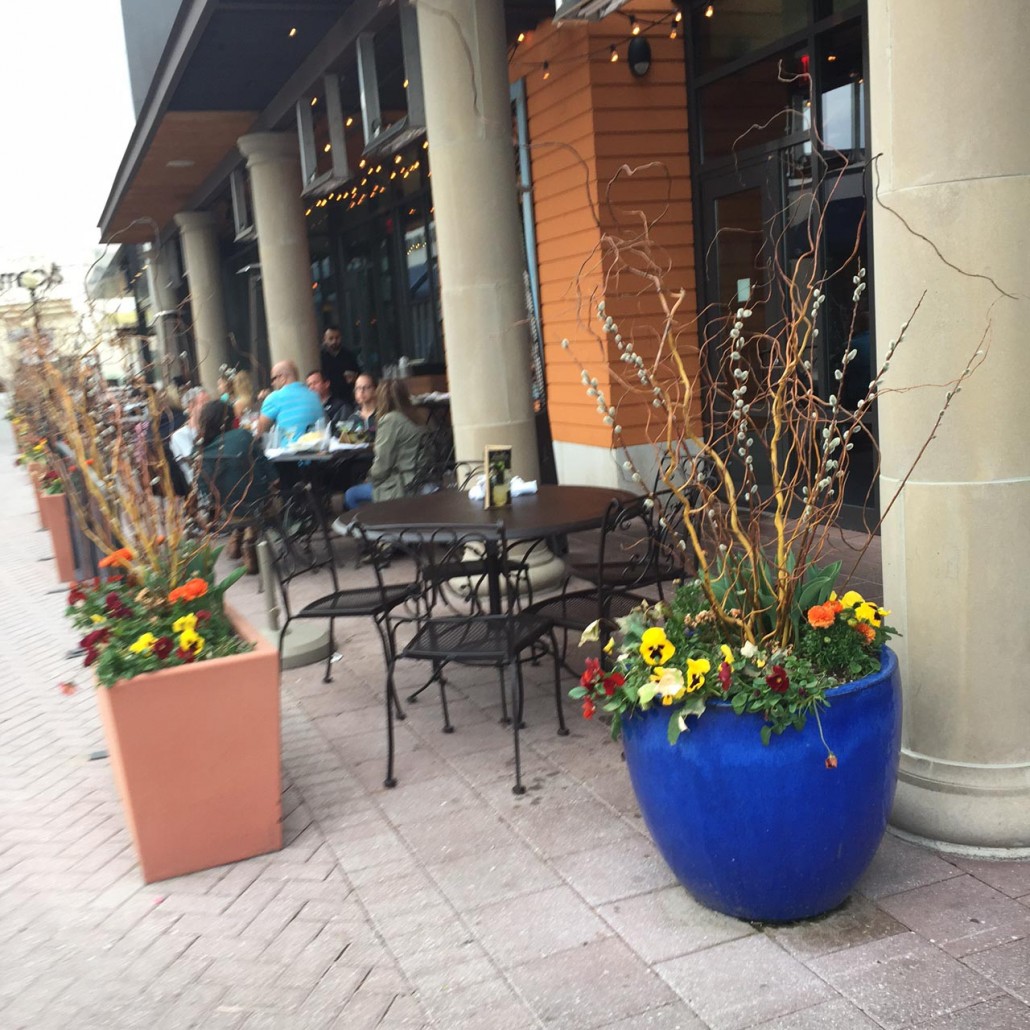 When you sit down, you get a huge basket of complimentary chips and salsa.  If you go through all of them, they'll refill the chips and salsa at no charge!  Uncle Julio's chips are different from the typical Mexican restaurant chips – these chips are super thin and super crispy!   They are extremely addictive and you'll just keep crunching them until there are no more left!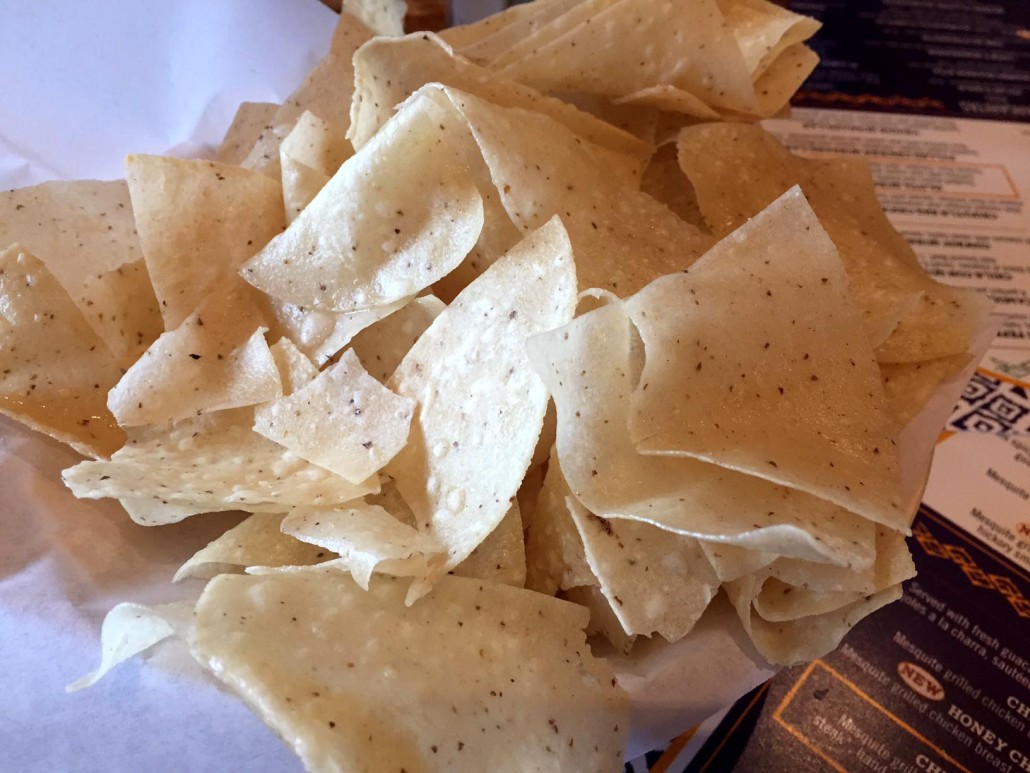 The chips, of course, come with a salsa.  Just like the chips, Uncle Julio's salsa is special as well!  It tastes so unique – super addictive!  I think it's the smoky chipotle taste in Uncle Julio's salsa that makes it irresistible.  I might have just guessed their secret ingredient 🙂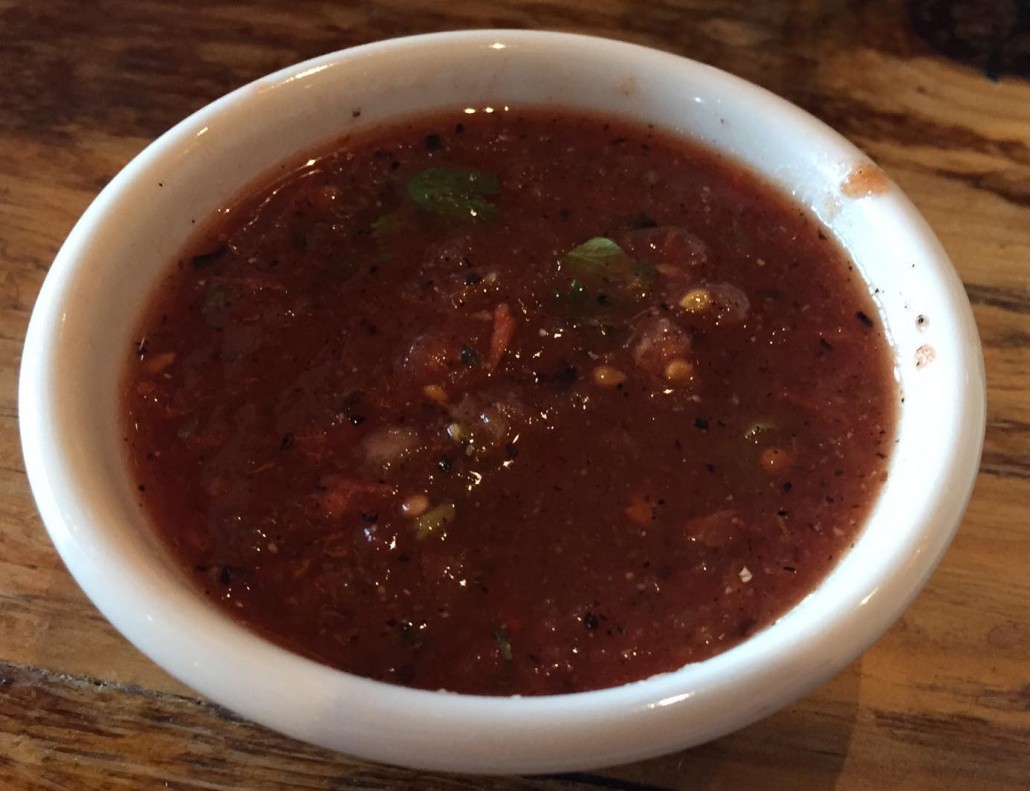 Uncle Julio's salsa is pretty thin because it's meant for dipping, not for scooping.  Just dip the delicate crispy chip into this smoked chipotle salsa, and enjoy this deep flavor in your mouth.  You'll be reaching for another chip before you even stopped chewing!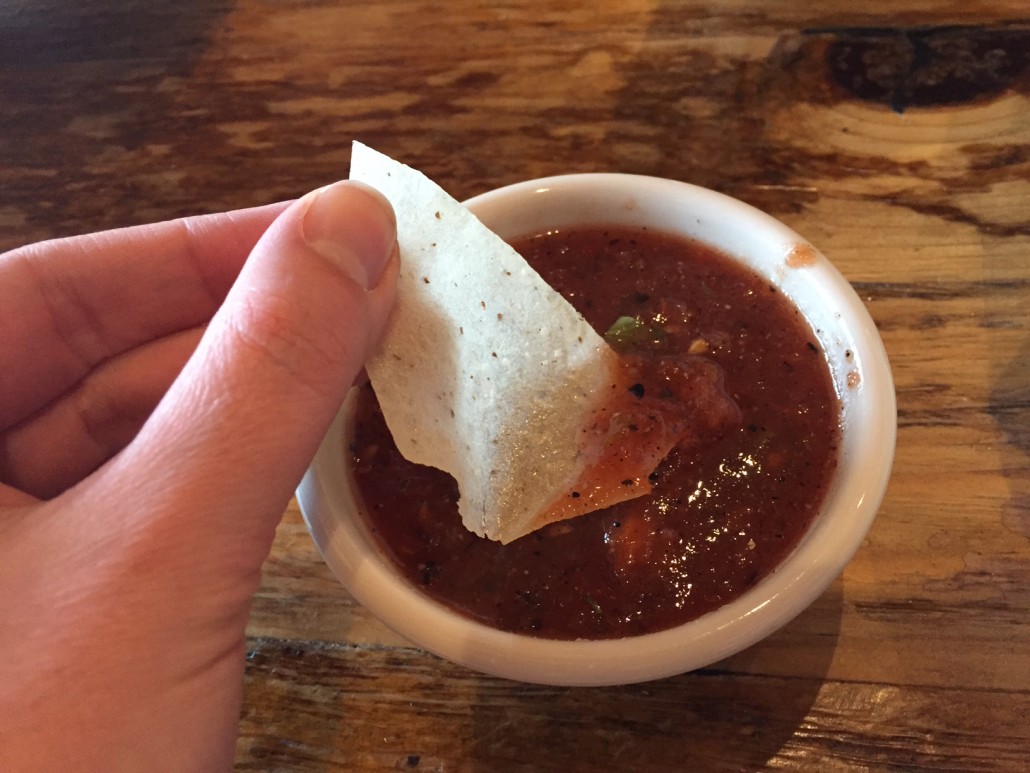 When you go to Uncle Julio's restaurant, there is one thing you absolutely must order – a tableside guacamole!  The cooks bring to your table the whole cart with guacamole ingredients – avocadoes, tomatoes, onions, cilantro, jalapeno, etc.  You get to tell them exactly what you'd like in your guacamole and they freshly make the guac just for you while you watch!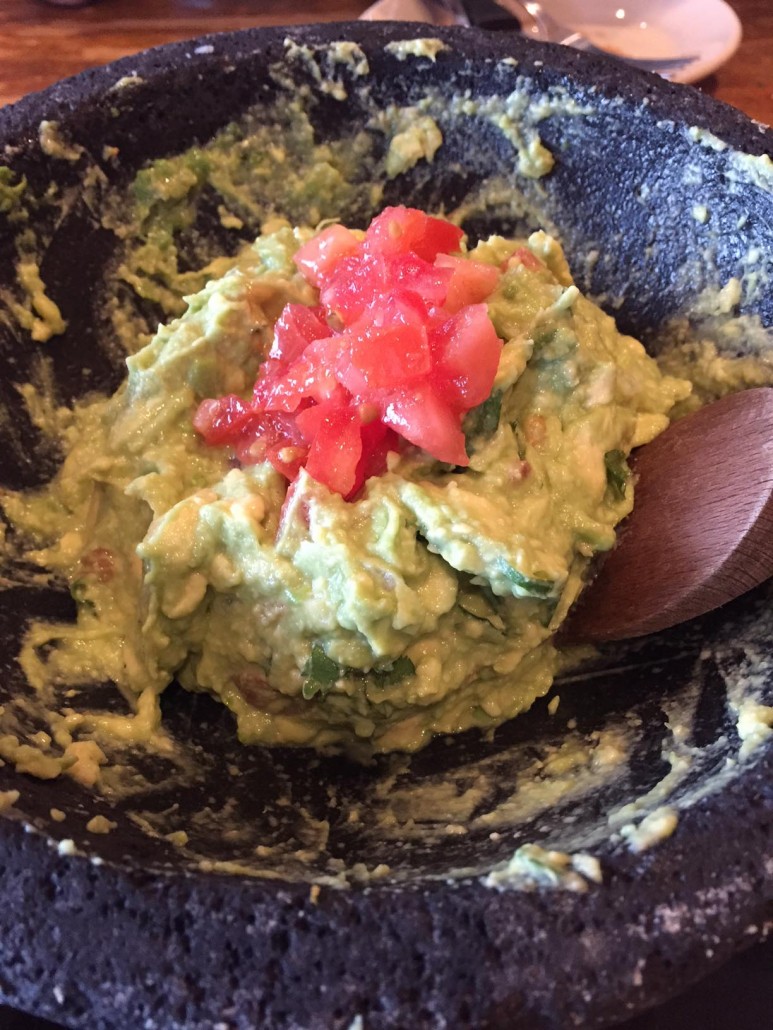 Uncle Julio's also has great ceviche – it's a mixed ceviche with shrimp and different kind of fish, marinated in lime juice – delicious!  Ceviche is served on a plate with large round chips for scooping.
I ordered a raspberry ice tea, and it had real raspberries in it!  You can see the raspberry pieces in the glass – they are so good!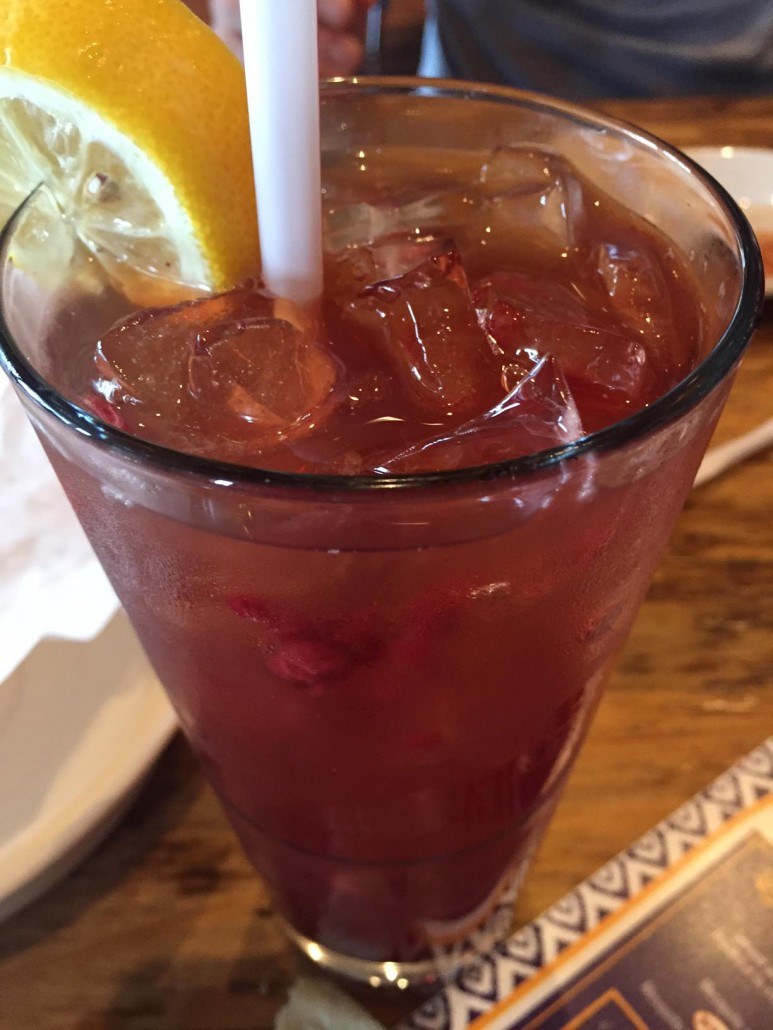 If you are drinking alcohol, you'll absolutely love all the margarita options that are on the menu!  There are such fancy margaritas there – you'll feel like you are on a tropical vacation!
Our favorite main dish at Uncle Julio's is chicken enchiladas.  The portion is huge – my husband and I share it, and it's enough.  Don't be greedy and order "for 2" option – the portion for 1 is really enough for 2 people (especially since you'll fill up on all those chips)!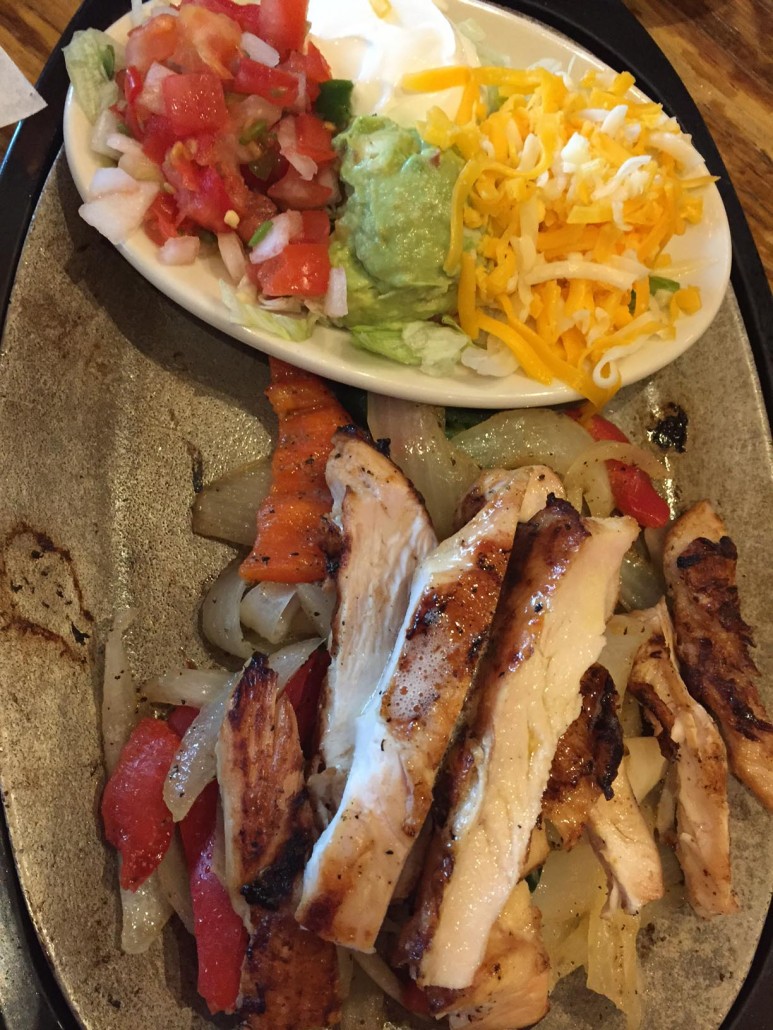 Here are the chicken enchiladas.  They don't look as big on the picture, but those chicken strips are huge.  The chicken is very soft and flavorful and has that deep grilled taste!  And on the side there are the tortillas for the enchiladas – you put the enchilada ingredients inside the tortilla, roll it and eat it up! Enchiladas come with grilled chicken, peppers and onions, and the side of guacamole, sour cream, shredded cheese and salsa, as well as the side of Mexican rice and baked beans (see below)!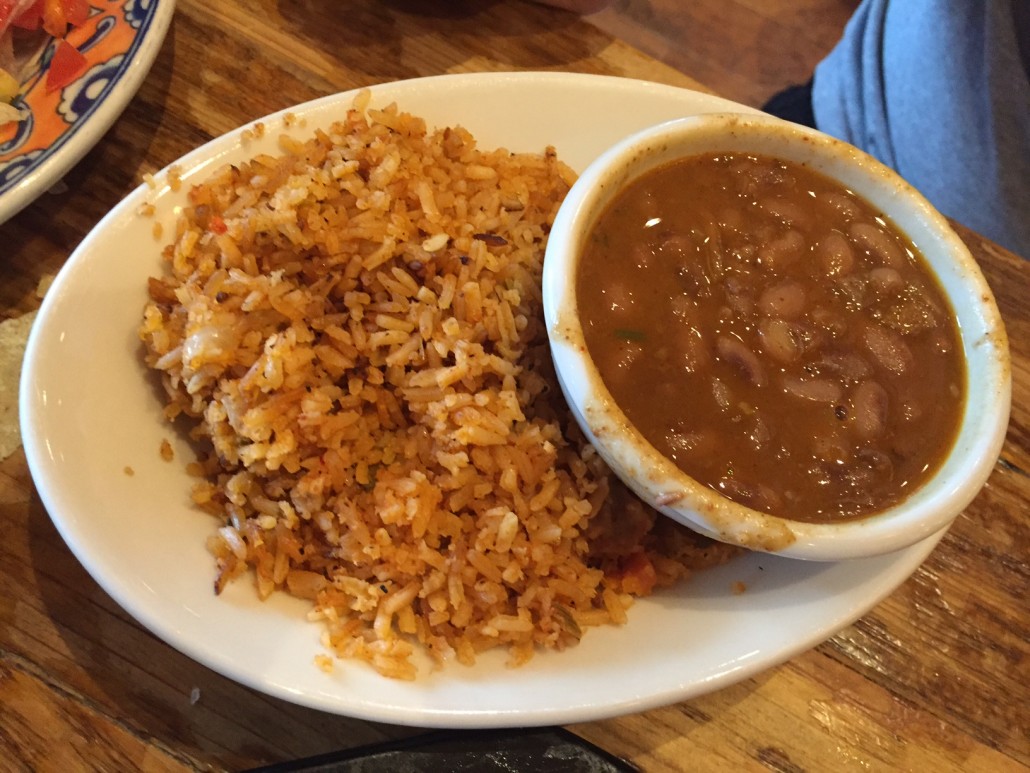 Uncle Julio's is very kid friendly, and they have a kids menu.  Uncle Julio's kids menu has kid-sized portions of Mexican food favorites like tacos, enchiladas, quesadillas and nachos.   But for those kids who don't like any ethnic foods, there are chicken tenders on the menu 🙂 Also, most kids love to eat chips, so there is plenty of food for the little ones!
Here are the chicken tenders that our little picky eater enjoyed with the fruit cup: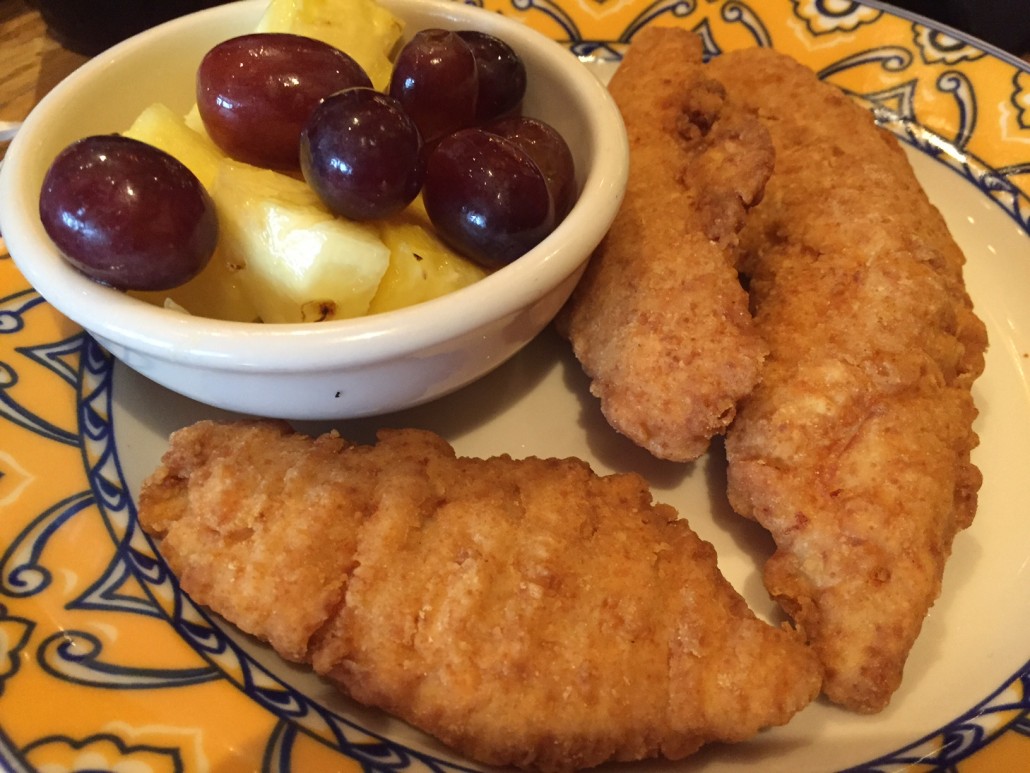 We were too stuffed for dessert, but I was really eyeing the chocolate pinata!  Chocolate pinata is Uncle Julio's dessert special – it's a real chocolate pinata that you are supposed to break with a stick, and inside there are bite-sized churros and fruit, that can be dipped in the chocolate and caramel sauces.  Maybe next time I'll skip the appetizers just so I can order this chocolate pinata!  Here's the picture I took of someone across the restaurant that had that chocolate pinata on the table.  Excuse the blurriness – they were pretty far away so I had to zoom in on my phone 🙂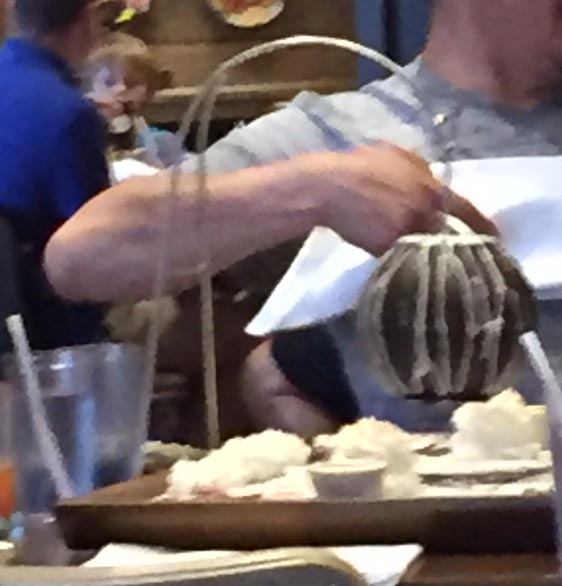 Uncle Julio's is a really fun restaurant to eat at.  Most Mexican restaurants in the US fall into two categories – one is the hole in the wall with tasty cheap food, but horrible ambiance, and another is the fancy restaurant with bland mediocre overpriced food.  Luckily, Uncle Julio's fills a niche – it's an upscale Mexican restaurant with the delicious food that's full of flavor.  No bland food at Julio's – they use the spices liberally and everything tastes amazing!  You can find the list of all locations and directions at Uncle Julio's website UncleJulios.com.
http://www.melaniecooks.com/wp-content/uploads/2016/04/uncle_julios_tableside_guacamole.jpg
1632
1224
Melanie Mendelson
http://www.melaniecooks.com/wp-content/uploads/2015/11/logo-new2.png
Melanie Mendelson
2016-04-28 07:09:56
2016-04-26 21:29:47
Uncle Julio's Mexican Restaurant Review