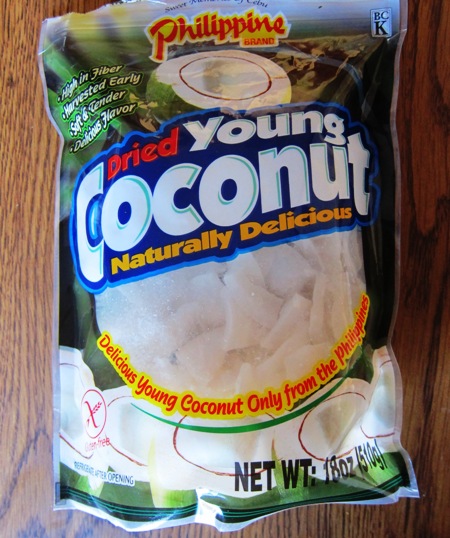 If you like coconut, you will love this dried coconut by Philippine brand! I love coconut flakes and candies that have coconut with them, so when I saw these dried coconut chips at Costco, I just had to get them!
Until I saw Philippine dried coconut, I've never seen such big pieces of dry coconut before – i just saw shredded coconut flakes.  The Philippine dried coconuts are big pieces of dry coconut meat – they are the size of potato chips!  These dry coconut chips have intense coconut flavor in a chewy form – they are so tasty and so addictive, you just can't stop eating them!
Is dried coconut healthy?  Here's the nutritional information for Philippine dried coconut from Costco: serving size 1.5 oz, 147 calories, 4 grams of fat, 3 grams of saturated fat, zero trans fat, zero cholesterol, 25 mg sodium, 30 g total carbohydrate, 14 grams of fiber, 18 grams of sugar, 1 gram of protein, 3% iron.
One serving of dried coconut chips has a whopping 14 grams of fiber per serving, which is 55% of the recommended daily value of fiber.  This is the most amount of fiber I've ever seen in a serving of anything!  So if you are looking to add more fiber to your diet, eating dried coconut is the easiest way to accomplish it.  Philippine dried coconut is a super tasty way to eat more fiber!
The size of the Costco package of Philippine Dried Young Coconut is 18 oz, and the price is $8.99.  They are sold in the dried fruit section next to a very yummy dried mango and dried oranges.  Costco is the best place to get dried fruits – their dried fruits have the best price and are very high quality – while you are at that isle, check out their dry apricots, freeze dried apples, dried apple chips and craisins dried cranberries.
Here's the picture of the dried coconut on the plate: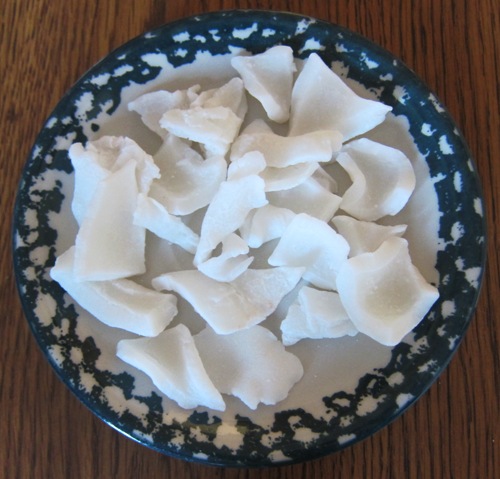 http://www.melaniecooks.com/wp-content/uploads/2013/04/dried-coconut-slices.jpg
538
450
Melanie Mendelson
http://www.melaniecooks.com/wp-content/uploads/2015/11/logo-new2.png
Melanie Mendelson
2013-04-12 06:27:15
2013-04-29 09:06:31
Philippine Dried Young Coconut Chips At Costco