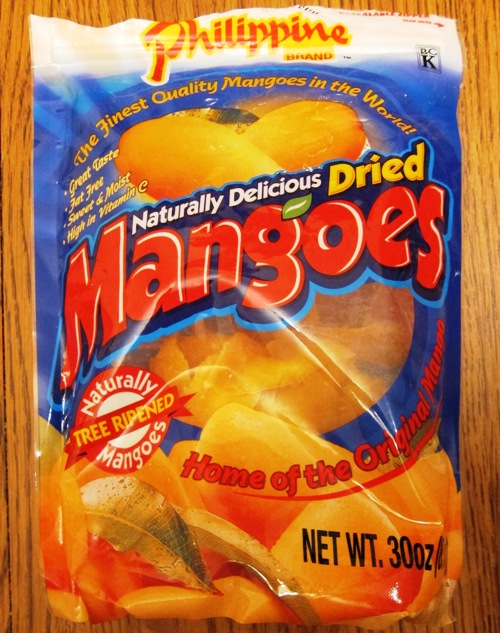 Have you ever tried dried mangoes?  They are so good!  Dried mangoes are sold in same isle as dried appricots and other dried fruits.  I picked up these dried mangoes at Costco.
These dried mangoes are made by Philippine brand, and Costco sells them in a 30 oz package.  This package is actually not as big as most other Costco packages – you'll go through this bag of dried mango slices in no time!
Dried mangoes are really addictive – once you eat one slice of dried mango, you will be reaching for another slice, and then another, and then another 🙂  If you are watching your calories, you have to be careful with these – 6 slices of dried mango have 160 calories, and it can really add up if you keep grabbing those dried mangoes from the bag!
Here's the nutritional information for Philippine dried mangoes from Costco: serving size 1.5 oz (about 6 pieces), 160 calories, zero fat, zero cholesterol, 55 mg sodium, 39 g total carbohydrate, 1 g fiber, 32 g sugar, less than 1 g of protein, 2% vitamin A, 30% vitamin C, 2% iron.
Here's the description of these tasty dried mango slices from the package: "Philippine Brand 100% Natural Sweetned Dried Mangoes are without a doubt the best tasting dried mangoes in the world!  For centuries the region of Cebu's warm sultry climate and fertile soil has been ideal for propagating the most delicious mango variety.  This original brand dried mango has a non-acidic sweet and delightful texture that is unmatched by any other dried fruit product."
These dried mangoes from Costco have intense concentrated mango taste and great texture!  They are sweet and moist and extremely addictive!  Next time you are in Costco, pick up a package of Philippine dried mangoes – you'll love them!
Here are the Philippine dried mango slices on a plate: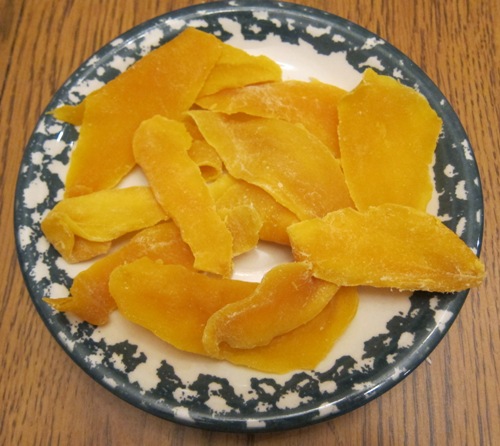 Also, check out other great dried fruits from Costco: dried apple slices, freeze dried fruit snacks and famous Costco craisins.
http://www.melaniecooks.com/wp-content/uploads/2013/02/costco-mangoes-dried2.jpg
633
500
Melanie Mendelson
http://www.melaniecooks.com/wp-content/uploads/2015/11/logo-new2.png
Melanie Mendelson
2013-02-20 07:09:47
2013-02-09 13:15:05
Philippine Dried Mangoes From Costco