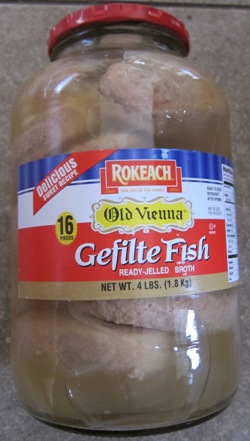 If you don't have any time to cook, gefilte fish from a jar is a very convenient instant dinner.  Gefilte fish from Costco is the best tasting jarred gefilte fish options I've tried.
Gefilte fish in a jar is already cooked, so all you have to do is open a jar and put the gefilte fish patty on a plate.  Unopened jar of prepared gefilte fish doesn't have to be refrigerated, which is great that I doesn't take up the refrigerator space.  I always have a jar of Costco gefilte fish in my pantry in case I don't have time or energy to cook.  Once you open a jar of gefilte fish, store the remainder in the refrigerator and use within a week.
Costco gefilte fish is Rockeach Old Vienna brand.  The size of the Costco jar is 4 lbs, and it has 16 pieces of gefilte fish.
Here's the nutritional information for Costco Old Vienna Gefilte Fish: serving size – 1 pieces, 70 calories, 3 g of fat, 1 g saturated fat, zero trans fat, 35 mg cholestrol. 270 g sodium, 3 g total carb, 1 g fiber, 2 g sugar, 7 g protein.
As you can see, the Costco gefilte fish is pretty healthy!  A dinner portion is  3 pieces of gefilte fish, and at 70 calories a piece it's a 210 calorie main dish.  Even though it's so low in calories, gefilte fish really makes you full!
If you weren't impressed with other brands of jarred gefilte fish, give the Costco gefilte fish a try.   It really tastes better than most other packaged gefilte fish brands.
Gefilte fish is always eaten cold, so don't try to warm it up 🙂  Gefilte fish goes really well with spicy horseradish.  I usually spread gefilte fish patties with the purple beet horseradish.
If you like gefilte fish, you also must try making it from scratch when you do have the time.  Your gefilte fish will turn out perfect when you follow my proven recipe how to make gefilte fish from scratch.
http://www.melaniecooks.com/wp-content/uploads/2013/01/costco-gefilte-fish.jpg
441
250
Melanie Mendelson
http://www.melaniecooks.com/wp-content/uploads/2015/11/logo-new2.png
Melanie Mendelson
2013-01-26 15:06:32
2013-01-26 15:08:21
Gefilte Fish From Costco