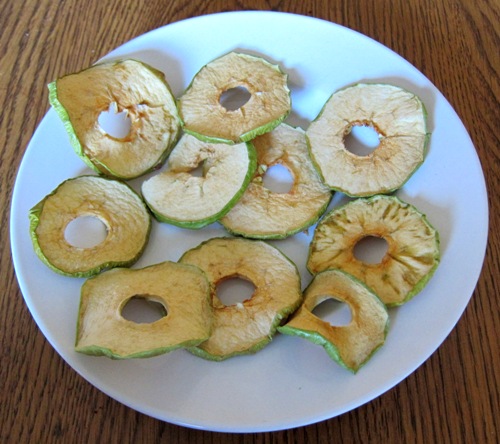 I bought these yummy dried apple slices at Costco, and they are so good!  These dried apple slices are a perfect snack – healthy and yummy!  The apples are sliced into thin round slices, and have a whole in the middle like a donut (that's where the core used to be).  The dried apples have the skin on, which means more fiber! When they make these dried apple slices, they first core the apples and then slice them into rounds.  The apple slices are dried and transformed into apple chips 🙂
These dried apple slices are made by Vacaville Fruit Company and are labeled "California Natural Apples".  The Costco bag is 1 lb, and on the package is says that there are 26 apples in every bag.  A great thing about these dried apple snacks is that there are no preservatives!  Whenever I see something dried, I assume it has preservatives, but these apples don't – they are truly all natural!  The ingredient label has only one ingredient: california granny smith apples!
The Costco dried apples are very healthy.  Here's nutritional information: a serving size is 7 dried apple slices, and one serving has 45 calories, zero fat, zero cholesterol, 15 mg sodium, 11 g total carb, 2 grams of fiber, 1 gram of protein, 2% calcium and 2% iron.  That's a super-healthy snack!
On the pack of the Costco apple chips the following benefits are listed: "The Good For You Snack – no sulfites added, a fat free snack bursting with flavor, tastes like a fresh Granny, picked at its peak ripeness, a re-charge snack, perfect for on the go, naturally sweet, no sugar added, natural source of vitamins, minerals, iron and fiber, no wax coating.  7 slices natural dried apples = 1 fresh apple".  It's all so true – I love those apples, they are really tasty, and when something is healthy and tasty, it's a true find!
These dried apples are also very convenient because they don't get spoiled and don't get anything dirty.   They taste chewy and addictively sour, and they really curb your hunger between meals!  If you have a Costco near you, these dried apple slices are a must buy!  Other great healthy snacks from Costco that I like are roasted seaweed snacks and 90 calorie brownies.
Here's the photo of the package of those yummy dried apple slices from Costco: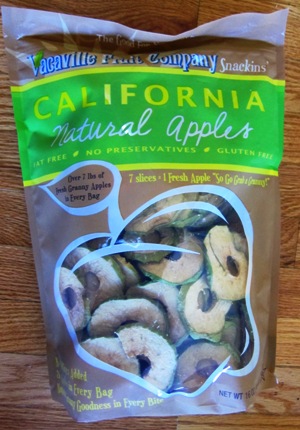 http://www.melaniecooks.com/wp-content/uploads/2012/10/costco-dried-apples2.jpg
444
500
Melanie Mendelson
http://www.melaniecooks.com/wp-content/uploads/2015/11/logo-new2.png
Melanie Mendelson
2012-10-19 09:43:30
2013-04-29 09:07:33
Dried Apple Slices From Costco