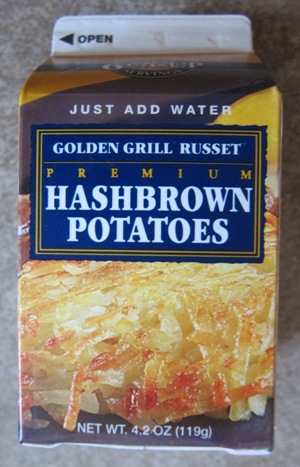 On a shopping trip to Costco I picked up a case of these dehydrated dried hashbrowns.  These hashbrowns come in small packages, and are labeled Golden Grill Russet premium hashbrown potatoes.
Unlike the frozen hashbrowns that take up valuable freezer space, these Costco hashbrowns are dried, so they are stored in a pantry.  The packages are really small, but they make a surprisingly large portion of the hashbrowns.  When the water is added to dehydrated dried hashbrowns, those hashbrowns really expand!  There is about 1 cup of dried hashbrowns in a package, and when prepared, it becomes 3 cups, so basically these hashbrowns become 3 times bigger when prepared!
Here are the cooking instructions for the dehydrated dried hashbrowns from Costco:
To prepare the dried hashbrowns from Costco, first add hot water to the carton, then close the carton.
Let stand for 12 minutes, then carefully drain the water from the hashbrowns.
Preheat 2 tbsp of oil in a large non-stick frying pan over medium-high heat
Add the hashbrowns to the frying pan, and cook on one side for 3-4 minutes, until golden brown
For extra crispness, flip the hashbrowns and cook on the other side for 3-4 minutes, until golden brown.
I like my hashbrowns crisp and brown, so I always cook those Costco hashbrowns on both sides.
These dehydrated dried hashbrowns from Costco is a great thing to have in your pantry for an instant side dish.  Dried hashbrowns don't take up much space, have a long shelf life and are quite tasty.
Here's the picture of Costco hashbrowns cooked in a frying pan: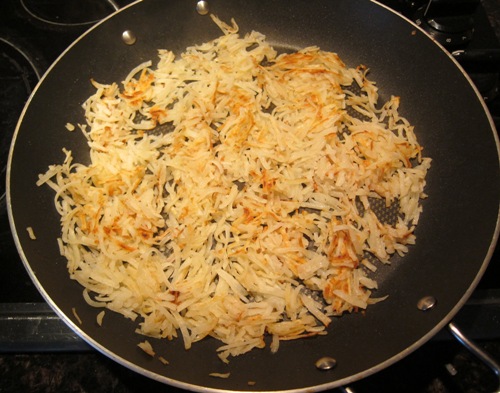 And here's the picture of these dried hashbrowns served with ground chicken kabobs.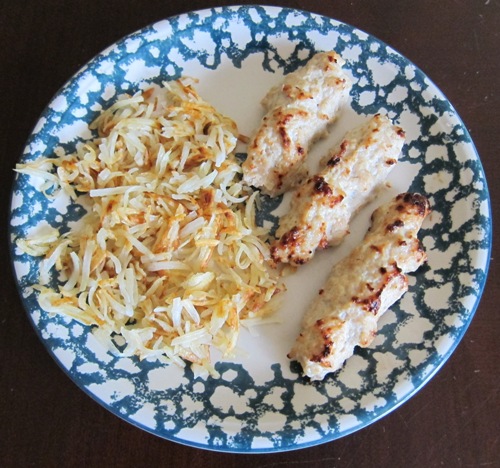 http://www.melaniecooks.com/wp-content/uploads/2012/07/costco-hashbrowns.jpg
467
300
Melanie Mendelson
http://www.melaniecooks.com/wp-content/uploads/2015/11/logo-new2.png
Melanie Mendelson
2012-08-03 11:33:52
2012-08-03 11:27:04
Dehydrated Dried Hashbrowns From Costco