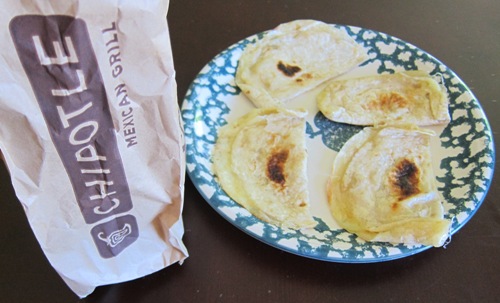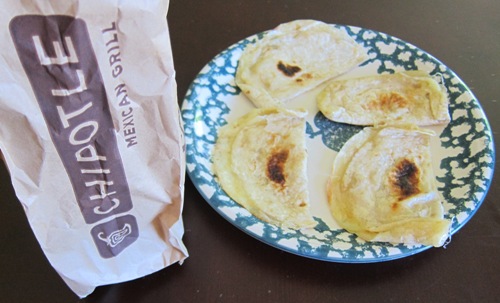 I really like to eat at Chipotle.  In fact, it is my favorite fast food restaurant (check out my review of Chipotle restaurant).  I have never seen a kids menu at Chipotle, so I just assumed that Chipotle doesn't have any special children's menu.   Until one day, I saw a mom with small kids order cheese quesadillas, and the Chipotle workers made it for her!
I asked how much are the cheese quesadilla, and they are only 89 cents for a small quesadilla!  On the picture above, there are 4 small cheese quesadillas from Chipotle.  The plate is mine – these were leftovers from Chipotle after the trip with 3 kids when I ended up ordering too many cheese quesadillas 🙂
Note that cheese quesadillas are not written on Chipotle menu.  If you know about it and order it, they will make it for you, but they don't advertise it.
After I discovered the cheese quesadilla in Chipotle, I did a search on Google for "Chipotle Kids Menu" and, in fact, I found it.  According to the Chipotle's own website, they do have a kids menu.  So maybe it's just our location of Chipotle that doesn't advertise it's kids menu 🙂
So if your location of Chipotle doesn't have the kids menu readily displayed, just remember that you can order cheese quesadillas!  Other things that kids usually like at Chipotle are guacamole and chips.
http://www.melaniecooks.com/wp-content/uploads/2012/06/chipotle-kids-menu.jpg
303
500
Melanie Mendelson
http://www.melaniecooks.com/wp-content/uploads/2015/11/logo-new2.png
Melanie Mendelson
2012-06-28 09:38:45
2012-06-28 09:51:36
Chipotle Kids Menu