California Pizza Kitchen is a restaurant chain with over 200 location all over the US and 11 other countries.  It has lots of yummy food – pizzas, pastas, sandwiches, salads, unique appetizers, small plates and great desserts.  California Pizza Kitchen has so many options on their menu, and everything is tasty and reasonably priced (California Pizza Kitchen prices are in $10-$15 range for an entree).  No wonder why California Pizza Kitchen restaurant is so popular.
California Pizza Kitchen specializes in California-style pizza, which is a thin-crust pizza with unique toppings.  Here are some example of California Pizza Kitchen unusual pizzas: BBQ chicken pizza, Hawaiian pizza, Spicy Chipotle chicken pizza, Thai chicken pizza (with Thai peanut sauce), Habanero Carnitas (pulled pork, cilantro pesto and habanero salsa) and California club (bacon, chicken, mozarella, avocado and lettuce).  It also has traditional pizzas such as cheese, sausage and pepperoni.  Their pizzas are so yummy!
Here's the picture of the complimentary bread that comes out before your meal.  This is a freshly baked sourdough bread with the dipping bowl of olive oil and herbs.  This bread is so fresh and warm – it smells and tastes so good!
Here's the picture of the main dish salad.  It's a Chinese Chicken Salad – napa and red cabbage, lettuce, chicken breast and wontons tossed with green onions, cilantro, sesame seeds and hoisin ginger vinegarette.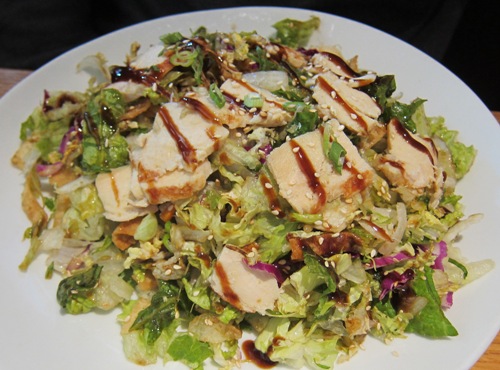 California Pizza Kitchen has a great selection of main dish salads, and they are all very tasty!  You can order the full portion or half.  We always order half – their "half" is huge and is enough for an adult entree!
Here's another super yummy salad from California Pizza Kitchen – roasted veggie salad with grilled shrimp.  Roasted veggie salad has roasted asparagus, eggplant, bell peppers, corn, artichokes, sun-dried tomatoes, avocado, lettuce and a Dijon balsamic vinaigrette dressing.  You can add grilled chicken, salmon or shrimp.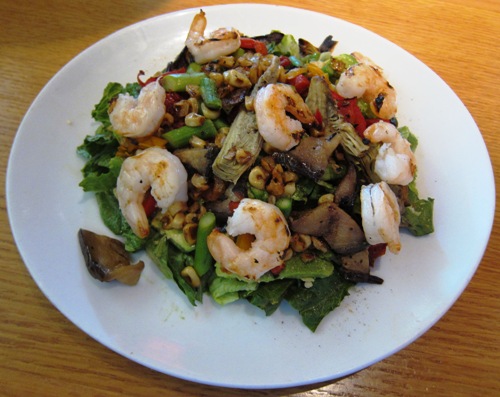 Here's the picture of roasted Moroccan Spiced Chicken salad.  That's a really unique salad – it has roasted spiced chicken, beets, butternut squash, dates, avocado, toasted almonds,  chopped egg and cranberries – so tasty!
Here's the picture of the small plate entree – Spicy Chicken Tinga Quesadillas – warm crispy quesadillas filling with these goodies: lime chicken, Monterey Jack cheese, caramelized onions, roasted peppers, black beans and cilantro.  The quesadillas are served with the dipping sauce.
And here's the side salad with shaved Parmesan and pine nuts: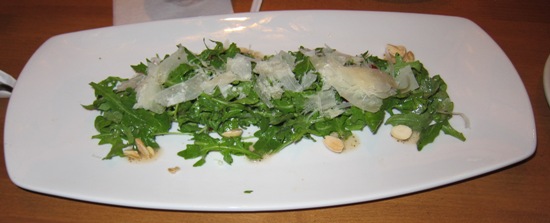 Here's the picture of a California Club sandwich – it comes on focaccia bread and is served with soup or salad.  This one is served with lentil soup and chips!
California Pizza Kitchen is very kid friendly – kids love pizzas, and there are so many things to choose from!  It also has a great kids menu with lots of different pastas, pizzas or chicken.
Here's the picture of the individual cheese pizza from California Pizza Kitchen kids menu:
Here's the pasta with marinara sauce from the California Pizza Kitchen kids menu: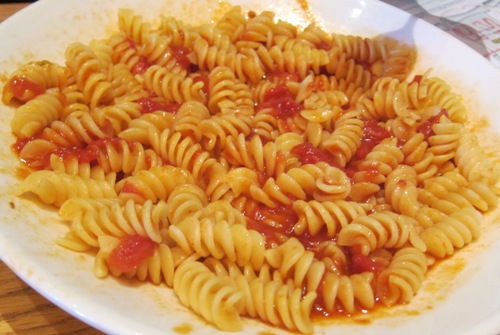 And here's the macaroni and cheese from the kids menu:
And here's the picture of the California Pizza Kitchen brownie – a perfect way to finish a great meal!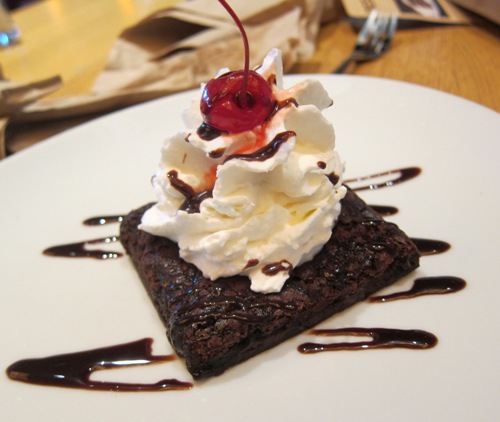 California Pizza Kitchen is a great restaurant with lots of different menu choices and great prices.  We go to the Northbrook location inside Northbrook Court at 1515 Lake Cook Road  Northbrook, IL 60062, phone number (847) 897-5106.  There are lots of locations of California Pizza Kitchen, and they are all pretty consistent, so you can just Google the location closest to you and have a wonderful meal in California Pizza Kitchen!
http://www.melaniecooks.com/wp-content/uploads/2013/01/california-pizza-kitchen-kids-menu.jpg
388
500
Melanie Mendelson
http://www.melaniecooks.com/wp-content/uploads/2015/11/logo-new2.png
Melanie Mendelson
2013-01-22 06:05:56
2013-04-28 18:13:11
California Pizza Kitchen Restaurant Review